The Plaisance Garrison
There was not a single governor of Plaisance who did not complain about the lack of soldiers and the mediocrity of those he did have. There were many desertions, particularly among recruits sent to Plaisance forcibly or under false pretenses. The recruits often included dwarfs and disabled persons, and some could not handle their arms. Most of the men did not want to work on the fortifications. At the end of 1693 the garrison was made up of about 60 soldiers, rising to 250 by 1711. Governor Brouillan estimated that the colony needed at least 300 soldiers to ensure an effective defence.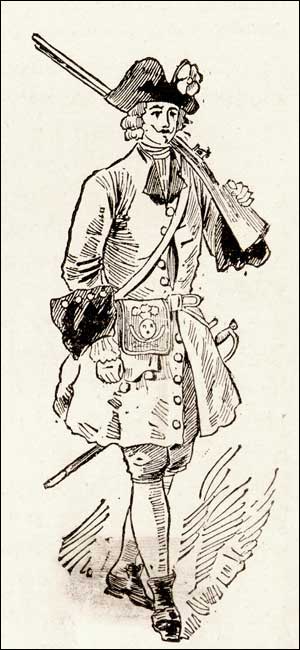 Sketch of a French Soldier, ca. 1705
From D.W. Prowse, A History of Newfoundland from the English, Colonial, and Foreign Records, 2nd edition (London: Eyre and Spottiswoode, 1896) 219.
The civilian inhabitants were little help. They either refused to participate in building fortifications, or insisted on being compensated. For a number of years, the officers and soldiers of the garrison had to make do with lodgings constructed from stakes caulked with moss and covered with tree bark.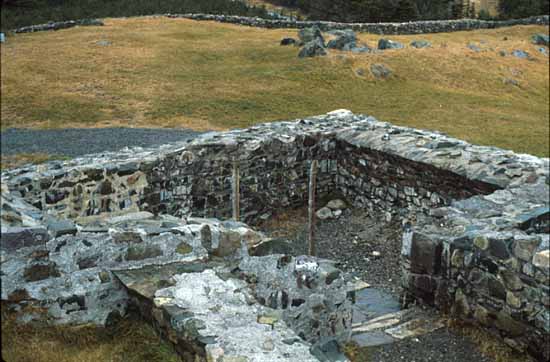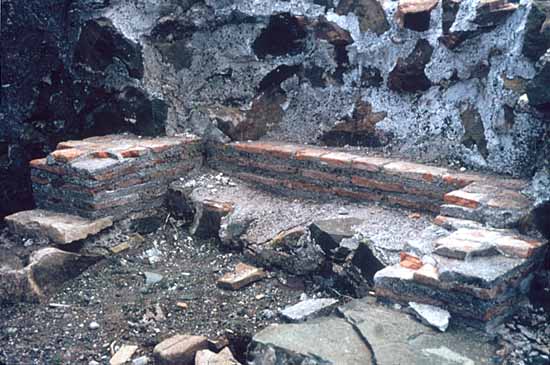 Remains of the Plaisance Garrison
The top image is of the restored powder magazine at the garrison. That on the bottom is of the fireplace in the soldiers' guardroom.
Both photos by Edward Power. Reproduced by permission of Department of Education, Government of Newfoundland and Labrador ©1982.
The arrival of Governor Daniel Auger de Subercase in 1702 was beneficial. By giving seniority leave, he got rid of the undisciplined soldiers, and a grievance was removed when soldiers were supplied with free uniforms. The garrison was reinforced with Mi'kmaq, and privateers provided some defence at sea.
Military Complement at Plaisance (soldiers only), 1663-1711


1663 20
1698 129
1667 150
1700 78
1687 25
1701 79
1692 40
1702 150
1693 60
1704 150
1694 100
1709 200
1695 120
1711 250
1696 150


(Figures derived from Jean-Pierre Proulx, Histoire militaire de Plaisance (1979))
Privateers, sometimes known as freebooters, pursued enemy shipping from 1692 onwards. They were active only during time of war, and were subject to royal authority. Privateer captains had to declare their prizes and share their spoils with the shipowners, their crews and the government. Together with the merchant marine officers, the shipowners, the administrators and the royal officers, the privateers were part of a small socio-political elite. Despite its small size, the Plaisance elite produced outstanding privateers, the brothers Joannis, Jacques and Michel Daccarette, as well as Jean-Baptiste Rodrigue, being excellent examples. Plaisance privateers captured 63 vessels during the wars with England.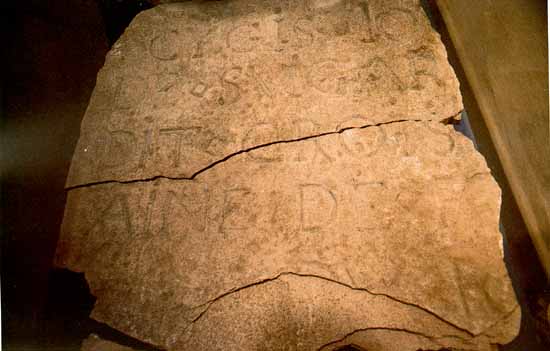 Gravestone of a Basque Privateer John Svigaricipi
From Historic Newfoundland (Toronto: Oxford University Press, ©1986).