The Matthew
Size and Appearance
The Matthew was the ship in which John Cabot sailed from Bristol to North America in 1497. Little is known about it. A few documents corroborate that it was named the Matthew (also spelled Mathew or Mathewe), and some historians have speculated that it may have been named after Cabot's wife, Mattea. John Day, a Bristol merchant, wrote in 1497-98 that Cabot "had only one ship of fifty toneless [tons] and twenty men and food for seven or eight months." This makes it a relatively small vessel – Bristol customs accounts refer to it as a "navicula", similar to a caravel. These were maneuverable vessels with three masts.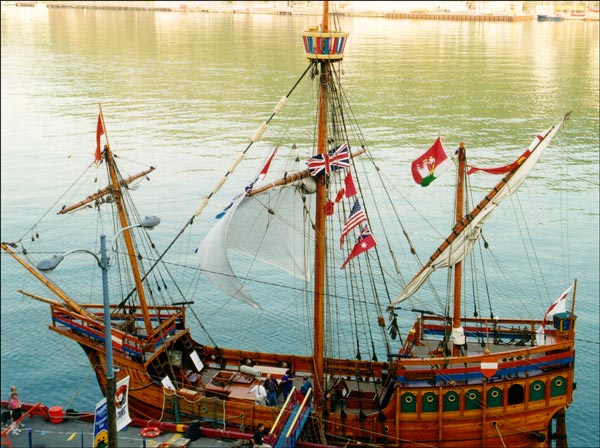 Modern-day Replica of John Cabot's Ship, the Matthew
Although there is no contemporary 15th-century depiction of the Matthew, this historical replica was built for the 'Cabot 500' anniversary celebrations in Newfoundland during the summer of 1997. This photo shows the Matthew during its call at St. John's Harbour.
Reproduced by permission of Wayne Sturge. Photo ©1997.
It is not known where the Matthew was built, or when, though it was probably the mid-1490s. However, it could have been an older vessel, renamed and refitted for the Cabot voyage. After 1497, the Matthew was owned and based in Bristol, transporting goods between Bristol and European ports.
A Trade Ship
Circumstantial evidence suggests that the Matthew was not built specifically for Cabot's voyage. First, there would not have been enough time to build and outfit such a vessel. Second, it would have cost less to charter a ship from the local supply than to build a new one. Bristol was a port city and trade hub where typically between 20 and 25 vessels were registered. About half would have weighed 50 tons or more. Finally, it appears that none of Bristol's other discovery voyages between 1480 and 1505 used purpose-built vessels. This suggests that the Matthew was an ordinary commercial ship that Cabot's investors chartered for the 1497 exploratory voyage.
By November 1498, the Matthew was engaged in ordinary commercial employment. Recently uncovered court documents also connect it to at least two smuggling operations, one in November 1498 involving an illegal shipment of textiles, and the second in 1500 involving a cargo of salmon.
Bristol's customs accounts give us further insight into its career. According to the 1503/04 records, the Matthew departed Bristol for Ireland in December 1503 with a load of woolen cloth, silk, and wine. It returned in May 1504 with salt fish and animal skins. In June, it shipped textiles to Bordeaux and returned to Bristol on 12 August with salt and woad – a plant that produces blue dye. It departed for Spain on 28 August with another shipment of textiles. Such trade was typical for the period.
The Matthew reappears in the historical record on 27 October 1510, when it arrived at Bristol from Bordeaux with 20 tons of wine. It is not listed in a 1513 survey of Bristol shipping, which suggests that the vessel went out of service sometime between 1511 and 1513. The survey does list a New Matthew – a 120 ton vessel owned by one of Bristol's richest merchants, John Shipman. All later mentions of that vessel refer to it as simply the Matthew, suggesting that there was no other similarly named vessel registered to the port.
Present-Day Reconstructions
To commemorate the 500th anniversary of Cabot's 1497 voyage, a full-size replica of the Matthew was reconstructed at Bristol by the naval architect Colin Mudie and the boat-building company Storms'l Services (later renamed the Bristol Classic Boat Company). Mudie based his design on archaeological data and on late-medieval illustrations of caravels.
Shipwrights began work in February 1994 and it took them two years to complete the $3.8-million project. In 1997, the replica Matthew sailed across the Atlantic as part of the quincentenial celebrations. After 54 days at sea, it arrived at Bonavista on 24 June 1997, where it was welcomed by Queen Elizabeth II and 30,000 spectators. The Matthew then toured Newfoundland and the eastern seaboard before wintering in Toronto. It returned to Bristol in 1998.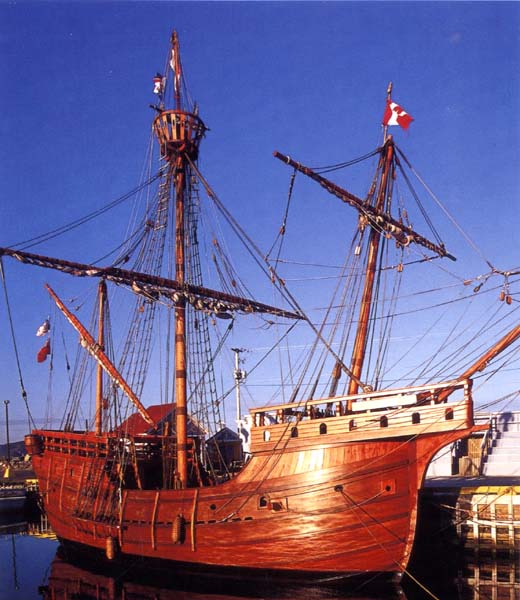 The Replica of the Matthew that was Built at Bonavista, NL
Reproduced by permission of John McQuarrie © 2013. From McQuarrie, John, Spirit of Place: St. John's, the Avalom and the English Shore Then and Now, (Ottawa: Magic Light Publishing, 2013), 69.
The provincial government paid for a second replica and interpretation centre to be built at the town of Bonavista soon after the 500th anniversary celebrations. They remain important tourist attractions.