Later Exploration
John Cabot may have discovered an ocean route from Europe to North America, but the information he returned with did little to clarify the geography of eastern Canada. Whether this was the northeastern tip of Asia or one of the islands that geographers believed to lie out in the Ocean Sea nobody yet knew. Over the next quarter century, however, a succession of voyages undertaken by several Portuguese explorers as well as the discoveries of Giovanni Verrazano, sailing for the king of France, proved beyond doubt that something resembling a full continent lay astride the route to the east.
Section of Gerolamo da Verrazzano's Map of the World, 1529
Courtesy of the Vatican Photo Library (Foto Biblioteca Vaticana), Vatican City. From André Vachon, in collaboration with Victorin Chabot and André Desrosiers, Dreams of Empire: Canada before 1700, Records of Our History series, English transl. by John F. Flinn (Ottawa, Ontario: Public Archives of Canada, ©1982) 30. Plate 13.
Enthusiasts continued to believe that there might be a narrow channel through this landmass or at least a northern, navigable waterway around it. Further European exploration in the region, however, would henceforth have to justify itself not only in terms of a route to Cathay, but also in terms of what of value might be found in the New World itself.
Thus, when Jacques Cartier explored the Gulf of the St. Lawrence in the 1530s, he was looking first for a channel through the Americas into the Pacific and also for "the vast quantity of gold and other rich things" that were believed to exist in this part of the world.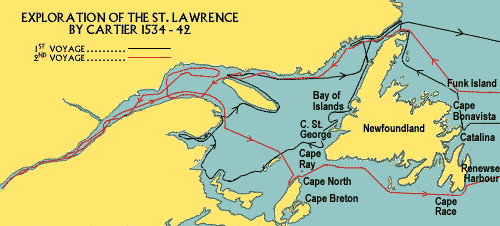 Exploration of the St. Lawrence by Cartier 1534-42
In the 16th century, Jacques Cartier made three voyages through the Gulf of St. Lawrence.
From Lawrence J. Burpee, ed., An Historical Atlas of Canada (New York: Thomas Nelson and Sons, Limited, 1927) 5. Map by John Bartholomew & Son, Ltd., Edinburgh Geographical Institute. Modified by Tina Riche.
Martin Frobisher's three voyages to the Canadian Arctic north of Labrador between 1576-1578 combined the search for a northwest passage with the misguided belief that there was gold to be mined on Baffin Island. The further these explorers pushed into the frozen north, however, the less they found of value; and from 1580-1620, when John Davis, Henry Hudson, Robert Bylot, and William Baffin were cruising the eastern Arctic, they were looking exclusively for a way to China and gave the frozen lands around them little thought at all.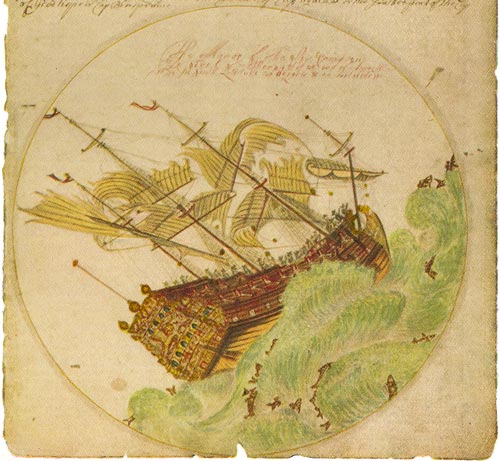 Sketch of the Ship Sampson by Edward Barlow
A 17th-century Sketch by Edward Barlow of the Ship Sampson endangered from a Storm in April of 1694. During the 16th and 17th centuries, exploration of the world's oceans became increasingly important as explorers ventured out to discover new lands for their European monarchs. But many of these transatlantic journeys could also prove to be very dangerous.
From Edward Barlow, Barlow's Journal of His Life at Sea in King's Ships, East & West Indiamen & Other Merchantmen from 1659 to 1703, transcribed by Basil Lubbock (London, Hurst & Blackett, Ltd., 1934) II, 378.
Newfoundland and Labrador were also "explored" during this period; we know this from the sharpening sense of the region's geography reflected in the maps of the day. Yet, this was the work, not of famous mariners, but of common fishermen and forgotten shipmasters from fishing ports of Western Europe. They have left their mark in the names they gave to the hundreds of bays, capes, and islands they frequented along the coast of this province, but who these explorers were is beyond recall.