Labrador
Moravian Voyages
European knowledge of the northern Labrador coast was significantly improved after 1763 by a series of voyages carried out by Moravian missionaries. Their aim was to find sites for mission stations where they could begin, and then expand the work of converting the Inuit to Christianity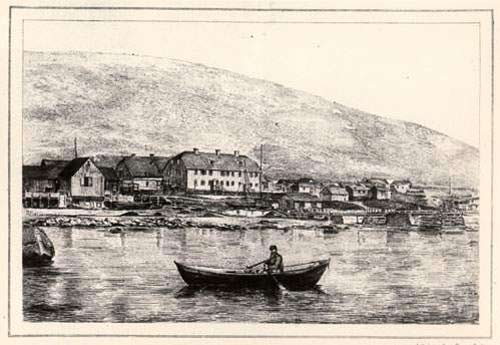 Nain Mission Station, Labrador
Courtesy of Archives and Special Collections, (Siegfried Hettasch Collection) Queen Elizabeth II Library, Memorial University of Newfoundland, St. John's NL.
In 1765, two Moravians explored the Davis Inlet area in the schooner Hope, which was provided by the British navy. Five years later, in 1770, another Moravian party explored the Nuneingoak area, where they decided to establish their first mission station. This was built the following year, and called Nain.
The missionaries then began to explore north and south of Nain. They used the sloop George to explore the coast as far north as Nachvak in 1773 and 1774, and as a result decided to build a second station at Okak, which opened in 1776. A site for a third station, to the south of Nain, was selected during a voyage to the Arvertok area in 1775. This was named Hopedale (Hoffenthal), and opened in 1782.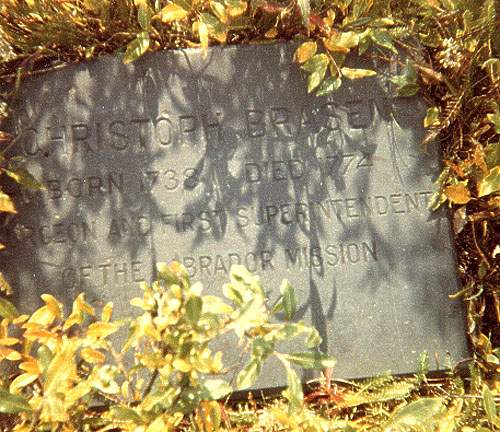 Gravestone of Christoph Brasen
Christoph Brasen (1738-1774) was a surgeon and the first superintendent of the Nain mission. He drowned in a storm that struck the 1774 expedition along the northern coast of Labrador. His grave can be found at the Moravian graveyard in Nain.
Courtesy of Archives and Special Collections (Siegfried Hettasch Collection), Queen Elizabeth II Library, Memorial University of Newfoundland, St. John's NL.
The Moravians were anxious to make contact with Inuit in the far north of Labrador, and in both 1774 and 1775 tried without success to explore the coast north of Nachvak. This project was not revived until the early 19th century. By this time, Inuit from Ungava Bay and Hudson Strait had begun to visit the Moravian settlements, and the mission decided that the time might have arrived for an expansion of its work.
In 1811, therefore, Benjamin Kohlmeister and George Kmoch sailed north from Okak in a shallop, accompanied by 15 Inuit. They rounded the tip of the peninsula, and sailed south along the east side of Ungava Bay as far as the Koksoak River which they ascended as far as the site of what later became Fort Chimo. Kohlmeister was convinced by this voyage that the Moravians should build a mission station in Ungava Bay. This did not happen, in part because of the opposition of the Hudson's Bay Company, and the mission instead built a fourth station at Hebron (1830) on the Labrador coast. An account of the voyage was published in London in 1814.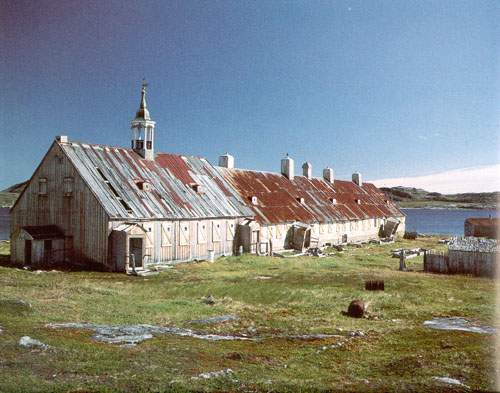 Hebron Mission Station in the 20th Century
This station was constructed in 1833 and originally included a church, classrooms, administrative offices and living quarters.
Photo by Brian Bursey. From Brian C. Bursey, Exploring Labrador (St. John's, NL: Harry Cuff Publications, ©1993) 86.