The French Settlement of Placentia
Although migratory fishermen from Normandy, Brittany and the Basque country of Gascony had exploited Newfoundland waters since the early 16th century, there is little evidence of French settlement before the 1650s. At this time French Basque fishermen may have begun to overwinter in Placentia Bay, a practice that was encouraged after 1655, when the French crown decided to sponsor a colony.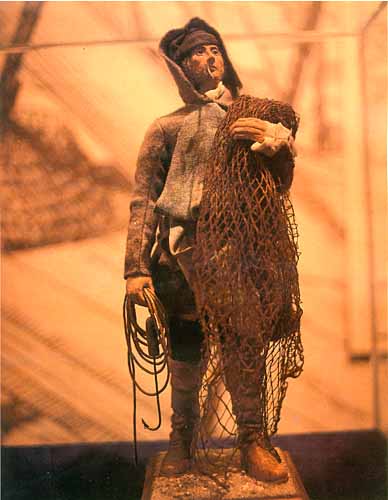 Basque Fisherman
This model of a Basque Fisherman is located at the Castle Hill Interpretation Centre in Placentia.
Photo courtesy of John de Visser. Taken from Harold Horwood and John de Visser, Historic Newfoundland (Toronto: Oxford University Press, ©1986).
Planting a Settlement
About 1660, the sea captain Nicholas Gargot, from La Rochelle, was commissioned to fortify Placentia and to plant a settlement. Objections by Breton fish merchants led to official abandonment of the project, although a few brave souls actually settled at this time. Louis XIV revived the project in 1662 by sending out 30 soldiers and a few settlers under Governor du Perron, who set to work building a small fort. Conditions must have been difficult, for some of the soldiers mutinied and du Perron, his chaplain and ten others lost their lives.
The following year 20 more soldiers and 20 fishermen with their families arrived to reinforce the colony. This was exactly the period when the French regime was most active in encouraging North American colonization. Indeed, these new colonists arrived on ships en route to Québec with settlers and soldiers recruited by Sieur Dugua de Mons for New France.
The French crown colony of Plaisance was very different from the English proprietorships of the early decades of the 17th century. It was sponsored as a strategic and military project rather than a commercial enterprise. However, the inhabitants fished and traded, and soldiers and administrators frequently acted as merchants as well. In the 1670s the Governor La Poippe reorganized the colony and put it on a stronger footing. French governors even tried to attract disaffected settlers from the English settlements, and by the turn of the century some Irish servants had settled there. By 1680 the planters of the neighbouring English Shore had begun to see Plaisance as a threat.
Terms of the Treaty of Utrecht
War broke out between France and England in 1689 and raged intermittently until 1713. Under the terms of the Treaty of Utrecht, the French had to abandon their Newfoundland colony and move their fortified maritime military headquarters to Louisbourg, in Cape Breton or "Ile Royale". Many of the soldiers and fishermen who founded Louisbourg arrived straight from Plaisance.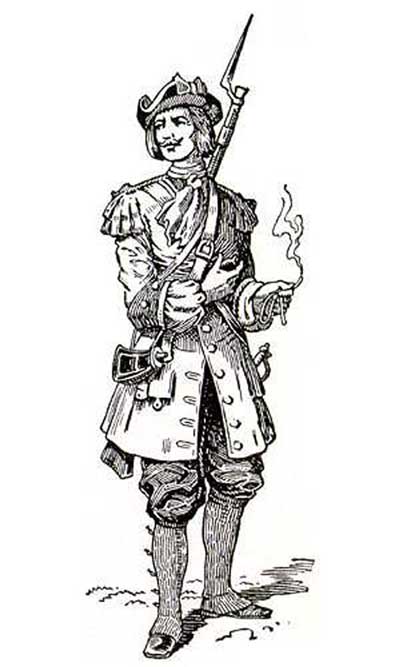 French Soldier, Late 17th Century
Artist unknown. From J.A. Cochrane, The Story of Newfoundland (Montreal: Ginn and Company, 1938) 163.
A few French families stayed in the area, where they were soon joined by new settlers, some from Ireland. Others moved to small, clandestine settlements in southwestern Newfoundland. The treaty of 1713 also forced the French to abandon their fishing establishments at St. Pierre and Miquelon.