Rockfalls
Rockfalls are the downslope movement of loose rocks, either through free fall or by rolling. Rockfalls commonly involve individual boulders, although landslides may be triggered if these boulders impact the slope. Clasts may be dislocated by erosion beneath the clast, freeze-thaw processes or human intervention. Incidences of rockfalls in Newfoundland and Labrador are shown on the map below.

Rockfalls in Newfoundland and Labrador
(click on a teardrop to obtain information on a hazardous event in that location)
Springdale
The expansion of the town of Springdale led to the 1972 development of a new subdivision adjacent to a highly fractured basalt cliff. Several rockfalls from this cliff over the next few years resulted in property damage. A youth was killed in April 1984, while climbing on the slope, when a large boulder toppled and crushed him. In response to these incidents, extensive engineering works were undertaken by the Department of Municipal Affairs to stabilize parts of the cliff face. In 1986, a retaining wall was constructed at a cost of $286,000 to protect 11 houses that were built along the foot slope.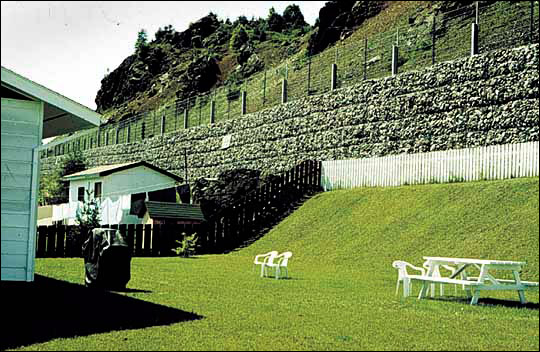 Taylor's Sub-division, Springdale
Retaining wall constructed in Taylor's sub-division, Springdale at a cost of $286,000. The sub-division was built at the base of a highly fractured basalt cliff.
Reproduced by permission of the Government of Newfoundland and Labrador © 1998.
Highway Construction
Slope stability is a major problem in highway construction throughout the province. Transportation routes are occasionally cut by landslides, affected by minor rockfalls, or have problems with gullying and minor debris flows on road cuttings. New highway expansion and construction near Gambo incurred major difficulties where the highway abutted a steep slope of unconsolidated sediments.Considerable remedial engineering work has been undertaken to protect the road in this area at estimated costs of $650,000 or more.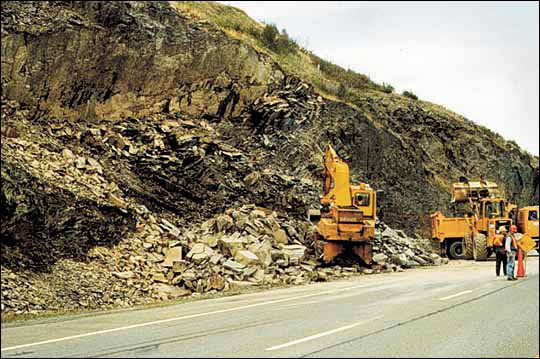 Rockfall on Pitts Memorial Drive
Clean-up efforts following a rockfall along the Pitts Memorial Drive, St. John's in April 1997. Debris closed the road for several hours, but there were no serious injuries.
Reproduced by permission of the Government of Newfoundland and Labrador © 1997.