Archives Holds Famed Naturalist's Drawings of Newfoundland Birds
From the files of The Gazette January 13, 1994.
In 1941 the Government of Newfoundland commissioned Harold S. Peters and Thomas D. Burleigh of the United States Fish and Wildlife Service to prepare a book on Newfoundland birds. Its purpose was three-fold: to be a ready reference source on Newfoundland birds, to be of use in Newfoundland schools and to acquaint Newfoundlanders and others with the bird life of Newfoundland. Peters and Burleigh compiled information on 227 birds and their work was published in 1951 by the Newfoundland Government as The Birds of Newfoundland.
Peters and Burleigh's book was well illustrated. It contains 32 full-page colour plates and 40 line drawings of birds described in the book. These illustrations were done by the renowned American naturalist, author and artist Roger Tory Peterson. Peterson was recognized as early as the 1930s as an authority on North American birds and his ability to illustrate the guidebooks to birds and other wildlife that he prepared, made such publications instant successes. The "Peterson Series", as his books have become known, are now considered the definitive guides to North American natural history. Peterson is probably best known to Newfoundlanders as the artist who painted the animal and bird pictures which appeared on the collector's cards which appeared in Red Rose Tea during the 1950s and 1960s.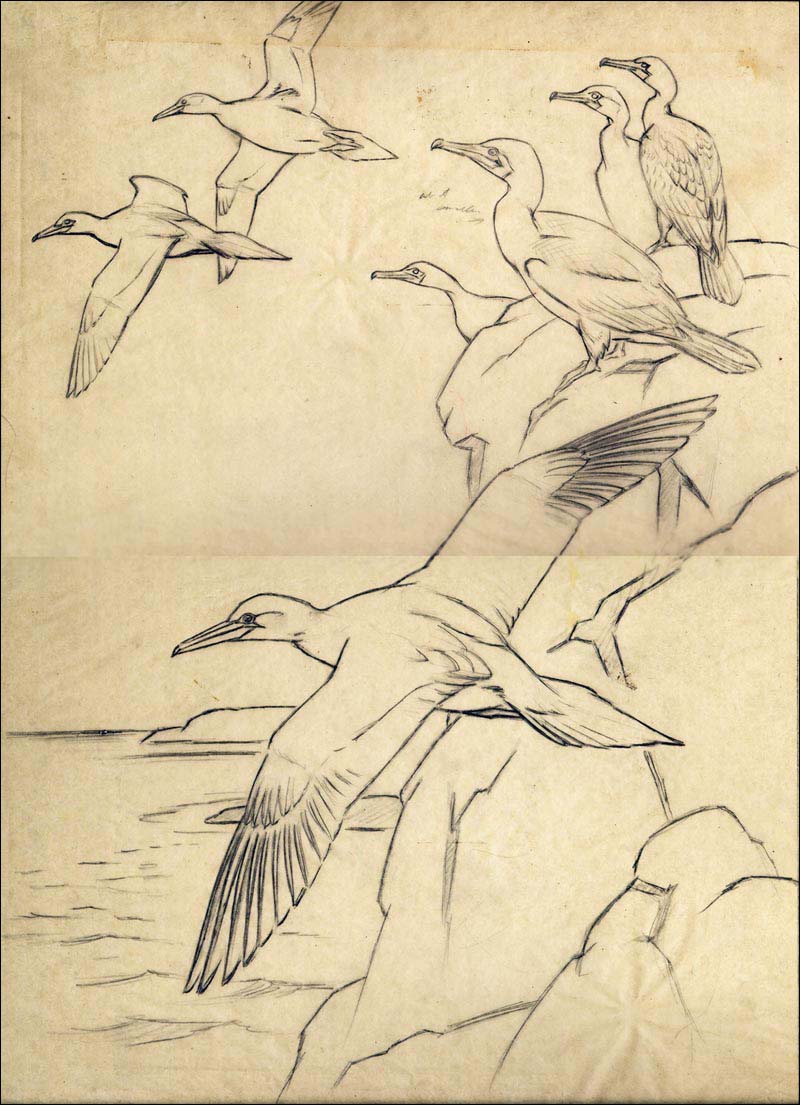 Roger Tory Peterson's Artwork
One of the original pencil drawings now housed in the CNS Archives.
Courtesy of Archives and Special Collections (Original pencil drawing: MF - 031), Memorial University of Newfoundland, St. John's, NL.
The colour plates and the black and white drawings in The Birds of Newfoundland were all done by Peterson. The colour plates are from original water colours; these water colours were painted from elaborate pencil drawings which Peterson also drew.
In 1984 Harold Peters, then living in retirement in Florida, in a letter to Dr. William Montevecchi of Memorial University's Psychology Department mentioned that he had Peterson's original pencil drawings on which the colour plates in The Birds of Newfoundland were based. He wondered if Montevecchi, also a noted expert on Newfoundland birds, would like the pencil drawings. Montevecchi responded that he was sure "that our University would be very happy to receive these and that they would be appropriately protected and stored for the use of present and future Newfoundlanders." Peters sent the drawings and in June 1984 they were turned over to the Centre for Newfoundland Studies for deposit in its archives.
Even though there were 32 colour plates in the book, only 18 of the pencil drawings survived. These drawings each measure approximately 45 x 33 cm and are on an onion-skin paper. The drawings of the birds are quite detailed. There are slight variations between the pencil drawings and the water colour reproductions which appear in the book. Despite their age the drawings are in excellent condition. They are quite beautiful to look at and a very important part of the natural history of Newfoundland.