Landslides
Landslides are the downslope movement of unconsolidated material under the influence of gravity. The introduction of excess quantities of water to the slope, either from rainfall or snowmelt, is commonly the trigger. Excess water loads the slope beyond its material strength causing it to slide, often rapidly when the water acts as a lubricant. These landslides are debris flows or debris torrents.
The slope angle and sediment texture are other important factors that control drainage from a slope. Better drained areas on the slope, commonly near the top, may fail by rotational slumping during failure of the lower slope by flowage. Incidences of landslides in Newfoundland and Labrador are shown in the following map. The larger version provides pop-up information on locations, dates, deaths, and injuries, along with other comments and an accompanying table.
Known Landslides in Newfoundland and Labrador
(click on a dot to obtain information on a hazardous event in that location)
Southside Road, St. John's
Following a rainstorm that dumped 11.5 cm (4.5¨) of rain in 18 hours on the St. John's area, a debris torrent on September 15, 1948, damaged a number of houses on Southside Road, and caused a fatality. Four landslide events were reported over a 20-year period at this location. An earlier landslide, on February 23, 1936, killed a young child, and other landslides on October 13, 1934, and in October 1953, damaged property and disrupted transportation routes. The construction of the Pitts Memorial Drive has largely alleviated the landslide threat in this area.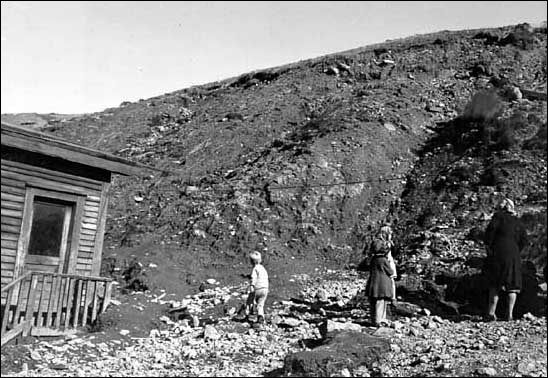 Southside Rd., St. John's, 1948
Debris path produced by landslide on Southside Rd., St. John's in September 1948.
Image courtesy of the St. John's City Archives.
Harbour Breton
On August 1, 1973, following several weeks of heavy rainfall, a debris torrent occurred at about 3 a.m. in a gully above the community of Harbour Breton. Four houses were swept into the harbour and destroyed, resulting in the death of four children. Slope movements continued over the days following the disastrous slide. The families who lost their houses during the landslide, and 11 other families whose homes were thought to be at risk from further landslides, were resettled. The area in which the tragedy occurred had been the site of a previous landslide, in about 1953; however, there were no houses located in the area, and consequently there was no incidence report filed on which to base future planning decisions.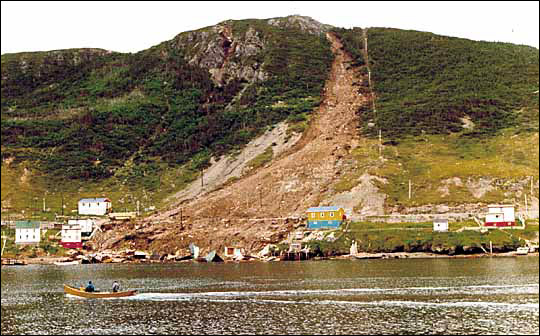 Harbour Breton Landslide, 1973
This picture shows a debris torrent which occurred in Harbour Breton in 1973.
Reproduced by permission of the Government of Newfoundland and Labrador © 1973.
Riverside Drive, Corner Brook
On April 19, 1994, a series of landslides blocked Riverside Drive in Corner Brook. The failure occurred along the interface between the till and sand/gravel in the upper part of the slope, whereas the lower slope was frozen.
The cause of the slides was inadequate drainage from the newly constructed Trans-Canada Highway in the area. During construction, a major drainage ditch was cut by the new highway. Following a period of intense snowmelt, water normally carried by this ditch was redirected through the subsurface to the adjacent slopes above Riverside Drive, triggering the landslides.
No injuries resulted from the slides, although Riverside Drive was closed until mid-summer. Remedial measures included the construction of sealed ditches to direct water from slopes susceptible to failure.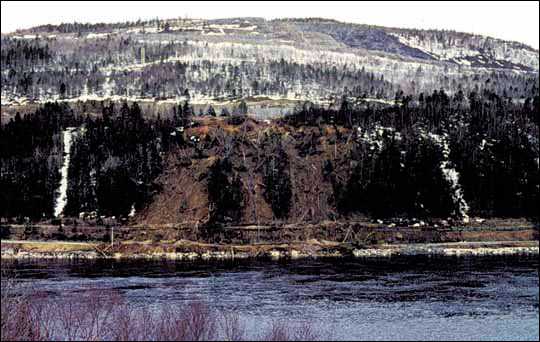 Riverside Drive Landslide, Corner Brook, 1994
Landslide at Riverside Drive, Corner Brook, April 1994.
Reproduced by permission of Martin Batterson ©1994.
Images and text reproduced by permission of M. Batterson, D.G.E. Liverman, J. Ryan and D. Taylor, The Assessment of Geological Hazards and Disasters in Newfoundland: An Update. (St. John's: Government of Newfoundland and Labrador, Department of Mines and Energy, Geological Survey, © 1999) unless otherwise noted.