Launching a Distinctly Newfoundland Book
From the files of The Gazette June 19, 1997.
On June 6, 1997, the Champlain Society and Memorial University's Centre for Newfoundland Studies hosted a launch in the centre's reading room for the society's most recent publication: The Reminiscences of J. P. Howley: Selected Years, edited by Dr. William J. Kirwin, Dr. George M. Story and Dr. Patrick O'Flaherty -- all former members of Memorial's English Department. Joining in this celebration were members of the university community, family and friends of the editors, grandchildren, great-grandchildren and even a few great-great-grandchildren of James P. Howley, and members of the Champlain Society and the Canadian Historical Association who were in St. John's for the Congress of Learned Societies conference at Memorial University.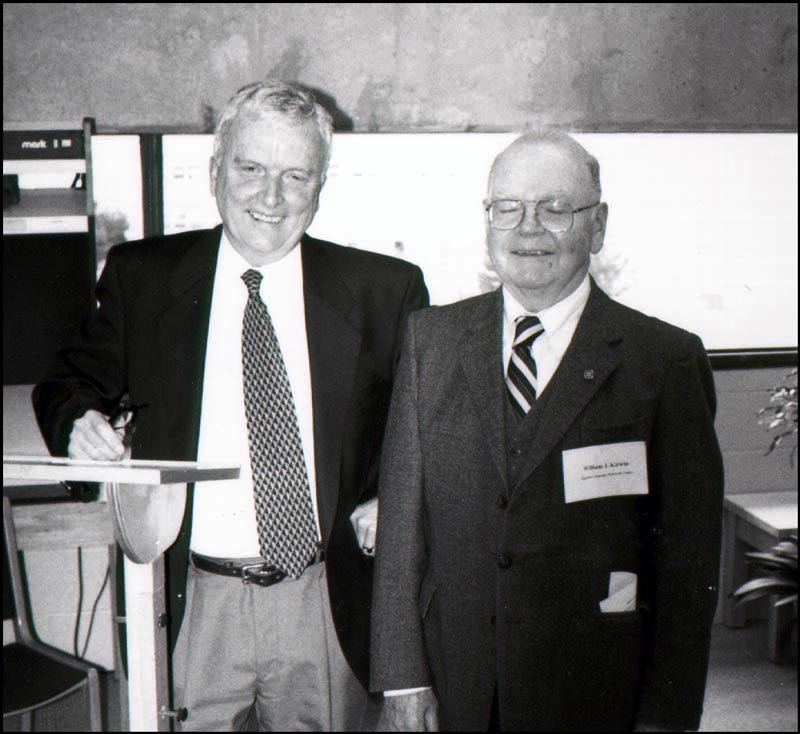 Two Editors of the Reminiscences of J. P. Howley
Dr. Patrick O'Flaherty (left) and Dr. William J. Kirwin. Dr. George M. Story (1927-1994) was the third editor for the project. All three were members of Memorial's English Department.
Courtesy of Archives and Special Collections, Memorial University of Newfoundland, St. John's, NL.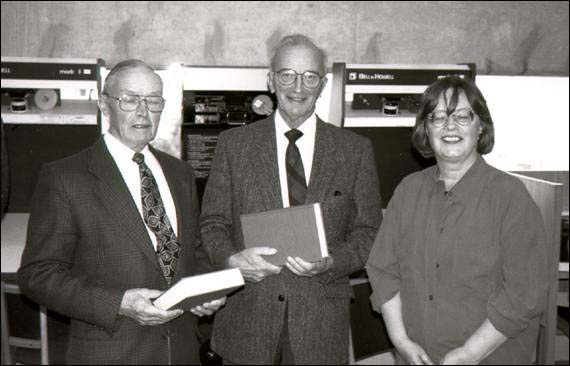 Grandfather's Memoirs
(L-R) Michael Howley and Thomas Howley, grandsons of James P. Howley, receive copies of their grandfather's memoirs from Dr. Sylvia Van Kirk of the Champlain Society.
Courtesy of Archives and Special Collections, Memorial University of Newfoundland, St. John's, NL.
Speaking during the formal part of the event were Richard Ellis, university librarian for Memorial; Anne Hart, head of the Centre for Newfoundland Studies; Dr. Sylvia Van Kirk, representing the Champlain Society; Dr. R. Craig Brown, the society's general editor; and Dr. Patrick O'Flaherty, representing the editors. This is the 60th publication of the Champlain Society, the first involving a Newfoundland subject or theme.
Who was Howley?
James P. Howley was born at Mount Cashel, then situated outside St. John's, on July 7, 1847, the son of Richard Howley (1804-1875) and Elizabeth Burke (1807-1863). The father was a well-known St. John's merchant and trader, and he and his wife raised a large family, including future Roman Catholic archbishop of St. John's Michael F. Howley (1843-1914), cleric and writer Richard V. Howley (1836-1912), and Thomas Howley (1839-1889), a medical doctor who served in the American civil war.
James P. Howley was educated at St. Bonaventure's College in St. John's. From childhood he was keenly interested in natural history and his physical environment; he read all he could find on these subjects. He also went out into the countryside near the family home at Mount Cashel, examining the flora and fauna and the geology of his local surroundings. He joined the Newfoundland civil service in 1867, and soon caught the eye of Alexander Murray, head of the Geological and Topographical Survey, who was impressed with his knowledge. Murray soon seconded Howley as his assistant.
Exploring the Interior
Over the next 20 years Murray (for whom Memorial's Earth Sciences Building is named) and Howley spent a good part of each year exploring the interior of Newfoundland, searching for minerals, for areas suitable for forestry or agriculture, for potential transportation routes and even for areas for new settlement. In 1887 Murray retired and Howley succeeded him as head of the survey office; in 1898 he was officially commissioned as director of the Geological Survey. Howley continued his yearly explorations of Newfoundland until he retired from the survey in 1909.
Keeping Track
During these expeditions, Howley kept field diaries of what he saw and learned. Beginning in 1881 -- with the appearance of the Geological Survey of Newfoundland, a summary of their findings covering the years 1864-1879 -- Murray and Howley (and after 1887 Howley alone) prepared annual reports of their work on the survey, which were published in booklet form. Much of the content of these reports was based on the notes and diaries kept by Howley. After his retirement, Howley prepared a typescript based on his diaries, with an aim to publishing his memoirs. This, unfortunately, did not happen before his death on Jan. 1, 1918.
Fascinating Reading
Howley was a prolific and accomplished writer. In 1876 he published Geography of Newfoundland, a book especially designed for use in Newfoundland schools. The Mineral Resources of Newfoundland was published in 1909. He wrote scores of articles on the geology and natural history of Newfoundland for local and international newspapers and journals. His major work, however, was The Beothucks or Red Indians (1915), in which he brought together all the written, oral, artifactual and palaeographic evidence he could accumulate on these indigenous peoples of Newfoundland, the last of whom died in 1829. It was the first comprehensive account of the Beothuks and is still recognized as a scholarly work, worthy of consultation many decades after its publication.
The Publishing Project
Ingeborg Marshall, author of the recent publication A History and Ethnography of the Beothuks (1996), in her search for information on the Beothuks, became aware of James P. Howley's typescript memoirs and handwritten diaries in the possession of one of Howley's grandchildren. She informed Dr. George Story of Memorial University's English Department of her find. He immediately recognized the value of the information and the potential for publication. He was able to interest the Champlain Society, based in Toronto, in publishing an edited version of the memoirs. The Howley family agreed and Dr. William J. Kirwin, Dr. Story's colleague, joined him as editor. Regrettably, Dr. Story died before the project was finished. Dr. Patrick O'Flaherty joined Dr. Kirwin in the final editing and wrote the introduction to the volume.
The Centre for Newfoundland Studies (CNS) was partner to this launch because it is the home of Howley's typescript and diaries upon which Reminiscences of J. P. Howley is based. The Howley family has presented the typescript and diaries, together with a number of other papers related to James P. Howley and other family members, to the CNS Archives, where they are available for study and research.