Fort militaire
Au cours d'un demi siècle d'occupation officielle, les Français érigent une série d'ouvrages fortifiés aux endroits jugés les plus propices à la défense de la colonie : un fort sur le plateau à l'est de Plaisance; une palissade autour de la ville; le fort louis du côté nord du goulet (aujourd'hui Jerseyside); le fort Royal sur la montagne (Castle Hill); une petite redoute sur le Gaillardin ainsi que plusieurs petites batteries s'échelonnant du port jusqu'à l'embouchure de la baie. C'est entre 1690 et 1703, en raison de la guerre avec l'Angleterre, que les fortifications se multiplient et s'améliorent.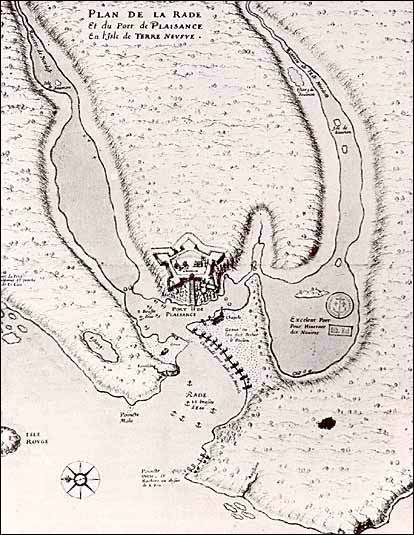 Fort de Plaisance vers 1675
Courtoisie de la Division de l'Art photographique et documentaire, Archives nationales du Canada.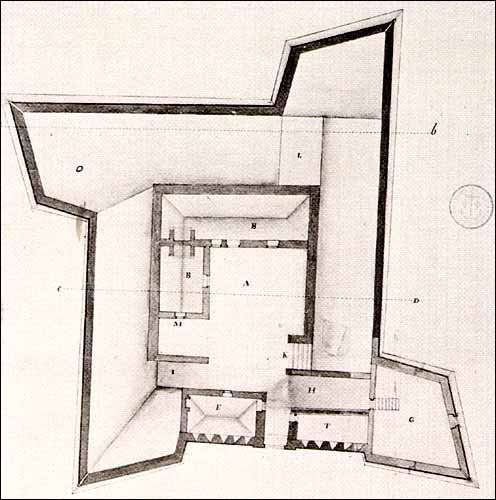 Plan de l'intérieur du Fort Royal, 1701
Courtoisie de la Division de l'Art photographique et documentaire, Archives nationales du Canada.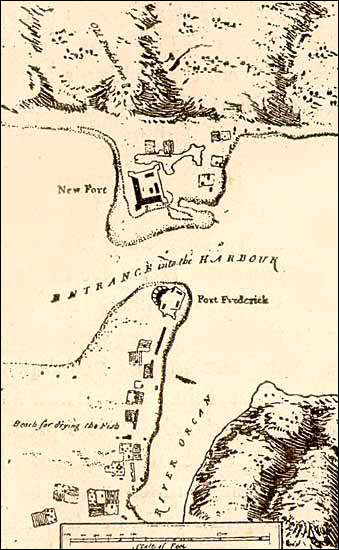 Carte britannique du Plaisance datant du 18e siècle
Les deux forts indiqués sur la carte, le Fort Frederick et le Nouveau Fort, furent construits par les Britanniques durant la première moitié du 18e siècle. Le Nouveau Fort était sur le même site que le Fort Louis.
De D.W. Prowse, A History of Newfoundland from the English, Colonial, and Foreign Records, 2nd edition (London: Eyre and Spottiswoode, 1896) 276.
En 1662, Plaisance à un fort avec de simples remparts de terre renforcis de pieux en bois avec quatre canons contre 32 en 1667. En 1687 débute la construction d'un bâtiment royal qui sert à la fois de fort et de maison du gouverneur. La construction du fort Louis débute durant les années 1690 et se compose d'une enceinte de 300 pas de circonférence avec deux bastions, comprenant le quartier général du gouverneur et les baraques de la garnison. Il s'agît toujours d'une palissade en pieux de bois protégée par 26 canons en batterie répartis sur trois côtés. à force de travaux, le fort Louis finit par devenir un ouvrage de pierres. En 1703, le fort a des murs de 16 pieds de haut sur 8 d'épais et construits de chaux et de pierres. Rappelons qu'il ne s'agît pas là de l'unique ouvrage fortifié de la colonie, mais c'est le plus important.