L'économie de Plaisance
Dès les années 1660, le gouvernement français s'attend à ce que la population de Plaisance ne se livre pas exclusivement à la pêche et qu'elle s'adonne aussi à la culture du sol pour que la colonie ne dépende pas entièrement du ravitaillement apporté par les navires d'Europe. Bien que quelques habitants cultivent des potagers et gardent quelques animaux, l'agriculture ne devient jamais suffisante pour ravitailler la colonie.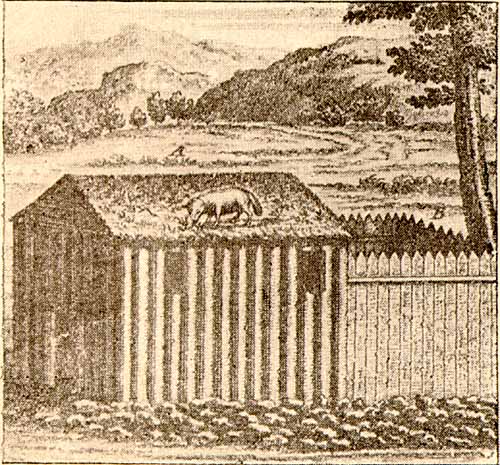 Ferme à Plaisance
Une illustration du 18e siècle représentant une ferme française à Plaisance avec un mouton broutant sur le toit.
De D.W. Prowse, A History of Newfoundland from the English, Colonial, and Foreign Records, 2nd edition (London: Eyre and Spottiswoode, 1896) 186.
Les navires venant d'Europe se livrent seulement à la pêche d'été alors que les habitants-pêcheurs, eux, y ajoutent celles d'automne et de printemps. Ils se mettent en liaison avec les navires métropolitains qui leur apportent les vivres et denrées indispensables à leur subsistance et au commerce. Les navires français viennent surtout de La Rochelle, de Nantes et de Bordeaux. Les Anglais de la Nouvelle-Angleterre visitent aussi Plaisance pour acheter du poisson et y écouler des marchandises. Selon les habitants, les navires de Boston répondent mieux aux besoins des résidents. Avec le temps, des habitants de Plaisance arment eux-aussi des navires de commerce qui transigent avec Québec, les Antilles et la France.
La pêche des habitants se fait surtout à l'ouest de Plaisance, entre autres, dans la baie du Trépas, au Petit Nord, aux îles Saint-Pierre et Miquelon, à la baie Sainte-Marie, à la baie de Fortune, au havre du Grand Banc, au Cap Nègre, à l'Ermitage, etc. Contrairement à l'île Royale, les recherches publiées ne permettent pas d'avoir une bonne idée des activités de pêche à Plaisance. Par contre, quelques données existent.
| Années | Navires venus | Tonnage | Équipages (hommes) | Morue (quintaux) |
| --- | --- | --- | --- | --- |
| 1703 | 30 | 4,060 | 1,140 | 71,200 |
| 1704 | 43 | 5,741 | 1,508 | 123,000 |
| 1705 | 22 | 2,710 | 721 | --- |
| 1706 | 52 | --- | --- | --- |
| 1712 | 24 | --- | --- | --- |

Source : Charles de La Morandière, Histoire de la pêche française de la morue dans l'Amérique Septentrionale, G.-P. Maisonneuve et Larose, France, 1962, p. 498-504.