Pamela Morgan et Noel Dinn
Pamela Morgan (1957- ) et Noel Dinn (1948-1993) ont été les membres fondateurs du groupe phare Figgy Duff de Terre-Neuve-et-Labrador. Ce groupe a vu le jour en 1975 lorsque Dinn, un artiste chevronné de la scène rock de St. John's, a rassemblé des artistes intéressés à combiner la musique traditionnelle avec le rock and roll. Morgan, une chanteuse qui est née et a grandi à Grand Falls, s'est rapidement jointe au groupe. Au cours des deux décennies suivantes, ces artistes ont fait la tournée de l'île en offrant au public un mélange original de musique traditionnelle et de musique contemporaine. Lorsqu'ils étaient sur la route, ils en profitaient pour recueillir des chansons et des airs anciens qu'ils interprétaient ensuite sur scène dans un environnement musical moderne où la batterie, les amplificateurs et les guitares électriques avaient aussi leur place.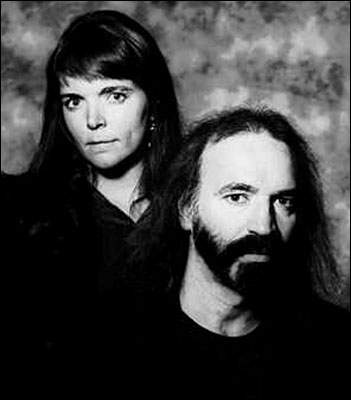 Pamela Morgan et Noel Dinn, s.d.
Morgan et Dinn ont été les membres fondateurs du groupe Figgy Duff.
Photographie : Denise Grant. Avec la permission d'Amber Music.
Morgan et Dinn ont aussi fait leur marque comme auteurs-compositeurs. Les deux derniers albums du groupe comprenaient essentiellement du matériel original et des chansons telles que Freedom (composée par Dinn) et Snowy Night (composée par Morgan). Ces deux titres font désormais partie des titres les plus populaires du répertoire de Figgy Duff. Morgan et Dinn ont aussi allié leurs talents pour composer Weather Out The Storm, une autre chanson emblématique du groupe.
Le groupe Figgy Duff a été dissous en 1993 à la suite du décès de Noel Dinn. Pamela Morgan poursuit désormais une carrière solo et, en 1996, elle a enregistré une autre compilation originale intitulée On A Wing And A Prayer. Elle a aussi continué à faire de la musique traditionnelle comme artiste solo et en collaboration avec Anita Best. En 1993, ce duo a sorti l'album The Colour of Amber, une compilation de chansons traditionnelles qui a été acclamée par la critique.