Robert Gillespie Reid
The patriarch of the Newfoundland Reid family was born at Coupar Angus, Perthshire, Scotland on 12 October 1842, the son of Catherine (Gillespie) and William Robertson Reid. Apprenticed at an early age to a maternal uncle as a stonemason, Reid worked in the area of his home village into early manhood.
Emigration
In 1865 Reid emigrated to Australia, seeking his fortune in the goldfields. However, during the passage he met his future wife, Harriet Duff (they were married at Auckland, New Zealand that August), and his head was soon turned from the romantic lure of gold to practicing his trade. Reid's most notable work in Australia involved constructing stone viaducts for a railway through the Blue Mountains of New South Wales. In 1869 Reid and his family (which by this time included sons Harry and William) returned to Scotland, Reid's father having died.
In 1871 Reid emigrated once again, this time to North America, seeking opportunities to apply his trade and experience to large construction projects. Reid found work in Ontario (including, according to family tradition, masonry work on the Parliament Buildings in Ottawa), and in 1873 brought his family from Scotland and established them in Galt (now Cambridge). Now entering the prime of life, Reid worked for the next few years as "outside man" for the Galt-based bridge contracting firm of Isbester and Reid.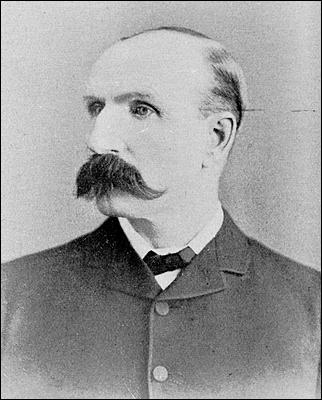 Robert G. Reid (1842-1908), n.d.
Reid emigrated to Canada in 1871.
From Henry Youmans Mott, Newfoundland Men (Concord, N.H.: Cragg, 1894) 267.
In the late 1870s Reid moved his family to California, and over the next few years worked primarily as a contractor and engineer, constructing bridges on difficult western sections of the American transcontinental railways. By 1883, when he built a bridge over the Delaware Gap, Reid had established an unparalleled reputation as a bridge-builder in difficult terrain and - perhaps more remarkably - as a reliable contractor who always completed his contracts.
Reid's Return to Canada
In that year Reid returned to Canada, possibly having been recruited to work on the Canadian Pacific Railway. In any case, Reid was quickly entrusted with some challenging sub-contracts, most particularly for bridge construction along the north shore of Lake Superior. In 1887 he was awarded his first contract to construct an entire line, the 87-mile long Sudbury branch of the CPR. This contract also marked the first time he was joined in business by one of his sons, the 20-year-old William. In following years all three of Reid's sons became involved in the business.
Another factor driving Reid towards new challenges in his middle years was a coterie of trusted and loyal employees, many of them fellow Perthshire Scots. Even before becoming involved in the Newfoundland Railway, R.G. Reid was a success by any measure, and a very rich man indeed. His family was comfortably based in Montreal, as was the headquarters of the CPR.
In 1890, the year in which he first became involved in Newfoundland, Reid was contracted to complete the Intercolonial Railway across Cape Breton Island. It was while overseeing a crucial phase in the construction of the Grand Narrows bridge that he contracted the rheumatism which was to plague him for the rest of his life (he was then only in his late 40s).
Constructing the Newfoundland Railway
Reid initially bid on a government contract to construct a railway from Whitbourne to Hall's Bay, in partnership with George H. Middleton. Two years later, in 1892, Middleton withdrew from the partnership for personal reasons. Reid now had enough confidence in his two elder sons that he was more comfortable with his emerging "inside" management role. He divided his year for the most part between Montreal and California, trusting family retainers to assist his young sons in the day-to-day direction of railway construction in Newfoundland.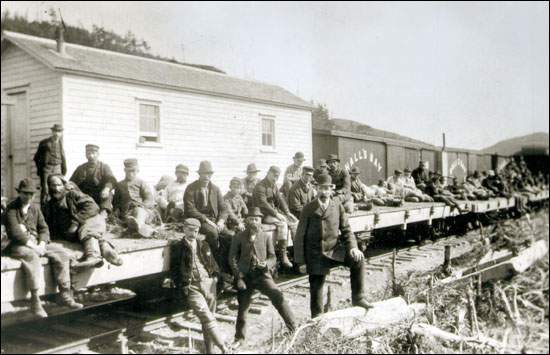 Robert Reid and Construction Workers, ca. 1892
Reid (centre) poses with construction workers on the Halls Bay Railroad at Camp 3 (construction headquarters in 1892), near Southern Harbour.
From the A.R. Penney Collection. Courtesy of Harry Cuff Publications.
Reid took a more active role in Newfoundland's affairs in 1893, when a new contract was negotiated to extend the line to Port aux Basques. Then in 1895, with the Newfoundland government facing bankruptcy in the aftermath of the Bank Crash, and the contractor fearing that the bonds with which he was being paid might become worthless, Reid encouraged the government to seek Confederation with Canada. Reid further used his fortune and influence to secure assistance for the colony in this crisis, and helped to bring his own bankers, the Bank of Montreal, to Newfoundland.
In 1897/98, with the completion of the line approaching, and with lands along the railway line forming such a large part of his contract, Reid was naturally concerned that the railway would continue to operate. It would also seem that Reid's sons were keen to extend the family's involvement in Newfoundland beyond the construction phase, using the Reid lands as the basis for a new commercial empire. The result was the railway contract of 1898, negotiated by William and Harry Reid while their father wintered in California.
The Reid Family and Politics
While R.G. Reid initially approved the contract it appears he was much disheartened by the subsequent political controversy, and the revision of the contract he was forced to accept in 1901. After a career in which his engineering skill and propriety in business matters had been crowned with success and accolades, he was dismayed by the venom of the opponents of the 1898 contract. Though Reid continued to support his sons in most business matters, he was dismayed at the level of personal animosity that existed between William and the premier, Sir Robert Bond. He strongly disapproved of his sons' decision to campaign against Bond in the election of 1904. Reid offered to sell the railway and his family's interests in Newfoundland to the government in 1905, but was turned down by Bond.
Death
Sir R.G. Reid died at his home in Montreal on 3 June 1908 (he had been knighted in the 1907 New Year's honours list). His will directed that his interest in the Reid Newfoundland Company was to be "realized and disposed of as soon as possible" and he advised his sons not to "invest any part of my estate in any new enterprise or in any speculative or hazardous investments in Newfoundland or elsewhere."