Population Distribution and Land-Based Industries
Most Newfoundland and Labrador residents lived near the coast at the turn of the 20th century and depended on the sea for their livelihoods. Roads were scarce and boats were the dominant mode of transportation. Construction of the railway opened up the island's interior for the first time and allowed government and industry to develop the region's mineral and forest resources.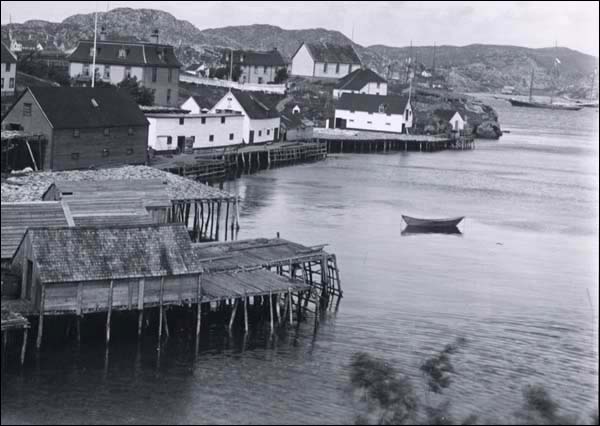 Collins Cove, Burin, ca. 1900
Roads were scarce and boats were the dominant mode of transportation.
Photographer: Holloway. Reproduced by permission of Archives and Special Collections (Coll. 137 08.02.014), Queen Elizabeth II Library, Memorial University of Newfoundland, St. John's, NL.
Workers began to leave their coastal homes to find employment at new mines and mills in the island's interior. Some remained on a seasonal basis, others settled there permanently. Soon, large populated centres like Corner Brook, Grand Falls, and Buchans dotted central Newfoundland and the island's population was spread not only around the coasts, but throughout the interior as well.
Forest Industries and Population Distribution
The development of forest industries in the early 20th centuries dramatically affected settlement patterns in Newfoundland and Labrador. As paper companies established mills in central and western Newfoundland they also helped build new towns to accommodate workers. For the first time in the country's history, thousands of families migrated from their coastal communities to work and live in the island's interior.
The town of Grand Falls came into being almost overnight after the Anglo-Newfoundland Development (AND) Company opened a pulp and paper mill there in 1909. An uninhabited wilderness at the turn of the 20th century, the community boasted a population of 1,634 by 1911. A rapid influx of settlers also arrived at Bishop's Falls after Albert E. Reed and Company established a pulp mill there in 1911. The community's population jumped from 20 in 1901 to almost 800 in 1921. Corner Brook's small population increased dramatically after the Reid Newfoundland Company built a pulp and paper mill there in 1925; by the early 1930s, approximately 10,000 people lived in the area.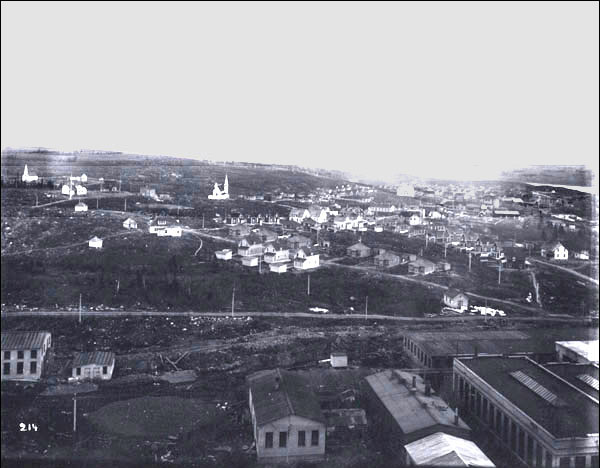 Grand Falls, ca. 1917
An uninhabited wilderness at the turn of the 20th century, the community boasted a population of 1,634 by 1911.
Photographer unknown. Reproduced by permission of Archives and Special Collections (Coll. 137 20.02.006), Queen Elizabeth II Library, Memorial University of Newfoundland, St. John's, NL.
The new mills also led to the rapid expansion of existing logging communities or to the establishment of new ones. The logging town of Badger, for example, experienced rapid growth after it started to supply the Grand Falls mill with wood in 1909. The community population's climbed from 20 in 1901 to 136 in 1911 and to 284 in 1921. Norris Arm also grew in size after it began shipping timber to the Grand Falls mill. The community had a population of only 83 in 1901, but by 1921 was home to 394 permanent residents, many of whom moved there from the islands of Notre Dame Bay. A variety of other logging communities also expanded in the early 1900s, including Millertown, Benton, Gambo, and Glenwood.
The Reid Newfoundland Company helped establish the town of Deer Lake when it built a hydro electric station there in the 1920s to supply power to its Corner Brook mill. Workers arrived at Deer Lake from all over the island to help build the station; once construction ended in 1925, many residents permanently settled in the area to work as loggers. By 1935, approximately 1,500 people were living at Deer Lake.
Mining Towns
As Newfoundland and Labrador's mining industry expanded during the late 19th and early 20th centuries, it also influenced population distribution. Workers from across the country travelled to new mines at Bell Island, Buchans, and elsewhere to find employment. Some mines transformed sparsely populated areas into boom towns, while others created entirely new settlements out of the wilderness. Most, however, drew workers away from small fishing communities scattered along the coast and into new, densely populated industrial centres.
Although farming and fishing families settled at Bell Island in the 18th century, its population remained relatively small until iron ore mines opened at Wabana in 1895. In the coming years, hundreds of workers flocked to Bell Island from across the country. The population increased from 701 in 1891, to 1,320 in 1901, and to 6,157 in 1935.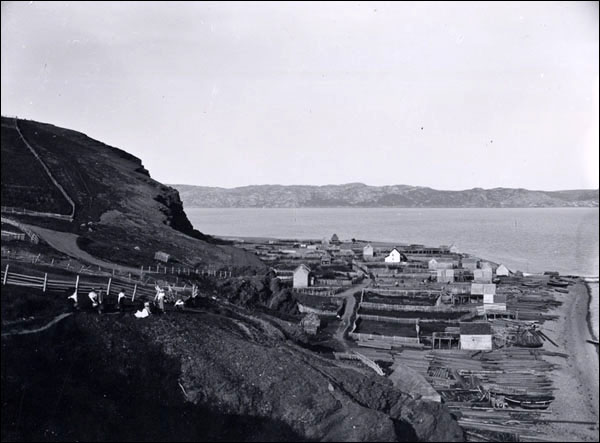 Bell Island, ca. 1904
Farming and fishing families settled on Bell Island during the 18th century.
Photographer unknown. Reproduced by permission of Archives and Special Collections (Coll. 137 10.13.010), Queen Elizabeth II Library, Memorial University of Newfoundland, St. John's, NL.
Buchans was another pre-Confederation boom town that attracted hundreds of workers from other places in Newfoundland and Labrador. Unlike Bell Island, Buchans was an unsettled wilderness in central Newfoundland before the American Smelting and Refining Company (ASARCO) opened a lead, zinc, and copper mine there in 1927. The company also built a townsite to accommodate workers. As the mine prospered in the coming years, so too did the town; its population climbed from zero in 1926, to 910 in 1930, and to 1,920 in 1945.
Other mines also opened in Newfoundland and Labrador during the first half of the 20th century, including a limestone quarry at Aguathuna and a fluorspar mine at St. Lawrence. While most new mining communities attracted residents from across the country, none experienced the same level of growth and prosperity as the Bell Island and Buchans mines.
Agricultural Communities
Government attempts to expand Newfoundland and Labrador's agricultural industry during the first half of the 20th century also gave rise to a handful of new settlements, although none were very successful. Most new towns came into existence after the Commission of Government introduced a Land Settlement program during the Great Depression to encourage farming and alleviate poverty.
Under this program, the government helped families establish farms, raise animals, and build communities in various uninhabited parts of the country. The first and largest program took place at Markland on the Avalon Peninsula, which accommodated approximately 100 households by 1937. The government established other farming communities at Brown's Arm, Haricot, Lourdes, and elsewhere. However, many settlers felt the government regulated the land settlement communities too closely and left to find work in the fisheries or on military bases during the Second World War. The Commission decided to dismantle the program in 1941.
Boom Towns
Throughout the first half of the 20th century, thousands of Newfoundland and Labrador workers continued to move to new centres of employment. The most dramatic changes to settlement patterns occurred at central and western Newfoundland, where new mines and paper mills attracted settlers to previously unpopulated centres.
While some boom towns continue to prosper, including the paper towns of Corner Brook and Grand Falls-Windsor, others, particularly mining towns, enjoyed only a temporary success. Once Bell Island's iron ore mines closed in 1966, many people left to find work elsewhere. Although Bell Island's population exceeded 12,000 during the 1960s, it fell to below 3,000 by the year 2011. Buchans also experienced a downswing after its mine closed in 1984. It's population dropped from 2,361 in 1971 to 696 in 2011.
Labrador
There was little development of land-based industries in Labrador in the late 19th century or in the first half of the 20th century. By 1936, the Commission of Government was promoting forestry and mining developments, and had given the Weaver Coal Company mineral and water power rights for 50,000 square kilometers of the Labrador interior. Throughout the 1930s, the Commission received proposals from international agencies such as the Jewish Colonization Association and members of the local Jewish community for the large-scale settlement of Jewish refugees from persecution in Europe in Labrador, including ideas about interior resource development. However, Commission officials worried about the supposed impracticality of large-scale settlements during a time of economic depression, feared opening a floodgate of Jewish refugees, and preferred instead settlement by British or "northern" Europeans. Significant change in the settlement of the Labrador interior would not happen until the development of the Goose Bay airbase during World War II and the later development of iron-ore mining.