Mainline Construction, 1881-1897
Construction of a railway across Newfoundland echoed North American enthusiasm for railways as engines of economic development and symbols of progress. After rejecting Confederation with Canada in 1869, railway construction was championed in Newfoundland as the "work of a country."
Early Development and Construction
After a preliminary reconnoitre in 1868, the first railway survey was made in 1875. This traced an almost direct route across the interior. However, the imperial government was reluctant to allow a route which would have its western terminus at St. George's Bay, on the French Shore.
The railway question re-emerged in 1878, when William V. Whiteway formed a government. In 1880 a committee of the House of Assembly recommended construction of a narrow-gauge line from St. John's to Halls Bay, which would stop short of the French Shore and provide access to the mining district of western Notre Dame Bay. Legislation was introduced for a survey and the government was empowered to negotiate a construction contract.
In April 1881 the government selected the Newfoundland Railway Company, fronted by New York lawyer A.L. Blackman, to construct a narrow-gauge (3'6") line to Halls Bay, with a branch to Harbour Grace, Conception Bay. Construction began on 9 August. That first year 20 miles were graded (from Fort William on St. John's harbour to Conception Bay South), and 10 miles of rail were laid. The first locomotive, one of five purchased from Prince Edward Island, was landed at on 5 December. Service to Topsail began in June 1882. By September the line had reached Holyrood.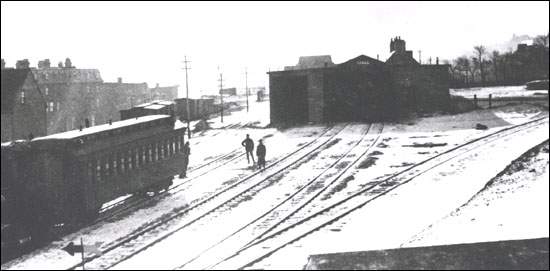 Fort William Railway Depot, St. John's, ca. 1880s
This train station was destroyed by fire on March 31, 1900 and a new station was built at Riverhead.
Courtesy of Archives and Special Collections (Coll-137, 31.01.022), Queen Elizabeth II Library, Memorial University of Newfoundland, St. John's, NL.
In 1883 the Blackman company defaulted, with the main line section of the first phase (to Harbour Grace Junction, now Whitbourne) nearing completion. The company's bondholders continued with construction of the Harbour Grace branch. In the spring of 1884 trains were running daily (excepting Sunday) to Avondale, and three times a week to Whitbourne. That November the line was completed to Harbour Grace. Construction of the main line did not begin again in earnest until 1890.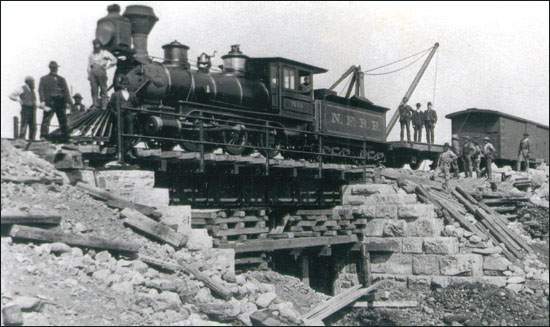 Trestle Reconstruction, ca. 1880s
Reconstruction of a trestle at Lower Gullies (now Riverdale, Conception Bay South).
From the A.R. Penney Collection. Courtesy of Harry Cuff Publications.
In the interim, the Thorburn government (1885-1889) had built a branch line to Placentia as a public work. Beginning operations in October 1888, the branch included a section, from Whitbourne to Placentia Junction, which was later incorporated into the main line. In June 1889 funds were voted for a location survey toward Halls Bay, and by the fall 16 miles had been graded west from Placentia Junction.
In June 1890 a new Whiteway government entered into a construction contract with two Scots-Canadians who had been sub-contractors on the Canadian Pacific Railway, R.G. Reid and G.H. Middleton. This contract provided for the construction of a 262-mile line from Placentia Junction to Halls Bay in five years for $15,600 per mile - the Newfoundland Northern and Western Railway. Fifteen hundred men were employed, and by the fall the main line had been railed a further 10 miles, to Camp 4 (just beyond Long Harbour Station). Meanwhile, Geological Surveyor J.P. Howley surveyed a location across the Gaff Topsail and advised it would be possible to re-direct the line from Halls Bay to the Bay of Islands.
In its first full construction season, 1891, Reid and Middleton laid 50 miles of new track, by far the best year's progress to date. The season ended on 2 December, south of Clarenville, when a blast at a rock-cut killed foreman James Saunders, and blinded Reid's son William in one eye.
Final Construction Phase and Perpetual Progress
It was in 1892, more than a decade after construction began, that main line construction entered its final phase, six years of steady progress across an almost unpeopled interior. The season began with Middleton's withdrawal from the partnership and ended with the track at Benton. By this time 2,200 men had completed 80 miles of track, and Reid was building a roundhouse and machine shops (which provided much of the early rolling stock of the railway) at Whitbourne, his eastern terminal. In keeping with contractual provisions for payment, service began to the end of track as each section was completed.
Also in 1892, it was decided to re-route the line from the Exploits River to the west coast via the Topsail. This was embodied in a new contract with Reid in 1893. He would build the remaining 285 miles from the Exploits River to Port aux Basques, and also to operate the main line (Reid previously committed only to operating the Placentia branch). By the end of the season the end of track was Rushy Pond, just west of what is now Grand Falls-Windsor, virtually the half way point across the island.
During the next four seasons Reid demonstrated his commitment to steady progress against obstacles, natural and political. By the end of 1894 the track had crossed the Topsail to Howley. The long-anticipated link to the west coast was achieved in 1895, and by the end of the season the track was laid to Cooks Brook (west of Corner Brook). In 1896, with the track reaching Codroy Pond, the government acquired the Harbour Grace line, anticipating the completion of the main line and unifying railway operations under Reid. In 1897, with an election looming, the line reached Port aux Basques. The following spring Reid signed a contract to operate the entire line and, after some further work on western sections and trestles, the first regular St. John's to Port aux Basques train ran on 29-30 June 1898.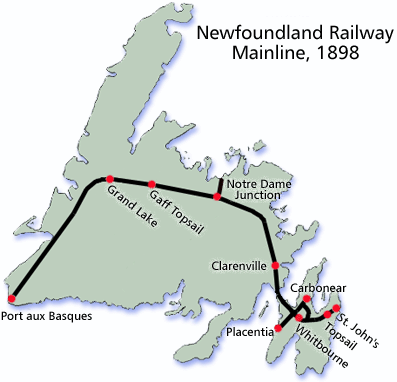 Newfoundland Railway Mainline, 1898
The first regular St. John's to Port aux Basques train ran 29-30 June 1898.
Map by Tanya Saunders. ©2001 Newfoundland and Labrador Heritage Web Site.
Shortly thereafter (as provided by the 1898 contract), the main line into St. John's was re-routed seven miles, from Donovans to a new terminal at Riverhead. In 1925 another section of the main line was re-routed from Howley around the head of Grand Lake. A further 30-mile diversion, around the Topsail via Buchans, was started in 1928 but abandoned with only six miles of track laid.