When Clarenville was the Colas Capital of Newfoundland
From the files of The Gazette September 5, 1997.
In the late summer of 1996 Ann Cruickshank, a hospital chaplain in Montreal, attended a function where, in the course of conversation, she related how she had recently returned from England, where she had helped her father move into a nursing home. Among his belongings she found a report he had written about the establishment of a colas plant in Clarenville, Nfld., in 1937. She brought it back to Canada with her, hoping to pass it on to some archives or library in Newfoundland, but as she did not know anyone here, she was not sure how to go about it.
The person sitting next to her said, "I know someone in Newfoundland. Shannie Duff, who used to be mayor of St. John's. I'll give you her address. I'm sure she will help you."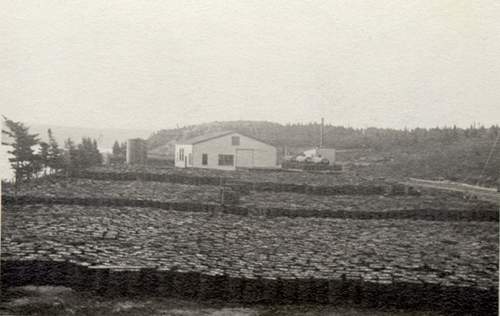 Clarenville Colas Plant: spreading colas to the required thickness
This picture (and those below) from the summer of 1937 show the Clarenville Colas Plant surrounded by tanks filled with asphalt
Courtesy of Archives and Special Collections (Coll - 239, Photos 12, 13, 23), Memorial University of Newfoundland, St. John's, NL.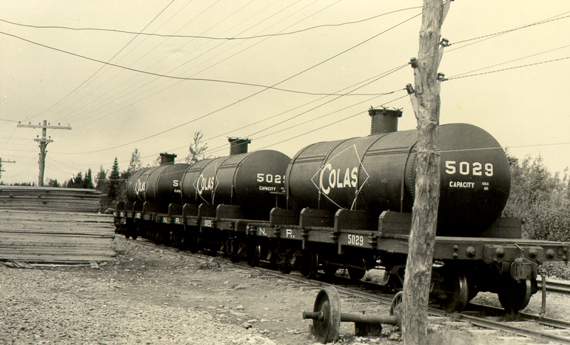 Clarenville Colas Plant: three of the fleet of tank cars built specifically to transport colas
Courtesy of Archives and Special Collections (Coll - 239, Photos 12, 13, 23), Memorial University of Newfoundland, St. John's, NL.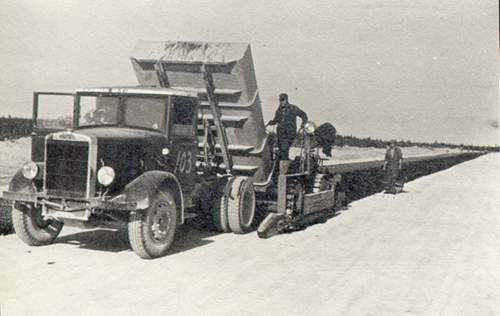 Clarenville Colas Plant: a "Jaeger Bituminous Paver" on a runway
Courtesy of Archives and Special Collections (Coll - 239, Photos 12, 13, 23), Memorial University of Newfoundland, St. John's, NL.
Ann Cruickshank wrote to Shannie Duff, who forwarded the letter to me. I contacted Ann Cruickshank and during a visit to St. John's in February, she brought along the report to present to the archives, and told me about her father and his work in Newfoundland.
Terence Barry O'Meara was born in India in 1906, the second child and only son of Charles Albert Edmund O'Meara and Mabel Hill. He received his grade school education at Haileybury Public School, England, and went on to university at Queen's College, Cambridge, graduating in 1926.
In 1927 O'Meara began working with Colas, a division of Shell Oil, one of the major oil companies in England. Colas produced an emulsified asphalt product, also called colas, which was used to surface airport runways.
In 1935 the Canadian and British governments recognized the necessity of having permanent terminal facilities in Newfoundland for trans-Atlantic flights. They selected an uninhabited area near the railway line on the northeastern side of Gander Lake and in 1936 began work on the construction of an airport. In 1937 the Colas division of Shell Oil was contracted to provide the surfacing for the runways. Several options were considered, but the most practical was considered to be the construction of a plant in Newfoundland to provide colas. Later that year Colas Newfoundland Limited was incorporated. Clarenville was selected because it was equidistant between St. John's and the site of the new airport, because of its proximity to the railway -- which would be needed to transport the colas to the airport, and because it had the required port facilities for docking transport ships.
Terence O'Meara was the person Colas sent to Newfoundland to oversee the construction of the colas plant. Construction began in the spring of 1937 on a piece of shoreline property leased from the Newfoundland Railway company. Despite problems with the terrain and ground conditions, the plant was in operation by July, and the first colas surfacing at the new airport began in mid-August. O'Meara returned to England sometime after the plant went into production.
Back in England, O'Meara continued his work at Colas until the outbreak of the Second World War, when he joined the Royal Engineers with the rank of captain. He spent 1941-45 in Egypt with Field Marshal Montgomery and the British Eighth Army, where he was responsible for organizing and facilitating the construction of roads, bridges and landing strips in the North African desert. By war's end he had been promoted to major. After demobilization, he returned to Colas as a civil engineer, but in 1947 transferred to Shell's main office, where he worked until retirement in 1971.
Terence O'Meara married Katherine Theodora Jehu of Llanfair Caerinion, Wales, at Trinity Copley Church in Boston, Mass., on Jan. 8, 1934. They had one child, a daughter, Ann Kathryn. Both wife and daughter spent the summer of 1937 in Clarenville. After retirement the O'Mearas lived in a house O'Meara designed in Lodsworth, Sussex, where he remained active in personal and community affairs until shortly after his 90th birthday, when failing health forced a move to a senior's residence. Katherine O'Meara died in 1983.
The collection presented to Archives and Special Collections by Ann Cruickshank consists of a 12-page, typed report with handwritten annotations, containing 41 photographic illustrations of the construction of the colas plant and the surfacing of the runways at Gander. There are a few local newspaper clippings concerning the plant, location diagrams for the plant at Clarenville, and charts of the runways for the airport at Gander, for the sea-plane base at Botwood, and of North Atlantic air routes.
Sources for Newfoundland history can come from anyone, from anywhere, at any time. It is good that Ann Cruickshank recognized the potential value of this little report and made it available to Newfoundland researchers.