Vernacular Arts
While the arts take many forms, vernacular art has always been important in Newfoundland daily life. Art can cover many things such as literature, music, or dance, but Newfoundlanders have always made a wide range of objects that can be included under this term. While popular literature often refers to "art and craft", this division artificially divides objects into those that are considered functional, and those considered decorative. In fact, all objects have both dimensions: they are both useful and visually-pleasing.
Forms of Vernacular Art
Vernacular art forms span a wide range of ordinary objects, and fill all aspects of day-to-day life, from food and clothing to houses and furniture. Unlike other parts of North America, the Newfoundland community did not rely on specialized craftspeople to create forms of vernacular arts; rather, much was made by ordinary fisherfolk. A man would build his own house, boat, and furniture; a woman would knit clothing, stitch quilts, bake bread.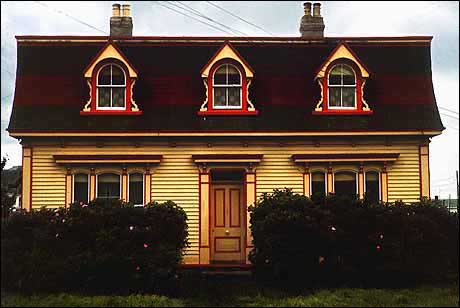 House with Outlines of Colours at Edges of Windows, Doors and Wall Corners
Placentia, Placentia Bay. House constructed ca. 1900, photo taken in 1971.
Reproduced by permission of Dr. Gerry Pocius, Memorial University of Newfoundland, St. John's, NL. Photo ©1971.
Many Newfoundland vernacular arts produced unique forms not found in other regions. This, largely, was because creators could combine their own local design ideas with ideas copied from objects carried into a community. Art forms like furniture did not merely copy another example, nor did it follow popular styles. A chest of drawers, for example, might borrow its shape from a factory-produced item, but contain decorated backboards adapted from hooked rug designs in the community.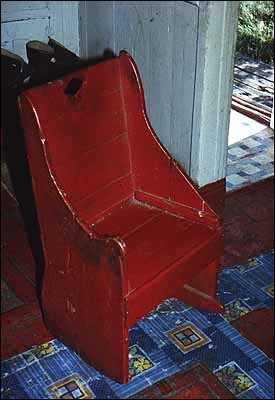 Solid Board Rocker in Open Hall, Bonavista Bay
Rocker built in the late 1800s, photo taken in 1983.
Reproduced by permission of Dr. Gerry Pocius, Memorial University of Newfoundland, St. John's, NL. Photo ©1983.
Some arts were completely innovative. The fanciest hooked mats, for example, tried to outdo one another with unique designs. One might have a gas station sign, one the family cat, another the tree outside in the garden.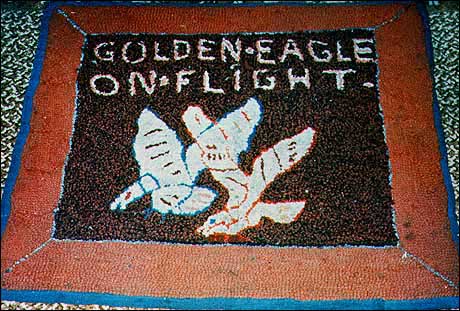 Hooked Mat Based on Golden Eagle Gas Station sign in Holyrood, Conception Bay
Mat made in 1970, photo taken in 1974.
Reproduced by permission of Dr. Gerry Pocius, Memorial University of Newfoundland, St. John's, NL. Photo ©1974.
Furniture, as well, often had elements combined in ways never found on furniture from other places. A sideboard, for example, would be decorated with a design traced from a fancy bracket from the house's roof.
Routes
A 1995 David Quinton film exploring the British origins of Newfoundland outport furniture design.
Other arts were quite plain, although they still had to look the right way according to local tastes to be successful. Through their art of cooking, women produced golden bread or fancy date squares — each the proper shape, colour and texture. The art of making the highest grade saltfish followed the same visual guidelines: the purest white colour, no blemishes, visually pleasing to those who bought it.
Even the most functional arts made sure that they pleased those who used them. The gunnels of a boat were outlined in a different colour, as were the corner boards on a house. The grey socks knitted to keep feet warm on a cold day of woodcutting had stripes of black at the top. Colour has always been important generally in vernacular art; bright colours (usually red or blue) are often applied to objects such as hooked mats or furniture as a way of making them special.
Vernacular Art: Not Always Obvious
But vernacular art is not limited to these obvious objects. The way that Newfoundlanders organize the spaces in their community — how smaller objects are grouped together to form larger patterns — become experiments in art. A good example is the well-set table with the carefully positioned best china, the best tablecloth, the best food, and a cup of tea for the visitor, laid out in an attentively organized artistic collage. The different ways of building a fence — wrigglin' or longer, shortlar, palen board — all meticulously position timber finished in differing degrees (chopped, sawn, painted) until the fence looks right.
Wrigglin Fences.
A short film directed by Don Wright, that follows the Paddy Brothers of Port Kirwan as they build a traditional wrigglin fence.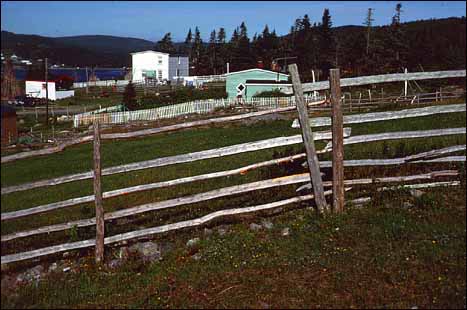 A Longer Fence in Calvert, Southern Shore
Reproduced by permission of Dr. Gerry Pocius, Memorial University of Newfoundland, St. John's, NL. Photo ©1977.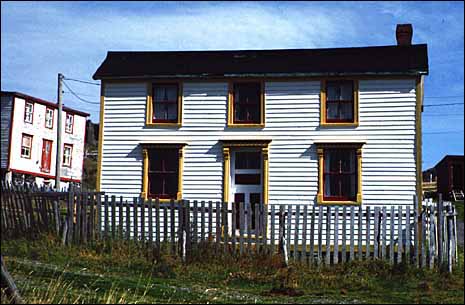 A Palen Fence in Keeles, Bonavista Bay
Reproduced by permission of Dr. Gerry Pocius, Memorial University of Newfoundland, St. John's, NL. Photo ©1984.
Even vegetable gardens followed their own particular rules on how to look; potatoes would be set so that ridges and furrows would form parallel patterns, indicating to neighbours that the rhythms of the growing crops would be equally methodical.
Vernacular art, then, fills the day-to-day life of ordinary Newfoundlanders who have always been responsible for fashioning so many of the things that they use in daily life. Objects brought into the community have served as sources of design for local things, so that vernacular art achieved a level of creativity that expensive objects, constrained by the boundaries of fashion, did not exhibit. What is unique to Newfoundland art in many cases is the furniture, the hooked mats, the house decorations, the fences, mits — and so many other things — that were made through a combining of ideas from the individual, the community, and the outside world. Newfoundland vernacular art is as progressive, as innovative, as challenging as any modern art form found in a gallery or museum.