Tom Dawe (1940 - )
Tom Dawe, one of Newfoundland's most distinguished poets, and the best poet of his own generation, was born on October 24, 1940, in the Conception Bay settlement of Long Pond, about ten miles from St. John's. He was educated at local schools at Long Pond and nearby Foxtrap, after which he took bachelor's degrees in arts and education at Memorial University of Newfoundland, obtaining his M.A. in 1976. For two periods of three years each he taught school in Lewisporte, the rest of his career being spent, from 1969 onwards, teaching English at Memorial University. He became a Full Professor in 1988. Now retired, he spends most of his time at Long Pond.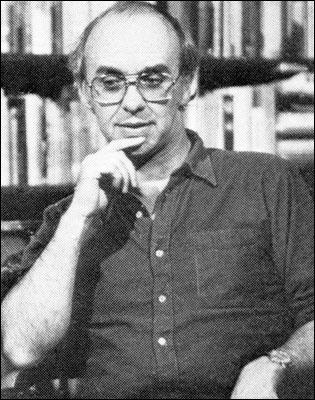 Tom Dawe, n.d.
Dawe published his first poem, "The Sculpin," in the Newfoundland Quarterly in 1965.
Reproduced by permission of Breakwater Books Ltd., St. John's, NL
A Talented Artist
Tom Dawe is a creative artist of many talents, including those of drawing and painting. He has also written a number of books for children, and was well known for his radio broadcasts on poetry and fiction. In 1973 he was awarded a Gold Medal for visual arts in the annual Arts and Letters Contest sponsored by the Provincial Government. It is, however, as a poet that he is best known. His poetry has been widely published, especially in eastern Canada, but particularly in Newfoundland, from whose life, landscape and folk-history it derives a large proportion of its subject-matter. Its apparent simplicity is made possible by a sophisticated command of poetic technique (Tom Dawe is a master of free verse), and deepened by a combination of realistic detail, poignancy of feeling, and a linking of incidents and images which is often magical in its ability to create, suddenly, a haunting new vision of nature and human life.
Tom Dawe published his first poem, "The Sculpin," in the Newfoundland Quarterly in 1965, and has remained identified with the literary life of Newfoundland during his entire career, frequently winning prizes for his poetry in the Arts and Letters Competition. He was (along with Sean Virgo, Adrian Fowler, Lynda Hendrickson and Neil Murray) a founding editor of Newfoundland's premier literary magazine, TickleAce, and one of the co-founders of the publishing imprint, Breakwater Books. In addition to an early book of poems, Connections (1972), shared with Tom Moore, he has published four collections of poetry: Hemlock Cove and After (Breakwater, 1975); In a Small Cove (1978), a slim volume brought out in a limited edition in England by Wychwood Press; Island Spell (Harry Cuff Publications, 1981); and his most recent and most comprehensive collection of new poems and old, In Hardy Country (Breakwater, 1993).
The qualities of Tom Dawe's poetry, and their cumulative appeal, are difficult to illustrate by a short quotation, or even a whole short poem; his long ones, like his superb and very moving "The Bear" (from In Hardy Country) are too long to quote entire here. But something of his emotional and verbal range, and of his characteristic rhythm, may be gauged from the penultimate poem in that collection, entitled "Salmon":
Salmon
Once in a mind-over-matter spell,
lost epoch of prime communion,
she was always mystical,
wise prophetic creature,
proficient ring-bearer,
eternal battler,
emblem of folk heroes,
patron saints and kings,
her flesh forbidden
to all those outside
sovereign estate.

This morning in low, rusty water,
she was spotted,
tallied by federal government officials
at a river mouth,
entered in a record-book
as the first fish
for August 13, 1991,
and let in through a gate.

Tonight, in a shrinking tributary,
under alders
and cold stars,
she will gasp
in the arms
of a poacher's son.