Shawn O'Hagan
In my painting I'm trying to get to the heart of things, the way children do, the way primitive artists do - by simplifying, and leaving out everything that isn't important.
- Shawn O'Hagan, 1984
From artist statement in Shawn Steffler: Without Shadows exhibition publication, organized by the Memorial University Art Gallery, 1984.
Education and Personal Life
Shawn O'Hagan was born in Toronto, Ontario, in 1950. She holds a Bachelor of Fine Arts from the University of Guelph, a Bachelor of Education (specializing in art) from the University of Toronto, and a Master of Fine Art (specializing in painting) from the University of Waterloo.
In 1975, she moved to the western Newfoundland town of Pasadena with her then husband, the writer John Steffler.
During the 1970s, much of O'Hagan's time and energy was devoted to raising her children, which limited her studio work. Still, she drew and painted whenever she found the time and joined a group of local artists for weekly drawing sessions.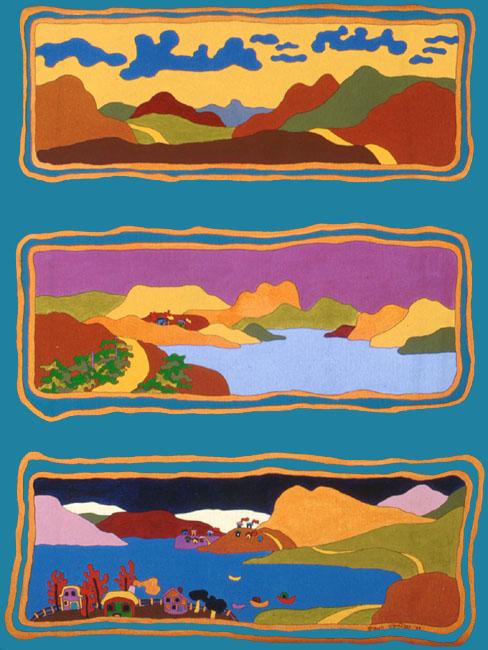 Bonne Bay Weekends
1984
Acrylic on Canvas
61 x 45.4 cm
Illustrations and Artwork
In 1979, she agreed to illustrate the children's book One Wonderful Fine Day for a Sculpin Named Sam, by the acclaimed writer Al Pittman. More books followed in the coming years, including Flights of Magic, written by John Steffler in 1987 (and for which O'Hagan was nominated for a Governor General's award for book illustration), and Get Me Another One!, written by Robert Munsch in 1992.
After her youngest child began school in the early 1980s, O'Hagan had more time to work on her studio art. She developed a colourful series of paintings inspired by her daughter's drawings of caterpillars. In 1984, the Art Gallery of Newfoundland and Labrador (today The Rooms Provincial Art Gallery) organized the series into O'Hagan's first solo show, Without Shadow. That same year, she received a commission to paint a large mural (8' x 30') for the Children's Mental Health Clinic in Corner Brook.
By this time, her paintings had developed a distinctive style that combined the ancient characteristics of South American art with colours reminiscent of Greece. Some were inspired by the landscape of western Newfoundland, and others by her travels abroad.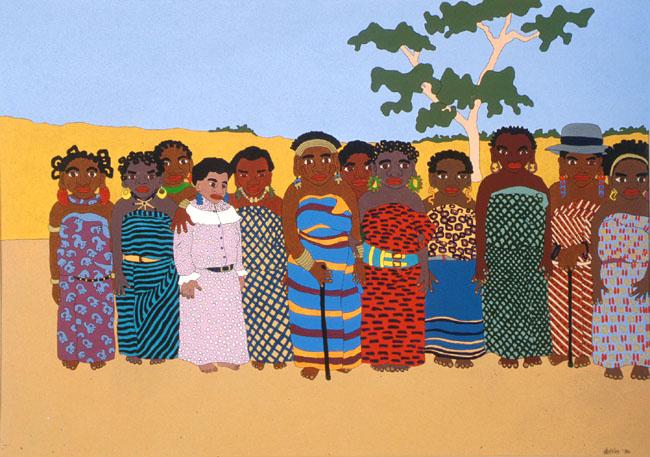 The Twelve Wives of the African King
Having Their Pictures Taken
for the First Time
1986
Acrylic and Ink on Paper
50 x 70.7 cm
O'Hagan continued to paint and show her work in many solo and group exhibitions during the 1990s. She also returned to Ontario to earn a Bachelor of Fine Arts degree in 1990 from the University of Guelph and a Master of Fine Arts from the University of Waterloo in 1995. She then moved back to Corner Brook, Newfoundland.
In 1996, O'Hagan began to work with textiles and by 2000 had taken up quilting, rug hooking, felting, knitting, and embroidery. She also began to spin and dye her own yarn. "I still wanted to work with colour and there weren't enough avenues to go with my painting anymore in terms of the physical process," she told the Telegram newspaper in 2012. "I had more materials to work with in fibre, more dimensions and I could still get the colour in there if it was suitable to the piece" (Gay Decker, Telegram 11 Feb. 2012).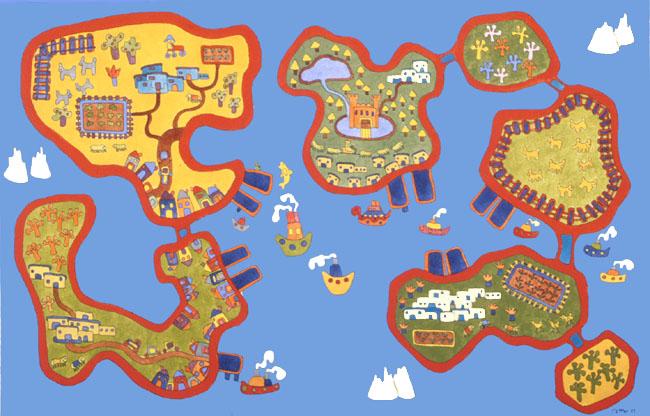 Caterpillar Archipelago
1983
Acrylic on Paper
33.4 x 51.3 cm
Collections and Recognition
Her work has received much acclaim. In 2010, her yarn won the Excellence in Product Design Award at the Atlantic Craft Trade Show in Halifax and in 2011 she won the Newfoundland and Labrador Craft Council's Award for Outstanding Achievement. She has exhibited her art at many solo and group shows, and has also created a product line of hand-made yarn and knitting sets, which she sells through her company, Island Sweet Fibre Arts.
In addition to being part of The Rooms Provincial Art Gallery's Permanent Collection, O'Hagan's artwork is included in the collections of the Canada Council Art Bank, the Newfoundland and Labrador Art Bank, the Government of Newfoundland and Labrador, and Grenfell Campus, Memorial University of Newfoundland, as well as in private collections.
For more information on the artist and her work, visit her company's website: https://islandsweet.blogspot.ca/.