Scott Fillier
You draw - diverting, subverting, perhaps even perverting sensation into idea of sensation. The sane insensuality of the picture plane; a vision, a memory manipulated, edited, abstracted, and recreated to convince yourself you have mastered something, are in control of something. But before the ink is dry, or the graphite fixed, totally new perceptions - sensations alter themselves before your very eyes.
- Scott Fillier, 1983
Excerpt from artist statement in Drawings from the Permanent Collection exhibition publication, organized by the Memorial University Art Gallery, 1983.
Early Life
Scott Fillier was born in 1939 at Roddickton, on Newfoundland's Northern Peninsula. He credits a school teacher with sparking his early interest in art.
Fillier initially studied education for two years at the Memorial University of Newfoundland. During his second year, he also took drawing lessons at the Newfoundland Academy of Art with Helen Parsons Shepherd. In 1963, he graduated from the Ontario College of Art.
He obtained a job as a graphic artist in advertising, but found the work dissatisfying. He decided to study art history at the University of Concordia in Montreal and in 1972 graduated with a Bachelor of Arts. By then, Fillier had completed his first significant body of work, which consisted of satirical drawings and abstract collages in watercolour and acrylic paint.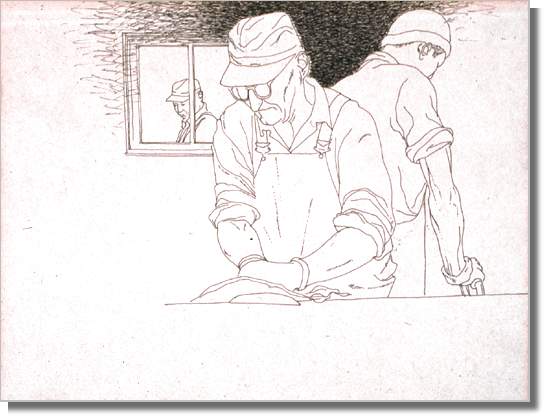 Fishermen's Series:
Drawing 1 of 9
1977
Pen, Ink on Paper
21.3 x 28 cm
Artwork
After graduation, Fillier returned to Roddickton to work on his art full time. In 1973, his paintings were exhibited at the Memorial University Art Gallery (now The Rooms Provincial Art Gallery). He first focussed on landscapes, and later began to depict people. By the late-1970s, he had developed an allergy to paint and most printmaking inks, and was working mostly in pencil, pen, and non-toxic pastels. By 1986, Fillier's health had improved enough for him to use water-based acrylic paints, which he applied to plexiglas.
In the relative isolation of his home in Roddickton, he began the Newfoundlandia Series: Kitchen Figures, Dock Figures, and Boat Figures which were later included as counterpart to his published poetry. From 1983-91, he taught piano lessons in his art studio, where students were encouraged to draw while they waited their turn at the piano.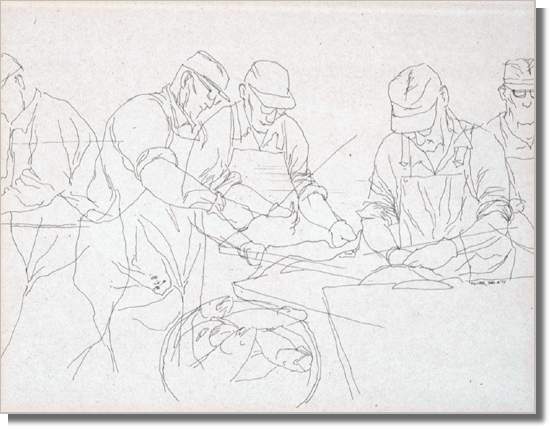 Fishermen's Series
1977
Pen and Ink
21.5 x 27.8 cm
Fillier now lives in Ontario, where he continues with his music and art. During the summer of 2000, he took part in Making An Impression, a show of prints by artists from across Canada organized by The Gallery Stratford. In 2005, his solo exhibit Drafting Paper Memories opened at the Modern Languages Art Gallery on the University of Waterloo campus. The show featured paintings, prints, and drawings that Fillier created over three decades based on his memories of Newfoundland.
Fillier's work is found in several private and public collections, including The Rooms Provincial Art Gallery's Permanent Collection and the Government of Newfoundland and Labrador.
Scott Fillier has placed on YouTube two videos of his photos, painting, drawings and music. In 2016 he released Gros Morne: A Painted Symphony (9:00 min) and in 2019 he made public Gros Morne Suite: The Bennett Beat (3:57 min).