Robert Hayman (1575-1629)
Robert Hayman is often credited as being the first known Canadian and Newfoundland poet. Born in Walborough, Devon, England, his father, Nicholas, married John Raleigh's daughter, elder half-brother of Sir Walter Raleigh, well known English explorer, colonialist, poet and patron to Queen Elizabeth I of England. Hayman's father had an active political career in Totnes, acting as the Secretary of the Merchant's Company, representing Totnes in the Parliament between October 1586 to March 1587, and becoming mayor of Totnes in 1589. Following his father, Robert Hayman also dabbled in politics, particularly as an explorer and governor of the Harbour Grace colony in Newfoundland, where from 1618-1628, he spent ten successive summers and one fifteen-month stretch. A graduate of Exeter College, Oxford University, in 1590, Hayman published his book of epigrams and verse, Quodliblets Lately Come Over from New Britaniola, Old Newfound-land in 1628, after having been exiled from Harbour Grace. Hayman returned to England and then continued his expeditions, particularly to Guinea, where he apparently died of an infection causing a "burning fever and flux" during a canoeing expedition in 1629.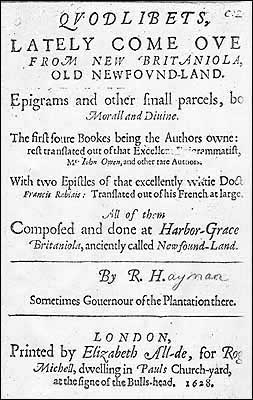 Quodlibets
Newfoundland's first book of English poetry, by Robert Hayman. Originally published in London by Elizabeth Allde in 1628.
Copy courtesy of the Centre for Newfoundland Studies, Queen Elizabeth II Library, Memorial University of Newfoundland, St. John's, NL.
Hayman's Quodliblets is both poetical and historical. Oddly, as one of the first recorded pieces of Newfoundland literature, it contains multiple themes common to the province's literature: a strong connection to the beauty of the unique landscape mixed with wonder, awe and fear of it, depictions of citizens as gentle, kind and sturdy people, uniqueness in landscape, curiosity toward wildlife and linguistic peculiarities, an abundance of good-witted humour, relationships between wealth and fortune, and a strong spirit of adventure. The book also outlines some of the settlement history of Harbour Grace, the reasons English and Irish ventured to settle it, such as seeking fame and fortune, extending missionary work, seeking political patronage, and as an alternative to relieving growing populations in England and Ireland. A full electronic version of the text is available at https://www.mun.ca/rels/hrollmann/relsoc/texts/hayman.html.
Excerpts
Excerpts from Quodliblets

Book 1. No. 117
A Skeltonicall continued ryme, in praise of my New-found-land

Although in cloaths, company, buildings faire,
With England, New-found-land cannot compare:
Did some know what contentment I found there,
Alwayes enough, most times somewhat to spare,
With little paines, lesse toyle, and lesser care,
Exempt from taxings, ill newes, Lawing, feare,
If cleane, and warme, no matter what you weare,
Healthy and wealthy, if men carefull are,
With much much more, then I will now declare,
(I say) if some wise men knew what this were,
(I doe beleeve) they'd live no other where.


Book 2 No. 79
The foure Elements in New-found-land. To the Worshipfull Captaine John Mason, who did wisely and worthily governe there divers yeeres

The Aire, in Newfound-land is wholesome, good;
The Fire, as sweet as any made of wood;
The Waters, very rich, both salt and fresh;
The Earth more rich, you know it is no lesse.
Where all are good, Fire, Water, Earth, and Aire,
What man made of these foure would not live there?


Book 2 No. 88.
Some Diseases were neuer in Newfound-land. To the right worthy Mistres, Anne Vaughan, wife to Doctor Vaughan, who hath an honourable desire to liue in that Land.

Those that liue here, how young, or old soeuer,
Were neuer vext with Cough, nor Aguish Feauer,
Nor euer was the Plague, nor small Pox heere;
The Aire is so salubrious, constant, cleere:
Yet scuruy Death stalke heere with theeuish pace,
Knocks one downe here, two in another place.


Book 2. No 101
To the first Planters of New-found-land

What ayme you at in your Plantation?
Sought you the Honour of our Nation?
Or did you hope to raise your owne renowne?
Or else to adde a Kindome to a Crowne?
Or Christs true Doctrine for to propagate?
Or drawe Salvages to a blessed state?
Or our o're peopled Kingdome to relieve?
Or shew poore men where they may richly live?
Or poore mens children godly to maintaine?
Or aym'd you at your owne sweete private gaine?
All these you had atchiv'd before this day,
And all these you have balk't by your delay.


Book 3 No. 18
Reasons for the taking of Tobacco.

Since most Phisicions drinke Tobacco still,
And they of nature haue th'exactest skill,
Why should I thinke it for my body ill?
And since most Preachers of our Nation,
Tobacco drinke with moderation,
Why should I feare of prophanation?
Yet if that I take it intemperately,
My soule and body may be hurt thereby.