Ray Mackie
My general aim is to faithfully reproduce my personal responses to image symbol idea complexes. I generally feel impelled to reduce forms to some kind of essential format. These forms are then elaborated through my involvement with materials and processes. I am equally concerned with the idea struggle, and the sensuous making process which serves as its vehicle. The exact nature of the relationship between the two is, for me, mysterious and productive.
- Ray Mackie, 1983
Excerpt from artist statement in Ray Mackie exhibition publication, organized by Memorial University Art Gallery, 1983.
Ray Mackie was born in Saskatoon, Saskatchewan, in 1949.
He holds a Bachelor of Arts from the University of Saskatchewan (1971), a Bachelor of Fine Arts from the Nova Scotia College of Art and Design (NCSAD) (1977), a Master of Fine Arts from the Indiana State University (1980), and a Bachelor of Education from the Memorial University of Newfoundland (1990).
From 1972-76, he taught art classes at Memorial University's Extension Service and, while in Halifax, he taught art at NSCAD, Dalhousie University, and Mount St. Vincent University.
Mackie moved to Stephenville, Newfoundland in 1980. He worked as an instructor, department head, and program co-ordinator of the visual arts department at the Westviking College of Applied Arts (now the College of the North Atlantic).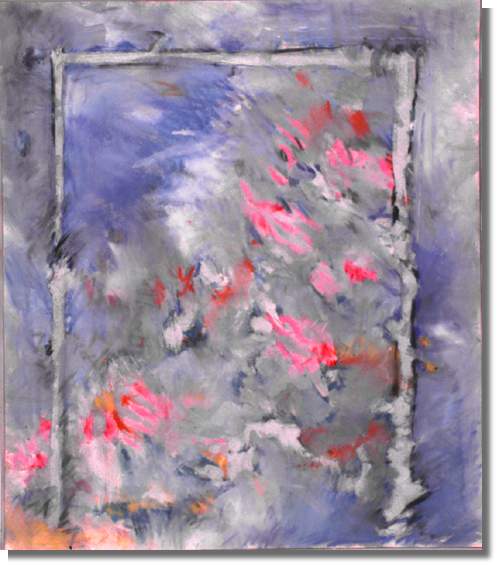 Summer Passage
1985
Mixed Media on Canvas
96.5 x 84 cm
In 1999, Mackie moved to Annapolis Royal, Nova Scotia and opened Lucky Rabbit Pottery with his partner and fellow artist, Debra Kuzyk.
Mackie's ceramic and installation work has been included in numerous group exhibitions including Land and Sea: Eight Artists From Newfoundland, which toured Ireland in 1995-96; Clay: A Media-Based Practice organized in 1996 by Dalhousie University Art Gallery; Fire & Earth, which toured Japan and Canada from 2000-2002; and Merchant Vessels at The Rooms Provincial Museum in 2008.
In 1999, the Art Gallery of Newfoundland and Labrador (today The Rooms Provincial Art Gallery) held a retrospective of Mackie's installation work titled Coda. Other solo shows have included Reprise at ArtsPlace in Ananpolis Royal in 2010 and Dessert Party at the Craft Council Gallery of Newfoundland and Labrador in 2012.
He has also curated various exhibitions, including Shaping Space, A Celebration of Lantz Clay at the Mary Black Gallery in Halifax in 2009, and George Goodin, Contemporary Mi'kmaq Basketry at ArtsPlace in Ananpolis Royal, also in 2009.
Mackie has received numerous awards over the years, including the 1976 NSCAD Award for Excellence in Crafts as well as grants from the Newfoundland and Labrador Arts Council, Nova Scotia Tourism, and Cabot 500.
His artwork is represented in many public and private collections including The Rooms Provincial Art Gallery's Permanent Collection, the Nova Scotia Art Bank, the Massey Foundation, and The Canada Council Art Bank.
Mackie continues to operate Lucky Rabbit Pottery with Kuzyk in Annapolis Royal, Nova Scotia.