Peter Walker (1945- )
Peter Walker is well known here, and, while people don't line up to buy them, his works are recognized to be abrasive, offensive and heretical. Abrasive because he redresses the vernacular of prejudice; offensive because he peers too deeply into superficially held loyalties; heretical because the values he challenges have so widely supplanted the realities they are supposed only to symbolize.
- Peter Bell, 1984
Essay written in defence of Sacred Art for Arts Atlantic, Sept. 23, 1984
Peter Walker was born in London, England, in 1945, and his family moved to Alberta, Canada in 1947. He attended the Alberta College of Art from 1963-68, and the Vancouver School of Art from 1968-69. In 1970, he moved to St. John's, Newfoundland.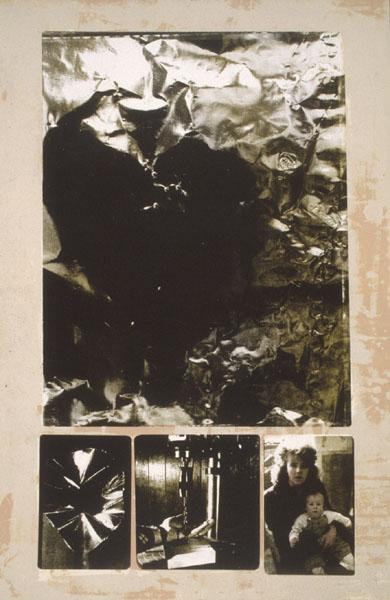 Untitled (Tin Foil and Drill Press)
1982
Lithograph
76.4 x 56.7 cm
Between 1970 and 1980, Walker's work was mainly three-dimensional, in fiberglass. He also designed and built children's playgrounds. From 1980-83, when he was director of St. Michael's Printshop, Walker began to concentrate more on lithography. He also works in painting, photography, drawing, and sculpture.
Controversy
Some of his work has been controversial. In 1984, the scheduled exhibition of his work, Sacred Art, was forced to cancel at the Longshoremen's Protective Union (LSPU) Hall in St. John's after various church and community authorities deemed his irreverent depictions of holy figures unsuitable for public viewing, especially during the time of Pope John Paul II's visit to Newfoundland.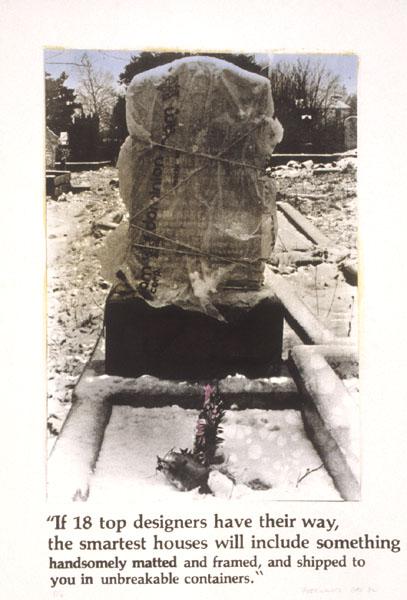 Untitled (Gravestone)
1982
Lithograph
58.8 x 41 cm
Walker spoke about the negative reaction in a 1984 appearance on The Arts Interview: "Artists don't hurt anybody. They don't. And it seems so strange that society will always invariably land upon the artist for some reason or other as if the artist is causing damage. The artist does not cause damage. The artist, as I've said before, is presenting a window on our world." Some of the themes Walker dealt with in Sacred Art were censorship, repressed sexuality, materialism, and a conservative impetus in Western society. Although supressed in Newfoundland, Sacred Art was exhibited in 1985 at New Brunswick, Alberta, and British Columbia.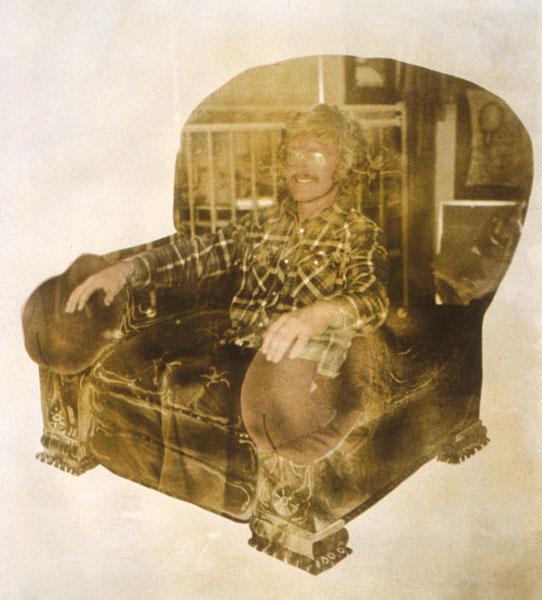 Reclining Dude
1982
Lithograph
45.3 x 40.7 cm
Sculptural Work and Settlement in Nova Scotia
In 1985, Walker was one of 11 artists commissioned under the Newfoundland government's Art Procurement Program to construct a sculptural work for the new extension of the Confederation Building. Walker's piece is made of fiberglass and steel mounted in concrete. It represents the effects of the wind as it traps plastic bags and other debris in fences.
In 1986, Walker spent four months drawing in Mexico and then settled in Nova Scotia. He continues to live and work in that province. In addition to his studio work, Walker also teaches drawing at the Nova Scotia College of Art and Design.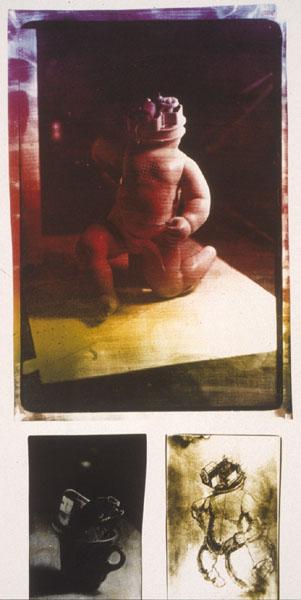 Untitled (Dolls and Cups)
1981
Lithograph
66 x 30.9 cm
Exhibitions and Collections
His work has been exhibited across the country, and particularly in Atlantic Canada. Recent solo exhibitions include Local Monuments and Dueling Dickheads at the Mount St. Vincent University Art Gallery in 1996, Water Lilies at Halifax's Khyber Centre for the Arts in 1997, and Flagmen of the Apocalypse at the Mount St. Vincent University Art Gallery in 2001.
Walker is represented in a variety of private and public collections including The Rooms Provincial Art Gallery's Permanent Collection, the National Gallery of Canada, the Canada Council Art Bank, and the federal Department of Public Works.