Paul O'Neill (1928-2013)
Paul O'Neill, writer, actor, community activist, teacher and extensive traveller, who has visited over sixty countries, was born in St. John's, the eldest of two children of a Bay de Verde fishing merchant, James O'Neill, and his wife Josephine Flynn. O'Neill graduated from St. Bonaventure College in 1948, as well as the National Academy of Theatre Arts in New York in 1949. He toured extensively as a professional actor in the United States and England from 1949-1952, working with such well-known names as Cloris Leachman. By 1954, he joined the CBC as a producer, eventually becoming the Executive Producer of Performance Programming, creating popular CBC programs such as Skipper and Company, Reach for the Top and Music Craft before retiring in 1986.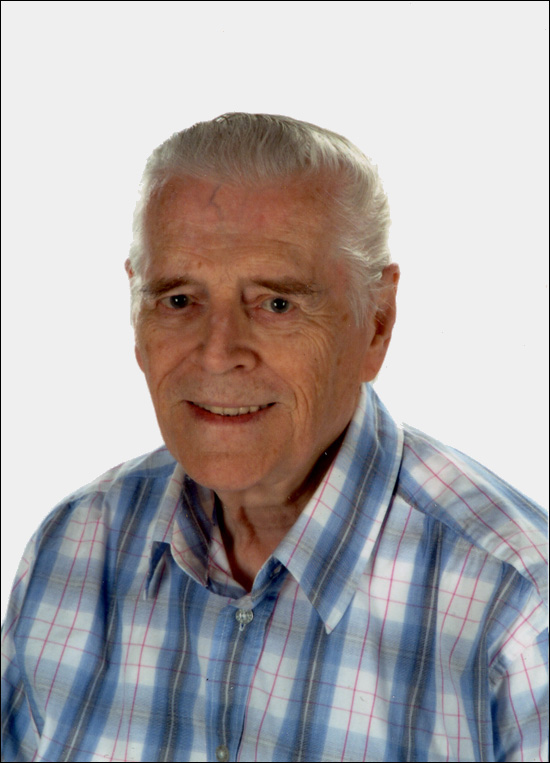 Paul O'Neill, n.d.
There is an intense sense of aching and longing, mixed with spirituality, guilt and pain throughout O'Neil's poems.
Photographer unknown. Reproduced by permission of Paul O'Neill. ©2006
Community Career
He has a long and distinguished career in the Newfoundland community, acting as the founding president of the Newfoundland Writers' Guild and past president of the John Howard Society. He was also a member of the St. John's Folk Arts Council, Newfoundland Historical Society, ACTRA, the Radio Producers' Association, Heritage Advisory Committee of St John's, the Theatre Arts Council, the Newfoundland Historic Parks Association, the Provincial Arts Council and the Irish Newfoundland Association. He also lectured for over twelve years on Newfoundland history at Memorial University.
Writing
O'Neill has written numerous historical reflections of Newfoundland that are packed with detail and are intended for the interests of anyone with a passing interest in Newfoundland's history. He often reflects the ways in which historical events have grown in legend or myth. For instance, Breakers (1982), offers a passing history of Newfoundland's characters and folklore. Legends of the Lost Tribe (1976) represents the forms that legends have taken about the Beothuk. He is most well known for The Oldest City (1975), a detailed account of the layered history of St. John's, the oldest city in North America.
Beyond his recognition for historical portraits, O'Neill's poetry, Spendthrift and Morning Light (1968) and A Sound of Seagulls (1984) results partially from his influence from Daniel Berrigan, a noted American poet. His poetry is extremely wide ranging in subject matter, from depictions of Newfoundland to a nature that is heavily connected with human emotion. There is an intense sense of aching and longing, mixed with spirituality, guilt and pain throughout his poems, evident, for instance, in the lines, "my problem is not sin/but how to penetrate the/deeps of Heaven having sinned" in "The Burden of Something Spiritual."
In addition to reflections on love and loss, O'Neill frequently writes of war, in particular the murder and hatred caused by nationalism, as in "Epitaph for Charles de Foucauld," or the punishment and human rights violations in "Warsaw," or the outcomes of revolution, in "Lines from Leningrad." O'Neill sometimes combines two of his subject matters, nature and human conflict, such as in "E=MC2," where the organic workings of nature "unfurl in endless chain" but are threatened by "mushroom clouds/soaking the living rain with death." Most important, O'Neill's ability to combine reflections of Newfoundland and connect it to world events or writing styles is particularly unique in placing Newfoundland in context of its geographical position between North America and Europe. For instance, in "Men Meeting," the poem adopts a similar tone to Thomas Hardy's famous World War One poem, "The Man He Killed," except that O'Neill takes Hardy's soldier, who is selling traps, and transfers it to his soldier who is "hauling cod in the bight" and who, like Hardy's, could have been drinking beer instead of killing if not for the war.
"Men Meeting"

He took in his traps
and went away
to where a war was
and
on a day he would have been
hauling cod in the bight
he took a gun
and shot down
another lad
in an enemy town where
they might have been laughing
and drinking beer
except that there was a war
that year

His articles, stories and poems have appeared in The Irish Digest, The Universe, Here in Newfoundland, The Drift, Newfoundland Medical Association Journal, Horizons, The Globe and Mail, Voices Down East, Newfoundland Stories and Poems, The Atlantic Advocate, What's On in St. John's, The Daily News, The Newfoundland Quarterly, and The Evening Telegram, as well as appearing in over forty Canadian anthologies and three Irish anthologies. He also wrote a monthly column in The Monitor from 1974-1980.
O'Neill has also scripted may radio plays, including Bend to the Wind, Autumn Birch, The Day the Scharnhorst Died, A Christmas Tragedy, Hope is a Sound of Seagulls, and Four Cloaked and Hooded among others, and he has produced documentaries including "La Scie" and "Fifty Years and the Princess Royal." O'Neill has been the recipient of nine Newfoundland and Labrador Arts and Letters Awards, the Canadian Historical Associations' Regional History Prize for The Oldest City (1979), the Newfoundland Historical Society Heritage Award (1985), the Lifetime Achievement Award in Broadcasting from the CBC (1986), a Doctor of Laws, Memorial University (1988), the Order of Canada (1990), has been elected to Newfoundland and Labrador Arts Hall of Honour (1991), the Baccalieu Trail Board of Trade's Hall of Fame (1997), the John Howard Society Humanitarian of the Year Award (2001), the Newfoundland Historic Sites Association Paul O'Neill University Scholarship (2002), and the Freedom of the City Award, City of St. John's (2004).
"Spindrift"

Beyond the sound
of shore waves snarling at
the gusting wind
lost from sight
behind the shiver of the
teeming rain
a lone gull calls
and circles in the
spindrift spray
on sea-salt covered wings.

The house is still
in morning light
this wet spring day.
these splits start up a fire
I hope might
warm the world
but I know
man can't pluck the stars
they are the gift of others
slowly given.

So hesitate
and cull the scattered seeds
that germinate
in fields of Avalon
your bottling of the scent
can send it
to the markets of the world
but if rejected
plundered innocence
will wait a hundred
or a thousand years.