Patrick Warner (1963-)
Patrick Warner attests the idea that there's notions of what poetry should be, that it has to be about the big things or whatever — it does, but your entry point can be almost anything" (Hillard, 2003, B2). He emigrated from Claremorris in County Mayo, Ireland to Newfoundland at age seventeen in the hope of better economic prospects. Married to Rochelle Baker, an artist and children's book illustrator, he has his two daughters, Annie and Greta. Warner is Head of Lending Services at the Queen Elizabeth II Library, Memorial University of Newfoundland.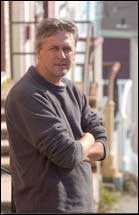 Patrick Warner, n.d.
His poetry, often conveying the dramatic, explores objects and images that haunt our imagination from childhood.
Photographer unknown. Reproduced by permission of Patrick Warner. ©2006.
His interest in poetry did not start until his late twenties, when he read Paul Durkan's Daddy, Daddy. Holding a B.A. from Memorial University of Newfoundland in English and Anthropology and a Masters in Library and Information Sciences from the University of Western Ontario, his first book of poetry, All Manner of Misunderstanding (2001), was nominated for the Newfoundland and Labrador Book Award and the 2002 Atlantic Poetry Prize. He was also the winner of the Newfoundland and Labrador Arts and Letters Award in 2002 for "Caplin" and in 2004 for "Tortoise at Toronto Zoo."
Sometimes a dark, though occasionally humorous, poet, evident in his comment—"I find the dead easier to admire. They are the least likely to go against your impression of them" (Hillard, 2003, B2) -- Warner's first published collection, All Manner of Misunderstanding (2001) contains thirty poems that struggle for knowledge and seek after an order, balance and unity in life. His poetry, often conveying the dramatic, explores objects and images that haunt our imagination from childhood. Warner's talent in transforming ordinary and everyday occurrences into the realm of poetics carries over in the end of the collection where he plays with language, examining the meanings of words and toying with them so that the words often meet unexpected conclusions. Diverse in topics, ranging from early Catholic schooling, Neanderthal skulls, and the State Island ferry, Joan Sullivan comments that his poetry "seems less like a poem and more like a piece of reportage from some poetic frontline" (Sullivan, 18).
Warner's "poetic frontline" carries over in his second collection, There, there (2005), evident in the collection's factual, detached and sometimes pensive tone. The subject manner ranges from exile, mud trout, snow, marriage and pigs, to bakers, children, insurance companies and hotels. Warner isolates images from a selection of vast, more common images that we experience daily and explores the subtle connections between them. Similar to his playing with language in All Manner of Misunderstanding, this second collection also investigates a crucial topic in literature, the struggle between our speech and what we intend it to mean.
Excerpt from "Hike"
Water Street West
Water Street West: gauntlets of drunks
sinking fangs into Lysol cans.
Hooray for all the young people!
Pigeons tending to opalescent plumage,
bathing in gasoline-streaked pools.
The dry-dock and the Waterford River filled
With big skillet trout, tampons,
faeces, and bottle-nosed condoms.
Southside Rd., near Buckley's house,
let the climb begin. Now.
High-top soles draw in a million bits
of cartographic data. Lactic acid moon
inscribe filigreed contours
On bulging calves, thighs.
"Near Faffle, Near Faff"
They make fun of his faffle, his faff,
each one side of the metal crush,
one in kerchief, stripped to the waist,
his tan a false shirt-front
and ladies' long evening gloves.
One wears a clipped cigarette on his ear;
the sun a fag-end dropped behind hills.
Two hired hands shearing sheep,
dosing for foot-rot, fluke.
Tick, goes the metal gun against his teeth.
The sheep manhandled unsheepishly bleat,
while farmhands mock
the landowner's trademark stutter.
Tick, goes the master's cane against skin.
Dusk at the field end where they work.
Dusk and still a dozen go,
nerves like rope ends unraveling.
Dusk in the wood where I've spent
the day gathering sticks.