Newfoundland Writer was a Success at Home and Abroad
From the files of The Gazette November 16, 1995.
Edwin Francis Duder was born in St. John's on Aug. 31, 1908, the son of Jane and Edwin J. Duder, an employee of the Newfoundland Railway. His great-grandparents, Henry and Ann Duder, had come to St. John's from St. Mary Church, Devon, in 1833 and founded a mercantile business that became one of the largest operating in Newfoundland in the latter half of the 19th-century. Unfortunately, it foundered in the Bank Crash of 1894 and was forced to declare bankruptcy soon after.
Unlike his several ancestral namesakes, men of commercial and agrarian bent, young Edwin had a strong desire to write from an early age. He began to write poetry while still in his teens and had several pieces published during his student years at St. Bonaventure's College. Following graduation from St. Bon's in the 1920s, he became a constant and welcome visitor at Florence Miller's "Blue Castle" in Topsail. (Florence Miller was the subject of Memorial's Archival Treasures in the Jan. 26, 1995, Gazette.) There he joined other aspiring poets, including Mina MacDonald Brown, in a literary salon noted in its day for its rustic setting and creative atmosphere. He and Miller were to remain lifelong friends.
In 1937 Duder left Newfoundland and went to live in New York City with his mother who had relocated there some years earlier. There he found work as a journalist, becoming lifetime member of the Newspaper Institute of America, and later as a film editor. He continued to write poetry and in 1948 won the Billy Chandler Memorial Award for the poem God's Experiment.
On May 15, 1955, Duder married Mary MacNeill, who was also a St. John's native. She had been his childhood sweetheart, but had married a man named Walsh and gone off to the Boston States. There she gave birth to two sons, William and Thomas, before her husband died in the early 1950s. Two years after their marriage, Mary and Edwin settled in Canton Centre, Conn., where they operated a successful real estate business, MacNeill-Duder Realtors.
In Connecticut Duder secured additional work as a proofreader on The Hartford Courant, one of the oldest newspapers in the United States. He also served as associate editor to Mary, who was editor and publisher of the local history magazine, The Lure of the Litchfield Hills, from 1957 to 1968. The Duders also found time to convert an old barn into their living quarters.
In 1963 Duder published his first volume of poetry, Time is a Gypsy (Caywood Publishing Company). In his foreword, Trinity College English professor John Dando wrote: "[Duder's] view of life is shrewd, and his perception is broad enough to experience its sadness and its joys, not as separate entities, but as the mingled, single emotion that includes both in the same impulse."
Duder had suffered from tuberculosis of the spine and rheumatoid arthritis since the 1940s. By 1974 his health had deteriorated to the point where the Connecticut climate was no longer conducive to his well-being. Reluctantly, he and Mary moved to southern California, settling in San Diego. There they became very involved in the Chatsworth Adult Centre, where Edwin gave weekly poetry readings, and in Point Loma Presbyterian Church. His health declined rapidly, however, and in 1977 he was forced to enter Edgemoore Geriatric Hospital where he was to spend the rest of his life.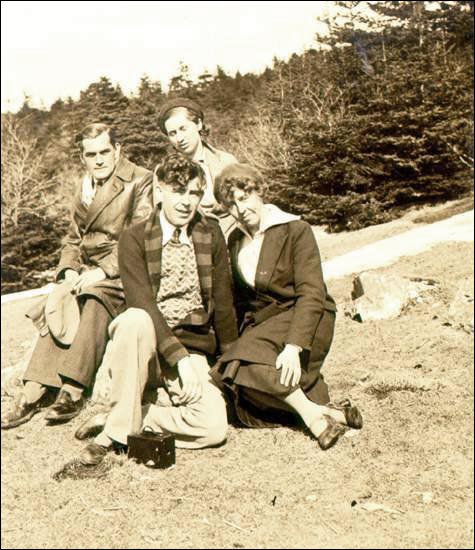 Edwin Duder, Florence Miller and friends, ca. 1930s
Edwin Duder and Florence Miller (back row, left) pose with two unidentified friends probably at Topsail. If readers can identify the two friends, contact Bert Riggs, 864-4074.
Courtesy of Archives and Special Collections (Coll - 037, 3.03), Memorial University of Newfoundland, St. John's, NL.
While at Edgemoore, Duder released his second book of poetry, The Whimsical Goat, in which the title character is presented as a reincarnation of the ancient Chinese philosopher Laotse. Reviewer Andrea Herman in the San Diego Evening Tribune described it as a "gentle little book...sometimes subtle, sometimes whimsical...a painless, guileless reflection of life, mirroring his own poetic perceptions of six decades." Edwin Duder died at Edgemoore on July 16, 1980.
In the summer of 1982, Mary MacNeill visited St. John's where she learned of the Centre for Newfoundland Studies. She approached the Centre wondering if it might like her husband's literary and family papers. While not extensive, they are an interesting collection of personal documents and family correspondence, manuscripts of The Whimsical Goat and for several other unpublished works, both poetry and prose. There are several audio tapes of Duder reading his poetry and a two-hour videotape on him produced by KGTV-San Diego in 1977. Mary MacNeill added several additional Duder family items to her husband's papers in 1990, including a copy of a letter written by his great-grandmother, Ann Duder, during her voyage to Newfoundland from England in 1833.
There is also material related to Duder in the Florence Miller papers. Some years prior to his death Duder sent back to Miller the correspondence she had written him between 1939 and 1979. While this is written by Miller, it is quite enlightening and informative about Duder, particularly his thoughts on poetry and his personal philosophy of life.