Newfoundland Travelling Theatre Company (NTTC)
The Newfoundland Travelling Theatre Company (NTTC) was formed in early 1972 by David Weiser (formerly a travelling salesman) and Dudley Cox (an amateur actor with the St. John's Players and instructor at the College of Fisheries). Cox and Weiser wanted to tour the province for two reasons: because the potential of doing 30-50 shows would provide practice and experience that was unavailable when doing one play for eight nights in St. John's; and because they wanted to bring something of the St. John's theatre activity to smaller communities. They started with their own money, hoping that ticket sales would help pay for the tours, and in the last years they received Canada Council funding. NTTC played in small towns and communities where Weiser had established contacts (along the Northern Peninsula, in central Newfoundland, and across the Avalon peninsula), and they toured in both summer and winter. Their troupe of professional actors (who got paid $40 per week plus meals) had a diverse repertoire, ranging from children's theatre, to plays by Bertolt Brecht and Neil Simon, to local scripts by Tom Cahill and Michael Cook.
Tours
NTTC's first season in 1972 had two parts, a summer tour and a winter tour. Their summer activity involved a production of the British farce See How They Run by Phillip King, as well as a stage version of The Wizard of Oz, specifically for children. The winter part of the tour produced Pools Paradise. The 1972 cast was full of recognizable names: Tommy Sexton, Mary Walsh, Andy Jones, Diane Olsen, Bob Joy, Greg Malone and Jane Dingle. They went to Belleoram, Harbour Breton, Burgeo, Eastport, Clarenville and many other small communities.
In 1973, when NTTC toured Tom Cahill's play Starrigan, Cathy Jones, Beni Malone, Paul Sametz, and Charlie Tomlinson joined the troupe with Weiser continuing as stage-manager and Cox as director. The company travelled the province, often on back roads, in two Volkswagan vans (one with the stage props and one with the cast and crew). They performed in community halls and in school gymnasiums. After the first two years, NTTC also performed in parks. These outdoor venues were for Punch and Judy-style shows, not with puppets but with the actors performing wild slapstick comedy. One such show, scripted and directed by Cox, was Crime and Punishment.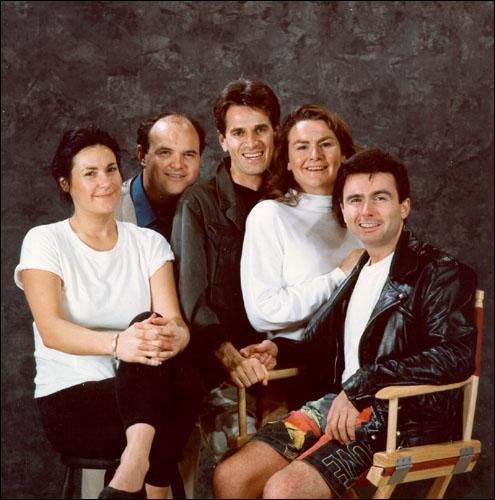 Former NTTC Actors, n.d.
Many individuals associated with the NTTC went on to form or join other theatre companies in Newfoundland, including (L-R) Cathy Jones, Andy Jones, Greg Malone, Mary Walsh and Tommy Sexton, who became members of Codco.
Courtesy of Archives and Special Collections (Coll-121, 11.50), Memorial University of Newfoundland. Reproduced by permission of Codco.
The 1974 and 1975 seasons followed a similar travelling pattern as the first two years. In the summer of 1974 NTTC performed Grace Butt's Newfoundland pageant in over 50 communities as part of the official 25th anniversary of Confederation celebrations. 1975 saw the touring productions of Eugene Ionesco's The Bald Soprano, and Edward Bond's Saved in the winter (the company had to be dug out by a snow plow on the Northern Peninsula). In the summer, NTTC performed Beaumont Hamel co-written by Cox and Tom Cahill, and Cahill's As Loved Our Fathers.
The Fisherman's Revenge
In 1976 Cox and Weiser started to do things differently. They decided to commission a play specifically for NTTC and they approached playwright Michael Cook. The resulting The Fisherman's Revenge was taken on a school tour in 1976. NTTC focussed their energies on working with drama students in high schools. The performance of a scripted play was combined with the company workshopping students' own ideas and scripts. Both Cook and Cox hoped that The Fisherman's Revenge would speak to students' experiences more than the plays of American or British writers. They visited 41 schools, and closed in December in Eastport. The cast included Kent Barrett, Jane Dingle, Beni Malone, Jeff Pitcher and Sheila Zisman. The success of the school activity convinced Cox that working with students was an important function the NTTC could perform.
Influence
Unlike the companies that followed them (such as The Mummers and Codco), NTTC was not a collective theatre company. Cox directed almost all of the shows and he also wrote the Punch and Judy performances. The influence of the Newfoundland Travelling Theatre Company was nonetheless significant. Many individuals associated with it went on to form or join other theatre companies in the province after the original company disbanded. Codco and Rising Tide Theatre are but two of the theatre companies that benefitted from the valuable training ground and experience provided by NTTC.
Even though the early plays were standard theatrical fare, the NTTC was far from usual in its mandate of touring the province to as many small communities as possible and its later dedication to workshopping drama with high school students. Cox's company was the first to bring classical theatre to smaller communities; they developed and produced plays about Newfoundland by local writers; and NTTC's contribution to other major Newfoundland theatre companies is demonstrable.