Mummers Troupe
Founded in the autumn of 1972 by Chris Brookes and Lynn Lunde, the Mummers Troupe is best known for their performances of the Traditional Newfoundland Christmas Mummers Play every December from 1972 to 1982. During that ten year period the Mummers Troupe also engaged both Newfoundland and national audiences with collective theatrical creations that were community-based and very often politically controversial. The Mummers Troupe founded the Resource Centre for the Arts, and helped purchase, renovate and develop the LSPU Hall as a downtown St. John's performance centre. One of the most active Newfoundland theatre companies in the 1970s and early 80s, the Mummers Troupe was known from St. Anthony to Sally's Cove to Buchans to St. John's.
Inspiration
The Mummers Troupe took its name and some of its inspiration from the working-class tradition of "mummering" or "janneying" (sometimes simply called "fooling"). As contemporary inheritors of this tradition the Mummers Troupe kept as much as they could of the older version's essence in the creation of their Christmas Mummers Play. According to the "Mummers Creed" (formulated by actor Bembo Davis in 1974):
the other "supra-objective" for the mummer is to eat and drink as much as possible. Additional credits are given if one holds up the play's action while doing so. Under the guise of folk art it is usually possible to scavenge all the best food at fancy parties. Every digestive tract has its limit however, and it is not always possible to do justice to a lavish buffet. In such cases a sockfoot placed tastefully in the potato salad during the course of the action may be high art.

All in the name of tradition, of course, Who dare defy tradition?
The more serious mandate of the troupe was to restore a sense of dignity in the idea of being a Newfoundlander, to speak to and for the people of different Newfoundland and Labrador communities, and to work to change the then stifling economic and social structures in the province.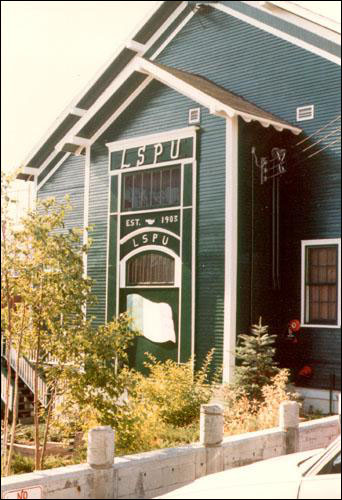 LSPU Hall, October 1988
The LSPU Hall was purchased and renovated by the Mummer's Troupe.
Courtesy of Archives and Special Collections, Memorial University of Newfoundland.
Productions
Some of the Mummers Troupe's other productions included Gros Mourn (as a protest against the national park in Sally's Cove in 1973), Once a Giant (using giant puppets, 1974), Buchans a Mining Town/Company Town (about miners in Buchans, 1974), What's That Got to Do With the Price of Fish? (an Oxfam commissioned play in 1976), Silakepat Kissiane/Weather Permitting (about life in Nain, Labrador, 1977), The Bard of Prescott Street (about Johnny Burke, 1977), Stars in the Sky Morning (written by women about Newfoundland women's experience, 1978), and West Moon (written by Newfoundland playwright Al Pittman and first performed by the Mummers Troupe in 1980). Perhaps the most controversial production was They Club Seals, Don't They? which, while on a national tour in 1978, concluded with public debates with well-known Greenpeace activists such as Paul Watson. Several Mummers Troupe productions went on to do provincial and national tours, and indeed the troupe was always committed to taking their collective theatre out of the major cities such as St. John's and into the smaller communities around Newfoundland and Labrador.
Members
The Mummers Troupe did not have a sustained acting company; rather, their members came and went as so often happens with collective theatre groups. Some of the people involved in Mummers Troupe productions included, but were by no means limited to: Chris Brookes, Lynn Lunde, Rhonda Payne, Donna Butt (who would go on to start Rising Tide Theatre Company), John Doyle, Paul Sametz, Tommy Sexton, Diane Olsen, Rick Boland, Bembo Davis, Ron Hynes, Terry Reilly, Pamela Morgan, Janis Spence, Beni Malone, Sheilagh Guy, Michael Wade, Charlie Tomlinson, and Paul Steffler.
In 1980 Chris Brookes curtailed his involvement with the Mummers Troupe and Rhonda Payne was the company's manager from 1980 to 1982 - the year the troupe closed. The Mummers Troupe provided theatrical experience and employment for people who shared a common vision of what the work should be about and what theatre could do - what cultural expression could develop on both community and provincial levels.