Michael Harrington (1916-1999)
Bert Riggs has dubbed Michael Harrington a "Renaissance man." A multitalented and prolific educator, writer, historian, broadcaster, editor and lecturer, he is best known as Editor-in-Chief at The Telegram for more than 23 years from 1959-1982, where he also wrote a popular weekly column, "Offbeat History" for forty-five years.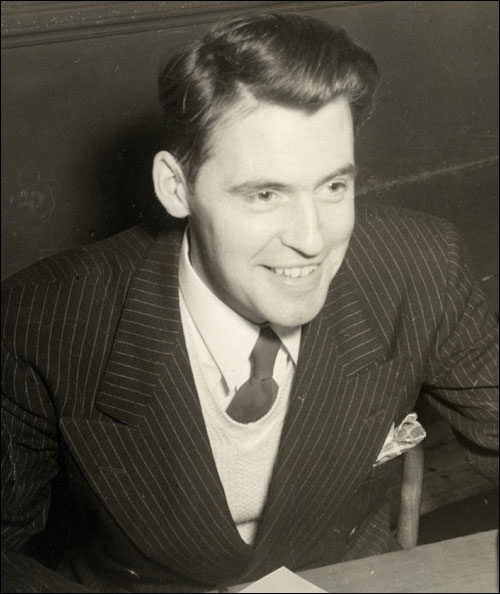 Michael Harrington, ca. 1948
In his first work, Newfoundland Tapestry (1943), Harrington's main backdrop is the power and call of the sea.
Photographer unknown. Reproduced by permission of Archives and Special Collections (Coll. 309 [no item number]), Queen Elizabeth II Library, Memorial University of Newfoundland, St. John's, NL.
Education and Career
Born to Mary Wadden and Michael Harrington, he attended St. John's schools, being a graduate of Holy Cross and St. Bonaventure College. He continued his studies under the Arts program at Memorial University College, where he was the founder and editor of Memorial University's first student newspaper, The Memorial Times. Later, in 1949, when the college was granted degree-granting status, he became the first person to graduate with a degree (B.A. 1951).
Having briefly worked with the United States Engineer's Department at Fort Pepperell, he had a short acting career with the St. John's Players, acting alongside Hal Holbrook, an American service man who progressed to become a well known and respected member of the acting community in the United States. He also worked with the Commission of Government's Health and Welfare Department, supervising social assistant payments.
However, his stint as a DJ, with a quarter-hourly popular music program on VONF led to his position as host of the popular radio program airing daily on VONF and VOGY and later on VOCM, The Barrleman, after Joey Smallwood's retirement in 1943. In this position, he also became editor of its connected publication, The Newfoundlander. As part of this position he established the O'Leary Newfoundland Poetry Contest, editing a collection of prize-winning poems in 1952. Married to Katherine Smyth in 1947 and father of five children, Michael, Paul, Tom, Beth and Denise, most of who pursued careers in journalism as well, Harrington frequently traveled to Europe and loved the opera.
Harrington also had a brief political career, being a secretary of the Newfoundland Board of Trade and Editor of its Journal of Commerce. In 1946, he was elected to the National Convention, a body established by the British government to make recommendations on future forms of Newfoundland government. He ran as a candidate for the PC party in the first post-Confederation provincial election, representing St. John's West. He refused Joseph Smallwood's promise that he would be a member of the delegation in Ottawa to seek the terms of Union if he comprised with Smallwood's confederation aims.
He was a strong Newfoundland Nationalist, who declared "I never lost...an opportunity in press or in radio to declare we should aspire to return to self-government, with independent constitutional status as befitted a distinct society" (Benson, 1A).
Written Works
His first piece of fiction, Newfoundland Tapestry (1943), written during his late teens and early twenties, exhibits a pride of Newfoundland. While written in an older verse style, crammed with personification, alliteration, and phrases no longer commonly recognizable, such as "foratlice" and "portcullis," Harrington's main backdrop is the power and call of the sea, which echoes throughout the multiple topics and themes in the collection. He has a commanding presence in evoking the geography of the island as immense, beyond ever being fully comprehended or explored by either people or animals.
Gaff Topsail1

I do not need the shrewd mind's eye to see
The glaciers gouging, carving this wild land,
Whose unrelated spirit, like a brand,
Stamps it with loneliness to Death's degree.
In fancy too I see the soft, young earth,
Writhing on taut volcanos' inner fires,
That fused or bent it to their own desires,
And left it grotesque from the planet's birth.

Now as the trainmen scourge the snorting beast,
With driving spurs of pressure-sharpened steam,
And hurl it twisting to the age-scarred height,
I know this land is not among the least;
It is a vestige of Creation's dream,
That still confounds the doubtful erudite.
His style ranges from very straightforward and accessible poetry, to poems that are more complicated in meaning, but he is undoubtedly proud of the island and the people:
Excerpt from "Newfoundland Tapestry"

A fisher-race, hard-born, hard-reared, hard-dying most;
Our greeting's not a glib and unctuous speech;
Let our land speak for us and out pine-dark,
Jealous sea, and our fog-laced maiden ships;
"A Health to you, Strangers," this warm toast we drink,
In the fresh, clean wine of our hopes and our children's hopes.
His other notable collection, The Modern Magi (1985), a title reflecting the flight of the Apollo 8's crew and their journey beyond the earth, "the one place in that void/where we do not boil or freeze," projects the ensuing sense of mystery regarding the cosmos and the self. The poems are emotional, ironic, sad, wistful, bitter and cynical, ending humorously with two pieces devoted to the frustrated gardener. Here, Harrington satirizes Joyce Kilmer and William Wordsworth's reflections on the beauty of nature. Instead of Wordsworth's splendid imagery of fluttering daffodils, Harrington provides a unique Newfoundland perspective to the dandelion, a flower that causes sweat and hardship, rather than the repose and splendour of daffodils:
Excerpt from "The Dandelions"

As thick as caplin that bestow
The scruffy beaches of the Spring,
They thronged the ditches, blocked the lanes,
And choked the new seed in the ling;
Ten million saw I in one look,
Twisting like sea worms by the brook.
………………………………………
But when I lie upon my couch,
From hours of digging, snipping toil,
From my back and muscles crying "Ouch"!
From tussles with the dried-out soil,
I wonder why, in her designs,
Nature gave us the dandelions.
Community Involvement and Recognition
He was a founding member of the Canadian Authors' Association, Newfoundland Branch, a fervent advocate of heritage conservation, and officer and life member of the Newfoundland Historical Society. He was also member of the Newfoundland Public Libraries Board, the 1952 Visiting Lecturer in English literature at Memorial University, member of the Board of Regents, Memorial University of Newfoundland and in 1982 a Visiting Fellow in Newfoundland Studies in the Department of History. By 1985, he was an associate of the Maritime Studies Research Unit and later received an Honorary Doctor of Laws degree from Memorial University.
Harrington's recognition includes the New Communication Award from Heritage Canada (1979), an award from the Newfoundland Historical Society (1985), creation of Harrington Drive in his honour by the City of St. John's (1988), the Order of Canada (1993) and the establishment of the Michael Harrington Research Prize in Newfoundland History (1996).
Foreign Sailors at the (National) War Memorial
Queen's Beach, Water Street, 1950s.

I watched them through the window,
A trio of jackanapes, as they postured
And clambered like blue-serge monkeys
Over the plinth and the verdigris-mottled bronzes
Of the watchful and the slain,
To have their photos taken.

One, a bit more introspective than the others
Seemed diffident about dangling from the axe
Of the far-peering forester or from the arm
Of the work-sculptured fisherman,
Or from the telescope
Of the dutifully knee-bent naval reservist
Thrusting like a crane-boom from his thigh,
Or his matching regimental comrade's bayonet.

Nor did he strive to reach and touch the hem
Of Justice's wind-zippered robe,
And her still-guttering torch and
Unreflecting swordblade,
Shackled forever in downward motion….
But lolled about and hung aslant-wise,
Knees unhinged and arms akimbo.

So, after a period of ogling and sidling,
Unheeding even the admonitions
Of an apologetic sergeant of police,
They dropped cat-footed to the pavement's rim,
Snapped shut their expensive cameras,
And rock-and-rolled down dim and tortuous streets,
With pantaloons stretched
Across their buttocks,
Tight as the skin on skulls,
And, in their wake,
A dark, untutored arrogance abounding.
__________________
1. One of the several tolts (hills) along the Western interior section of the Newfoundland Railway; the others are Main Topsail and Mizzen Topsail.