Michael Crummey (1965-)
Michael Crummey was born in 1965 in Buchans, where he lived until the late 1970s, when he moved with his family to Wabush, Labrador, a mining town near the Labrador-Quebec border. Following high school, he attended Memorial University of Newfoundland, earning an Arts degree with a major in English. Crummey made his poetic debut at Memorial University in 1986 when he won the first place in the Gregory J. Power Poetry Competition, and he published his first poem in TickleAce, a literary journal devoted mainly to the writing of Newfoundland and Labrador.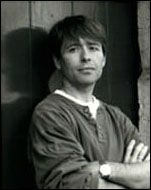 Michael Crummey, n.d.
Crummey made his poetic debut at Memorial University in 1986 when he won the first place in the Gregory J. Power Poetry Competition.
Photo by Chris Miner. Reproduced by permission of Michael Crummey.
In 1987 Crummey moved to Kingston, Ontario, where he completed an M.A. at Queen's University. Later he dropped out of the Ph.D. program in order to devote more time to writing. For a six-month period in 1991, he taught ESL (English as a Second Language) in China. Then in 1996 he started work as coordinator of a student environmental and social issues organization at Queen's University. In 2001 he moved back to St. John's.
Publications
Michael Crummey's writing has appeared in a broad range of literary magazines (The Fiddlehead, TickleAce, The Malahat Review, Prism International, Poetry Canada) and anthologies (Wild on the Crest: Sea Poems of Newfoundland and Labrador, Breathing Fire: Canada's New Poets, More Garden Varieties Two). In 1994 he won the inaugural Bronwen Wallace Award for Poetry, an award for writers under thirty-five years of age who have not yet published in book form. He was also a runner-up in the 1994 Prism International Fiction Competition, and was nominated for the 1998 Journey Prize. In 1996 Quarry Press published his first collection of poetry, arguments with gravity, which won the Writers' Alliance of Newfoundland and Labrador Literary Award for Poetry. In arguments with gravity, Crummey indicates that the role of the poet is to bear witness to the beauty and brutality of a wide spectrum of human relations, both familial and political. The major themes in this collection of deeply moving and sometimes humourous lyrical and narrative poems are the power of memory, the consequences of change, and endurance in the face of oppression.
Hard Light
During the summer of 1995, with the assistance of a grant from the Canada Council for the Arts, Crummey spent time on the Labrador coast where his father as a young boy from Western Bay in Conception Bay had worked in the seasonal cod fishery. His second poetry collection, Hard Light (1998), is an imaginative reshaping of the stories he had been given by his father and other relations. With its documentary quality, this collection also contains "Discovering Darkness," a poetic sequence inspired by the diary of Captain John Froude. Crummey describes Hard Light, with its blend of photographic and poetic imagery, as "a collaboration between myself and Newfoundlanders past and present." In 1998 he also published flesh and blood, his first collection of short stories set in Black Rock, a fictional mining town in central Newfoundland. Presented mainly from the perspective of narrators blessed with the ability to forgive, these thirteen linked stories explore the emotional terrain of the heart, the joyful and sorrowful mystery of all things, and the small and often unexpected miracles that enable us to transcend hardship, betrayal and loss. A story from flesh and blood was selected for the Journey Prize Anthology 10 (McClelland and Stewart 1998).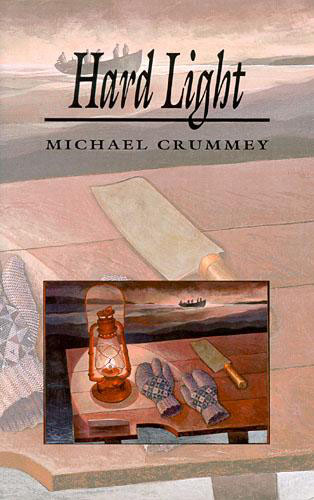 Michael Crummey's Hard Light (Brick Books, 1998)
Hard Light, Crumney's second collection of poetry nominated for the 1999 Milton Acorn People's Poetry Award.
Reproduced by permission of Brick Books. ©1998.
River Thieves
In 2001 Crummey published his first novel, River Thieves, about the Beothuks and the Europeans who encountered them. River Thieves was shortlisted for the prestigious Giller Award. A chapbook of poetry, Roadside Emergency Assistance, was published by Trout Lily Press in Ontario that same year. Another book of poems is forthcoming in 2002. In a statement about his philosophy of writing, Crummey says, "Poetry is the one place I can, honestly and with something approaching clarity, acknowledge my love for family, for friends and lovers, for the world I live in...love is the best of who I am."