Collection Contains Memorabilia From One of Newfoundland's Best Novelists
From the files of The Gazette September 22, 1994.
Sept. 27, 1994, marks the 100th anniversary of the birth of Margaret Duley, one of Newfoundland's foremost novelists.
Margaret Duley was born in St. John's, the fourth of five children of Tryphena Chancey Soper and Thomas James Duley. Duley operated a jewellery business on Water Street for many years while his wife raised their children and did the charitable and social works expected of a woman of her class.
Margaret graduated from the Methodist College in St. John's in 1910. The next year she accompanied her father on a trip to England: it was where she would spend much of the rest of the decade. She enrolled in the London Academy of Music and Dramatic Art but there are no records of her course of study.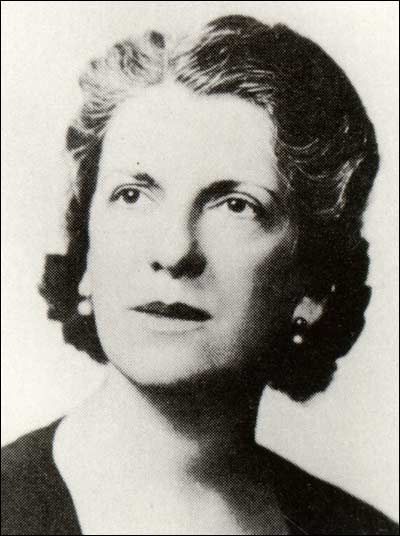 Margaret Duley in 1941
Courtesy of Archives and Special Collections (Alison Feder, MF - 213), Memorial University of Newfoundland, St. John's, NL.
On her return to Newfoundland Margaret became involved in the suffragette movement, first as a member of the Ladies Reading Room and Current Events Club, and later as a leader of the Women's Franchise League. She also was very active in St. John's social circles and she travelled frequently, including a trip to Labrador on the SS Kyle in 1928 and visits to relatives in Canada, the United States and Great Britain. She had no need to work as she had been amply provided for by her father after his death in 1920.
It is as a writer that Margaret Duley is best known. She published four novels within a six-year span: The Eyes of the Gull (1936), Cold Pastoral (1939), Highway to Valour (1941) and Novelty on Earth (1942), the first two in London, the latter two in Toronto, New York and London. Novelty on Earth was also published in Sweden in 1946 as Sa Stred Sara. These were the first novels written by a Newfoundlander to gain an international audience and international acclaim. The reviews were quite positive, appearing in many Canadian and American publications including The New York Times Book Review. And then, possibly because of her publishers rejection of her new novel, Octaves of Dawn, she ceased novel writing altogether. She did publish several short stories during the early 1940s and The Caribou Hut in 1949. The latter book was the history of the Caribou Hut, the hostel which operated at the King George V Institute between 1940 and 1945 to provide accommodation and entertainment to troops visiting St. John's.
With the end of Duley's career as a writer, she settled back into a life of volunteer work (the library at the St. John's sanatorium, the ZONTA Club). For a short period between 1950 and 1952 she worked for the Red Cross in Newfoundland as a public relations officer. But travel had always been one of her great loves and in 1952-53 she embarked upon a tour of France and Italy, anchored on each end by stopovers in England. It was a trip she had longed to take and one in which she was not disappointed. Two years after her return to Newfoundland she was diagnosed with Parkinson's disease and while she was able to live on her own for several years, the disease began to take its toll; she eventually moved in with her sister-in-law, Florence Duley and Florence's daughter, Margot. She died on March 22, 1968.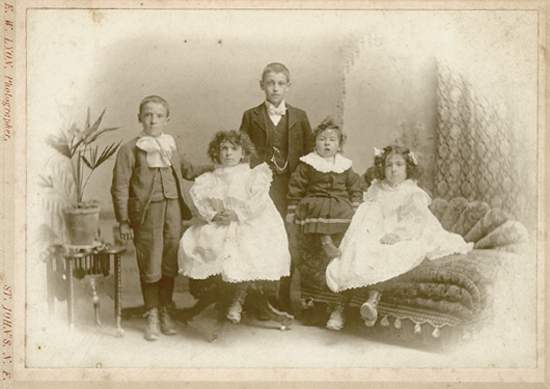 The Duley children, ca. 1898
(L-R) Nelson, Gladys, Cyril, Lionel and Margaret posed for this group portrait, circa 1898.
Courtesy of Archives and Special Collections (Coll - 248, 3.01), Memorial University of Newfoundland, St. John's, NL.
In 1983 Dr. Alison Feder of Memorial University's English department published Margaret Duley: Newfoundland Novelist - A Biographical and Critical Study. As part of her research she made contact with Margaret Duley's cousin, Freda Jefferies, who lived in England. Freda Jefferies had in her possession a series of letters from Margaret written between 1952 and 1962, which Mrs. Jefferies lent to Dr. Feder. Dr. Feder informed Anne Hart, head of the Centre for Newfoundland Studies, of these letters and Hart approached Freda Jefferies about depositing them in the centre's archives. Mrs. Jefferies agreed and this very important documentation of the last years of Margaret Duley's life gained a permanent home in Newfoundland.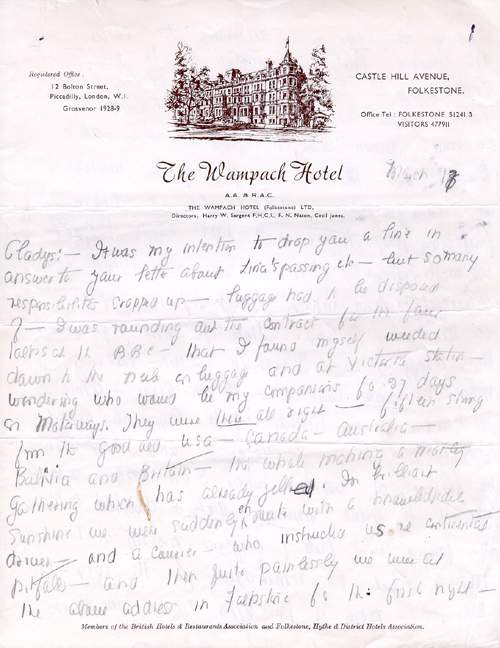 Margaret Duley's letter-journal in 1953
A portion of the opening page of Margaret's European letter-journal to her sister Gladys Courtney in 1953
Courtesy of Archives and Special Collections (Coll - 249, 1/22), Memorial University of Newfoundland, St. John's, NL.
There is a sentence in one letter, written after the diagnoses of her illness, that in many ways is symbolic of Margaret Duley the person and Margaret Duley the writer: "Two doctors give my complaint a fancy name but I won't repeat it for fear of giving it greater reality, believing as I do that symptoms are only relative."
Together with a photograph of Margaret and her brothers and sister as small children, a letter-journal written to her sister, Gladys Courtney, in North Carolina during the 1953 European trip, a scrapbook containing reviews of her books and a newspaper clipping of her death, these letters constitute the Margaret Duley collection in the archives. It is very little of her original output, but it is a tangible reminder of the grand dame of the Newfoundland novel.