Mary Dalton (?-)
"Geopsychical" is the title of a poem in Mary Dalton's second book, Allowing the Light (1993). This coined word expresses an identity between place and person which has historically been characteristic of Newfoundland, particularly the outports. But Confederation, resettlement, the cod moratorium, out-migration and rapid technological change in the world have introduced into Newfoundland a thrust towards globalism and cultural homogenization. Ever since her first book, The Time of Icicles (1989), Mary Dalton's poems have been written in resistance of such pressures. Lament for losses caused by artificial, accelerated change lends many of her poems an elegaic quality, but she is not against change itself. In fact she has said in an interview, "Process is what unifies all my poems: the fleeting, kinetic energies of the voice; the fleeting energies of the earth. They're unstable, always in a process of change."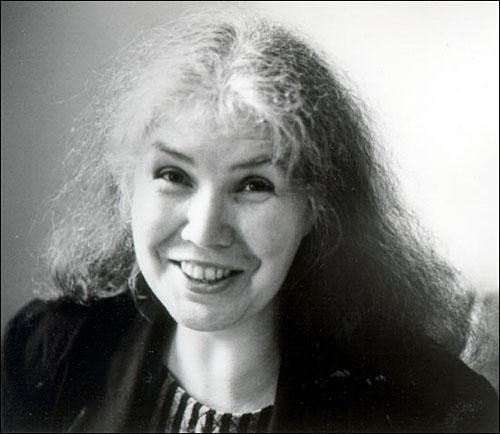 Mary Dalton, n.d.
Dalton has published two books of poetry -The Time of Icicles (Breakwater, 1989) and Allowing the Light (Breakwater,1993).
Photo by Margaret Dalton. Reproduced by permission of Mary Dalton.
Writing Style
In this association of earth and voice lies something else important to Mary Dalton and her poems: language on the shifting edge between speech and writing. "Much of the speech of my upbringing," she has said, "is of the body—the hand, the eye. The idioms are concrete, sensual." Her education did not honour that geopsychical language, however. The schoolgirl in the Irish Catholic parish of Harbour Main, Conception Bay, had her tongue trained away from her community's speech rhythms into more standard ones. Her higher education (an honours B.A. in English from the University of Toronto, an M.A. from Memorial University of Newfoundland and doctoral study as a Canada Council Fellow at the University of Liverpool), her profession (she teaches Anglo-Irish literature, creative writing, and Newfoundland literature at Memorial) and her contributions to the literary community (she was an editor of the Newfoundland magazine TickleAce between 1980 and 1986 and has overseen the publication of four volumes of writing by her students) have in a way confirmed the mainstream lessons. She has become, in the title of one of her poems, a "woman of letters." The poem laments the loss of oral tradition, but attachment to the literary mainstream has also brought gains to Dalton's poetry. It engages in a sophisticated way with English literary tradition, with various mythologies, with the other arts (particularly painting).
Dalton's typical forms and techniques in her first two books owe less to oral than to literary tradition. Her spare, evocative, ambiguous free verse has roots in such eye- rather than ear-stressing movements as Imagism. She has typically written lyrics, poems of intense thought and/or feeling, rather than narratives. Though brief and often quite open and accessible, many of them are knotted with ambiguity; they often work out thoughts and feelings of considerable complexity.
But a pivot in Dalton's writing life, in the cultural life of Newfoundland as a whole, eventually helped turn her back towards what she calls in a poem the "muscle and music of word," especially the distinctive spoken word of Newfoundland. This was the appearance in 1982 of the Dictionary of Newfoundland English. The first sign of Dalton's renewal from this rich source is "Songs from the Newfoundland Dictionary," a two-part poem in Allowing the Light.
The Tall World of Their Torn Stories
Many of the poems since published in magazines and collected in a manuscript with the working title The Tall World of Their Torn Stories are explorations of the "salt accent" of Mary Dalton's time and place, and of a Newfoundland past still present and active within her. These poems often compress a large story into a few potent words, many of them (like "brin," "cross-handed," "drite," "elt," "mollyfoostering") particular to Newfoundland and cleverly defined by the action of the poem itself. Such work with tradition answers a need announced in one of the quotations that opens The Time of Icicles. "The aim must be to gain a past from which we might spring, rather than that from which we seemed to derive." Mary Dalton now speaks with a confidence born of her generation's emergence from a withering colonial attitude in which Ottawa succeeded London as the "superior" imperial centre. "I live," she says, "in a Newfoundland-centred universe; we are at the centre...I don't see that as narrow at all, since my mind ranges over the globe." One target of a fiercely satiric voice that sometimes heats her poems is the outdated belief, still found in as well as outside of Newfoundland, that the place is a cultural backwater with little to say for itself. Dalton's sharp voice also punctures obsolete but persistent sexist attitudes towards women, though the poems about relations between the sexes are often marked by a sly sense of humour.
The potency of Mary Dalton's Newfoundland experience is confirmed and illustrated by poems in which myths of the world blend naturally with the local, like the long Newfoundland winter watched through the garden window of her house in downtown St. John's. Here, and at her house around the ancestral Conception Bay, she observes changes in the weather and the heart and writes robust delicate poems of ice and light in the particulars of her world and its people. Cumulatively, they amount to what historian Stuart Pierson has called, in a review of The Time of Icicles, "serious reflections on culture here in Newfoundland in the last generation." They are also serious and un-parochial reflections on the human condition anywhere.
Anthologies
Dalton's work has been much anthologized in Newfoundland and elsewhere; some of the anthologies containing her poems are: Landmarks: An Anthology of New Atlantic Canadian Poetry (The Acorn Press 2001); New Canadian Poetry (Fitzhenry and Whiteside 2000); the edges of time (Seraphim Editions 1999); Their Lives and Times (Killick 1995); Windhorse Reader:Choice Poems of '93 (Samurai Press 1994); Words Out There: Women Poets in Atlantic Canada (Roseway Publishing 1999); Choice Atlantic: Writers of Newfoundland and the Maritimes (Breakwater 1990).
In 1997 Dalton received The Government of Newfoundland and Labrador Arts and Letters Award for Poetry; in 1998 she was the inaugural winner of The TickleAce/Cabot Award for Poetry.