Mark Callanan (1979-)
Mark Callanan believes "many people believe poetry is serious, hard to understand and does not apply to their lives. Reading poetry can be entertaining. It can make you really think. It can make you feel anything in the realm of emotional expression" (Northern Pen, June 6, 2005, p.6). Callanan began seriously writing at 18, being attracted to poetry's "compactness and power" (The Express, Oct 1, 2003, p. 15). A resident of Rocky Harbour, Newfoundland, the St. John's native completed a B.A. in English literature at Memorial University of Newfoundland and then emigrated to Leeds, England working and living for two years until returning to Newfoundland. Besides writing a weekly book review column, "On the Shelf," for The Independent, a Newfoundland newspaper, he also taught a three day poetry workshop to high school students in St. Anthony, allowing them to explore the process of how poetry works in stimulating the imagination. He believes "school is essentially theoretical. You don't have the time to let kids let their imaginations roam. I think that is important" (Northern Pen, June 6, 2005, p.6).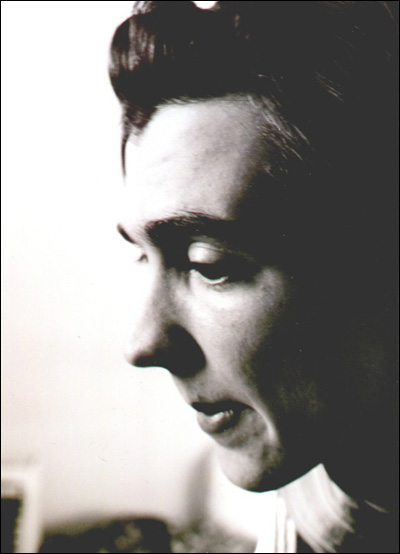 Mark Callanan, n.d.
Much of his poetry centres on mourning and loss.
Photo by Andrew McCall. Reproduced by permission of Mark Callanan. ©2006.
Writing Style
Callanan's first publication, Scarecrow (2003), examines his connection to his past and family through memory and the growth of self-knowledge. Much of his poetry centres on mourning and loss, either through death, devastation or the complexities and indeterminacy of relationships. Yet there are also moments of affirmation amidst the longing. The relation between these two themes is evident in the contrasting bird imagery, ranging from the scavenger crow to the lull of the sparrow. Prevailing rural imagery of horses, sheep and goats are loaded with symbolic undertones, which carry over, in particular, to a more cosmological reflection in the second part of the book, where the animal imagery teeters between the real and mythological.
His lucid and sparse writing style creates an intense yet reflective atmosphere to his work. Threatening images of victimisation and slaughter, such as in "Snake" or "At the Butcher Shop" hauntingly puncture throughout the collection. At times, however, there are very tender, reflective aspects to his poems like the mourning for his grandmother in "The Delicate Touch Required for China." Some of the poems are short and imagistic, while others are longer reflections, creating a variety of human emotions. In particular, the roughly fourteen short images in "Studies of the Island," such as "salt and the smell/ sometimes attached/ to old wounds" are isolated with large spaces between them on the page, creating an innovative piece that perhaps indicates an absence and distance between the images implying diversification and isolation.
Recognition
Two of his poems, "Things that have nothing to do with Fiji" and "Divination" won the Newfoundland and Labrador Arts and Letters Awards, while "The Delicate Touch Required for China," won the Gregory J. Power Award at Memorial University of Newfoundland and was his first official recognition as a poet. His work has been anthologized in The Backyards of Heaven, a collection of Newfoundland and Irish poetry, as well as appearing in numerous journals, including Poetry Life, Grain, The Antigonish Review, Lichen, and TickleAce. He is working on a new book about the now extinct Newfoundland wolf.
Scarecrow
A gull crucified
in a field.

The flies
circling his body

Like the birds he wards off,

Their wings buzzing
in the air.

And all that
bone, all that rot.