Lise Sorensen
I find, of course, great pleasure in my painting. I also find a tremendous source of satisfaction in teaching students, particularly young children. The spontaneous enthusiasm of children can produce some tremendously exciting artistic creations and I find that children respond rapidly and productively to my teaching.
- Lise Sorensen, 1980
From artist statement in Lise Sorensen exhibition publication, organized by Memorial University Art Gallery, 1980.
Lise Sorensen was born in Odense, Denmark, in 1941. She and her parents moved to Canada in 1951 and settled in Oakville, Ontario.
After graduating from high school in 1958, Sorensen completed a one-year program at the Ontario College of Art, followed by a second one-year program at the Art Students League of New York. She then studied at the Montreal Museum of Fine Arts and graduated in 1965 with an honours diploma in fine arts.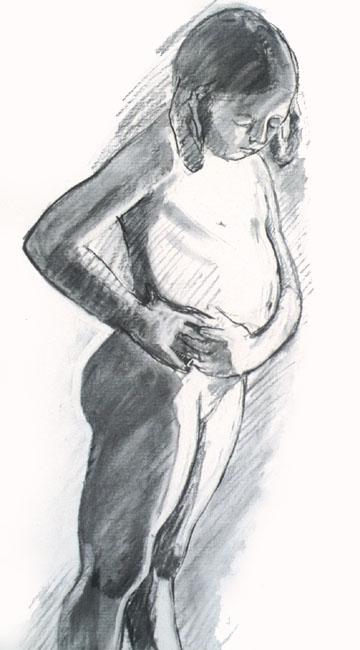 Nude Child
1977
Charcoal
60.6 x 45.6 cm
She spent several years working and exhibiting in Montreal and New England. In 1975, Sorensen moved to Newfoundland's west coast and settled in the community of Woody Point, Bonne Bay. In 1977, The Canada Council for the Arts and the Memorial University Art Gallery (now The Rooms Provincial Art Gallery) awarded her a community artist in residence grant, which allowed her to spend a year drawing and painting the Gros Morne area. That same year, the Memorial University Art Gallery organized a solo exhibition of her work, entitled Lise Sorensen, Drawings and Paintings.
Sorensen is primarily a landscape painter, although she has also done still life. She is deeply influenced by Newfoundland's scenic west coast and Northern Peninsula, but her extensive travels and painting expeditions to Mexico, Cuba, Jamaica, Greece, the Canadian province of Quebec, and elsewhere have also influenced her artistic sensibility.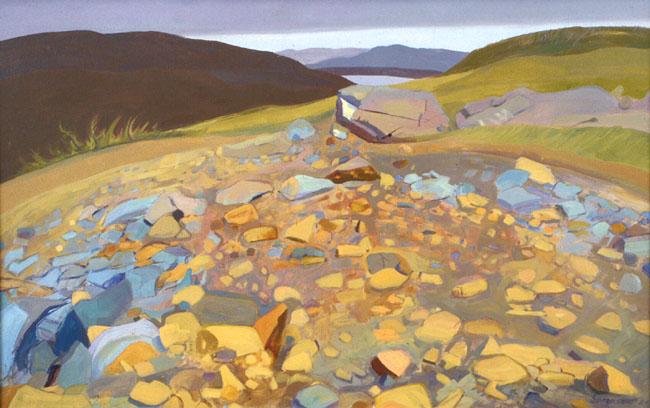 Serpentine
1984
Oil on Canvas
76.5 x 123 cm
Sorensen has exhibited widely and was part of the Cognac and Bordeaux Groups which exhibited in France in 1985 and 1992. She has also illustrated books, including That Fine Summer, published by Jesperson Press in 1979, and Woman's Almanac, a 1989 Breakwater Book publication.
She has taught at Memorial University's Extension Services, Grenfell Campus (where she designed and taught a master class in design for theatre), the Community College in Stephenville, and the Montreal Art Centre. She also teaches privately. Her courses have included painting, multimedia, drawing, sculpture, and design.
In addition to being part of The Rooms Provincial Art Gallery's Permanent Collection, Sorensen's artwork is part of numerous private and public collections including those of the Earth Sciences Department of Memorial University of Newfoundland and the Government of Newfoundland and Labrador.
For more information about the artist and her work, visit her website: http://www.sorensen-arts.com/index.html.