John Murray Anderson and Broadway
From the files of The Gazette April 28, 1994.
Broadway! New York City! The Great White Way! Now what would be Newfoundland's connection with the world's most famous theatre district. The answer is John Murray Anderson. This is a name little known today but in the heyday of the American musical in the 1920s and 1930s he was second only to Florenz Zeigfeld as one of the great producers.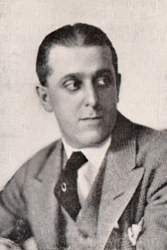 John Murray Anderson
Courtesy of Archives and Special Collections, Memorial University of Newfoundland, St. John's, NL.
John Murray Anderson was born in St. John's on September 20, 1886, the son of John Anderson and Amelia Murray. His mother's family had been in Newfoundland for several generations. His father was a native of Scotland who immigrated in 1875 and played a prominent role in Newfoundland business and political life. He is best known as the person who convinced the Newfoundland Legislature to adopt Daylight Savings Time in 1917.
John Murray Anderson was educated at Bishop Feild College, at Edinburgh Academy and at Lausanne University in Switzerland. After his graduation he went to London where he studied singing under Sir Charles Santley and acting with Sir Herbert Beerbohm Tree. He returned to Newfoundland around 1910 and spent a year collecting and selling antiques before moving to New York. There he quickly became involved in theatre, first becoming a dance instructor, before becoming a writer and producer, particularly of musical comedy and revues.
His first play was The World Mother starring Blanche Bates in 1918. Over the next 30 years he was responsible for over 30 productions including The Greenwich Village Follies, The Music Box Revue, and Murray Anderson's Almanac. After Zeigfeld's death, he became producer of The Zeigfeld Follies. Between 1926 and 1929 he produced 57 miniature revues for Paramount Famous Players Theatres. He also took shows to London and was involved in the 1937 production The Coronation Revue, staged to celebrate the coronation of King George VI.
Thumbs Up! A program from a production by John Murray Anderson.
Courtesy of Archives and Special Collections, Memorial University of Newfoundland, St. John's, NL.
Anderson was also involved in motion pictures. He spent 1929-1930 in Hollywood, during which time he was the driving force behind the first all-colour, musical motion picture, The King of Jazz, released by Universal Studios in 1930. The New York Times review of the production stated "John Murray Anderson's initial contribution to the audible screen, "King of Jazz," with the rotund Paul Whiteman, reveals this director to be a magician of far greater power than one imagined, even from his stage compositions. This Technicolor potpourri of songs, dancing and fun is a marvel of camera wizardry, joyous color schemes, charming costumes and seductive lighting effects." The theatre remained his first love, however, and he returned to it to present live stage productions until shortly before his death.
John Murray Anderson died in New York City on January 30, 1954. In the year before his death he, with his brother, Hugh, as writer, dictated his autobiography, Out without my Rubbers. He was a periodic visitor to Newfoundland throughout his life and hailed here as one of the many Newfoundlanders who have made good abroad.
In 1989 the archives was able to obtain two programs from Anderson's productions: Thumbs Up! and Two for the Show. They are just a small percentage of his considerable output of scripts, songs, programs and productions but are important in documenting his contribution to the history of the American musical theatre and, by virtue of his birth, a record of the work of a very talented Newfoundlander.