Janice Udell
The process of making art is never static. Sometimes I believe that art lives by destroying itself. You have to go through one door to get to the next and if that means revealing the last door as a deception or illusion, then so be it.
- Janice Udell
Excerpt from artist statement in AGNL Permanent Collection Artist file.
Janice Udell was born in St. John's, NL, in 1954. After completing high school, she attended the College of Trades and Technology in St. John's, where she earned a diploma in commercial art in 1972. She furthered her studies at the Nova Scotia College of Art and Design, from which she graduated with a Bachelor of Fine Arts in 1978.
She taught art in Halifax for a year before moving to Toronto. There, Udell devoted between eight and 10 hours a day to drawing. She also studied Renaissance art, which influenced some of her future work. Her first solo exhibition was in 1981, at the ELCA London Gallery in Montreal.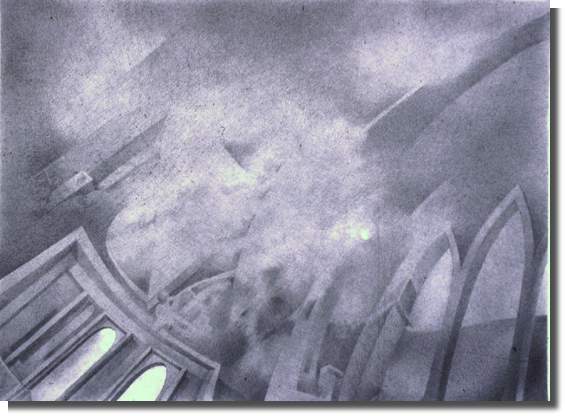 Saturnalia
1983
Graphite on Paper
50 x 68.7 cm
Udell returned to Newfoundland in 1984, settling first at St. Michael's on the Avalon Peninsula's Southern Shore, and then at St. John's in 1988. She continued to exhibit her work and taught workshops at the Memorial University Art Gallery (now The Rooms Provincial Art Gallery). She also illustrated the popular children's books Amanda Greenleaf and the Spell of the Water Witch (1987) and Amanda Greenleaf and the Boy Magician (1991), by the Newfoundland writer Ed Kavanagh.
Udell was an artist in residence at several universities and arts centres, including at the Sir Wilfred Grenfell College (1994), the Banff Centre (1997), L'Hirondelle in France (1999), and the Living Arts Centre in Mississauga, Ontario (2001).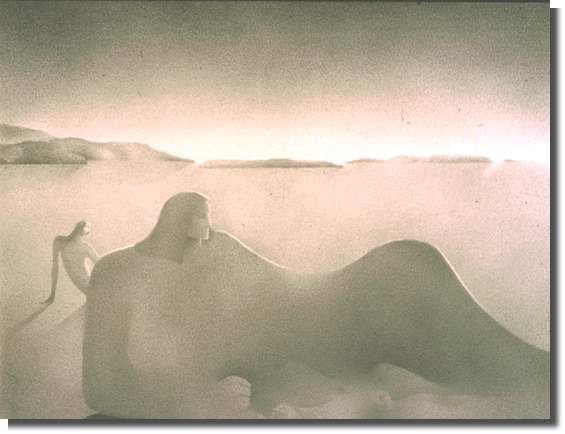 Sphinx Rising
1986
Pencil
63.5 x 45.5 cm
Udell is known for her beautifully detailed and painstakingly cross-hatched drawings. The arts reporter Joan Sullivan wrote that her "graphite drawings, serigraphs and mixed medias build astonishing volume from subtle, fine lines" (The Telegram Jan. 2, 2010). Her images are often inspired by myths and fables, and have a dreamlike quality. Her subjects have included the sphinx, the Greek goddess Artemis, and the nymph Syrinx. Other works explore the province's history, such as the lithograph Bartlett's World, about the famous Brigus ice captain and polar explorer Robert A. Bartlett, and a 10-metre long mural of a Newfoundland Railway Mikado train engine, which she created in 2008 for the Holyrood Beautification Committee.
Her work has been widely exhibited in solo and group shows across the province and the country. In addition to being part of The Rooms Provincial Art Gallery's Permanent Collection, Udell's art is in many private and public collections, including the Canada Council Art Bank, the National Art Gallery in Ottawa, the ELCA London Gallery in Montreal, Parks Canada, and the Government of Newfoundland and Labrador.
She continues to live and work in Newfoundland.