Newell Collection is a Coleridge Scholar's Dream
From the files of The Gazette Mar 23, 1995.
By Bert Riggs and Dr. Martin Howley
Isaac Newell was born in Cupids on Jan. 1, 1917, the son of Lilly and Edward Newell. He graduated from the Church of England School there and later obtained a teaching diploma from Memorial University College. After two years teaching, Newell became a co-operative field worker with the International Grenfell Association at St. Anthony. He spent most of the 1940s helping residents of the Great Northern Peninsula in organizing co-operatives.
Newell saw firsthand the problems faced by those who lived in northern Newfoundland and was committed to assisting them improve their standard of living. This appears to be a predominant factor in convincing him to stand, successfully, for election to the National Convention - established to determine Newfoundland's political future - in 1946 for White Bay district. There he was seen as open-minded in his deliberations, supporting the inclusion of Confederation with Canada on the referendum ballot. After Confederation, Premier Joseph R. Smallwood tried to convince Newell to remain in politics, but he had applied to Queen's University in Kingston, Ont., to complete a bachelor's degree. Scholarship opportunities enabled him to attend Duke University (master of arts), North Carolina, and Oxford University (bachelor of literature), England. He returned to Queen's University in 1957 where he taught English literature until shortly before his death, May 26, 1977.
Newell wrote poetry from a very early age. In 1947, he received first prize in the O'Leary Poetry Contest for his poem Lines for an Anniversary (1497-1947) in honor of the 450th anniversary of John Cabot's voyage. Much of his poetry, however, remains unpublished. In 1987, Newell's widow, Jean Nast Newell, donated some of his early poetry manuscripts and papers from his co-operative work to Memorial University. In 1994 she donated his rare book collection; it is described below.
**********
Students and faculty of Memorial University owe a special debt of gratitude to Prof. Isaac Newell. It was through the bequest of his personal library that the Queen Elizabeth II Library acquired last year a particularly fine collection of over 4,000 books. The core of the collection, consisting of 161 works by and about Samuel Taylor Coleridge and his circle, was granted "outstanding national significance" status under the provisions of the Canadian Cultural Property Export Review Board and constitutes a major resource for the study of Coleridge's developing oeuvre. The fruit of Prof. Newell's abiding interest in Coleridge and the Romantics, it is especially rich in 19th-century editions, among them some highly collectible rarities. The library is now processing the donation as rapidly as staff time permits for such a large collection. The majority of the rarer items, however, have already been catalogued and can be consulted in the Centre for Newfoundland Studies.
There are some 20 19th-century editions of Coleridge's poetic and/or dramatic works. The oldest is a scarce early volume of his juvenilia entitled simply Poems 1803. There is also the very rare first collected edition of his poems which Coleridge put together during his recovery from a period of severe addiction and suicidal depression and which he published in 1817 with the title Sibylline Leaves. It is a landmark publication because in it "The Ancient Mariner" appeared for the first time under its author's name, enhanced with an important series of marginal glosses. Equally significant, it gave Coleridge occasion to write a critical introduction which, in the process of composition, became too bulky for inclusion. This oversized introduction subsequently grew into Coleridge's critical masterpiece, Biographia Literaria.
Several other collected editions of the poetry are included: not the 1828 Poetical Works in three volumes published by William Pickering, but the almost identical second edition of 1829 as well as the third edition of 1834, the year of Coleridge's death, for which most of the editorial work was carried out by his nephew Henry Nelson Coleridge. H. N. Coleridge's edition of Coleridge's Literary Remains (1836) is also in the collection. Other posthumous editions included are the important edition published by the poet's son Derwent and daughter Sarah, containing hitherto unpublished material, and the revised editions of it, which they subsequently published in 1867 and 1870. R. H. Shepherd's four-volume Poetical and Dramatic Works of 1877, which made further additions to the canon, is also included.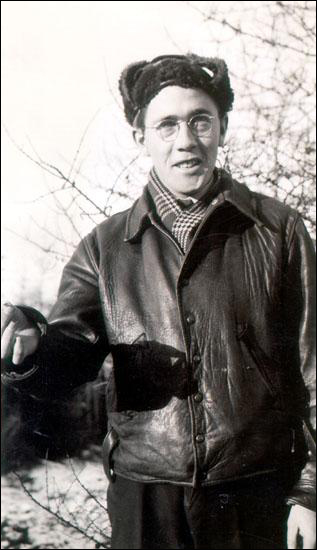 The young Isaac Newell, ca. 1940
Courtesy of Archives and Special Collections (Coll - 090), Memorial University of Newfoundland, St. John's, NL.
The prose works are also well represented by early editions. There is a most impressive set of early editions of The Friend, Coleridge's first major prose work, including an exceedingly rare and valuable first edition (1809-10). Coleridge subtitled it A Literary, Moral and Political Weekly Paper, and planned to issue it as a single philosophical essay per number, each on a different topic, with some literary "amusement," or poetry attached. This and other editions which followed it are now recognized as key documents for understanding Coleridge's intellectual development.
The difficulties which he overcame to get it published are some indication of the importance that he attached to the project. After recruiting 398 subscribers, Coleridge launched The Friend, which he wrote, edited, had printed and distributed from the Lake District. The location, despite its hallowed associations, was not an ideal one for such a venture. The printer lived in Penrith and Coleridge sometimes had to walk across 30 miles of rough fell country to deliver copy. Other problems were less predictable: one issue was partly eaten by rats. Against odds like these Coleridge kept The Friend going almost continuously for six-and-a-half months. When he finally discontinued publication it was not for lack of enthusiasm but because not all his subscribers were paying up.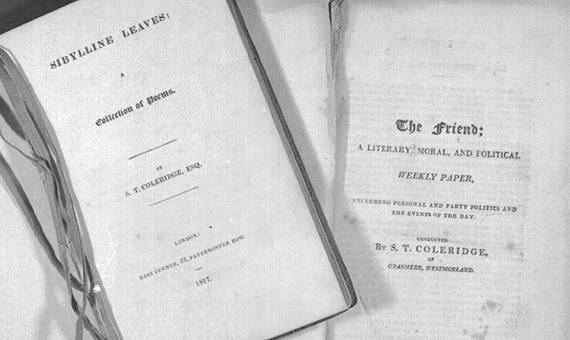 Samples from the Coleridge collection at Archives and Special Collections
Courtesy of Archives and Special Collections (Coll - 090), Memorial University of Newfoundland, St. John's, NL.
Coleridge, however, persevered and in 1818 reissued it in a carefully revised and expanded three-volume edition. Volume 3 was almost entirely new material and displays the astonishing range of erudition which Coleridge could command in his quest of the common and universal principle of "self-organizing purpose." The Newell collection contains two copies of the pivotal 1818 edition. There is also a posthumous edition edited, again, by Henry Nelson Coleridge.
Other early prose works to be found in the collection are: several editions of Coleridge's Table-Talk (including the first edition of 1835); eight different editions of Aids to Reflection (including the first, 1825), a collection of writings on personal revelation in Christianity; the first edition each of The Statesman's Manual (1816) and A Lay Sermon Addressed to the Higher and Middle Classes on the Existing Distresses and Discontents (1817), Coleridge's two lay sermons (out of three that he planned) on political justice and social responsibility; a number of early editions of On the Constitution of the Church and State including the first (1830), and three copies of the revision published by Henry and Sarah Coleridge in 1839. The Newell collection has no first edition of the Biographia Literaria (Coleridge was never happy with the first edition but died before he could bring a second edition to press) but contains numerous later editions, including two copies of the second edition (1847) prepared for publication by Henry and Sarah Coleridge from an annotated copy (now lost) of the first edition, which incorporated Coleridge's own notes and corrections. This edition has a fine scholarly introduction by Sarah and a valuable biographical supplement by Henry Coleridge.
The foregoing has done no more than touch on some of the riches of the Newell collection. It holds a wealth of other Coleridge material as well as many other 17th-, 18th- and 19th-century imprints potentially of great interest to students of literature. Thanks to Prof. Newell's legacy, anyone wishing to do research in Coleridge at Memorial will henceforth have a marvellous research resource at their disposal - certainly the finest in Atlantic Canada and among the best in the country.
To commemorate Prof. Newell's donation, Helen Houston, graphic artist with the Division of University Relations, has designed a special bookplate which will be used to identify the books in the Newell collection. It bears the following legend from a poem by Richard Wilbur, recalling both Prof. Newell's life dedicated to the pursuit of learning and his undying love for the ocean waters of his native Newfoundland:
All that we do
Is touched with ocean, yet we remain
On the shore of what we know.

__________________________________________________________________________________
Dr. Martin Howley is the humanities librarian for Memorial University's library system.