Ilse Hughes
---
I thought an artist was someone who could skillfully copy what they saw, but today, my feelings are different - artists interpret what they see, by using pencil, paint and sculpture to express their inner feelings.
- Ilse Hughes, 1991
From Ilse Hughes: From Dentistry to Artistry, by Chris Pickard, The Evening Telegram, April 14, 1991, p.19.
Ilse Hughes was born in London, England, in 1938. She graduated as a dentist from London University in 1961. Thirteen years later, Hughes, her husband, Brian, and their two children moved to the Labrador community of North West River.
Hughes began to develop her artistic talent while working as a travelling dentist along the Labrador coast. Depending on the weather, she was sometimes forced to wait days for transportation back to North West River. She used this time to sketch and paint the local scenery and the various coastal communities she visited.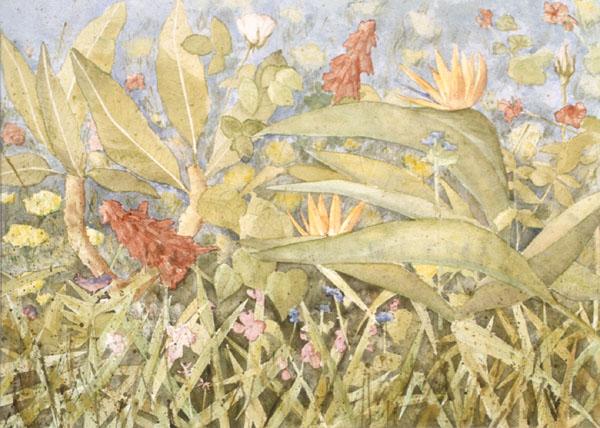 Garden in Madeira
1983
Watercolour
53.5 x 73.5 cm
When Hughes and her family moved to St. John's in 1980, she enrolled in painting, drawing, sculpture, and printmaking courses at the Memorial University Extension Service. Her earlier career as a dentist became a part-time practice, eventually abandoned in favour of art. In 1986, she was a gold medalist in the provincial Arts and Letters Competition.
Hughes instructed courses in painting and drawing for the Memorial University Extension Service in 1989. She also acted as an adjudicator for the provincial government's Arts and Letters Competition and was an external examiner for Newfoundland and Labrador Arts Council grants from 1989-92. She became a strong advocate for the province's art community, and from 1992-95, was the National Vice Representative for Canadian Artists Representation (CARFAC), a non-profit organization that represents Canada's professional visual artists.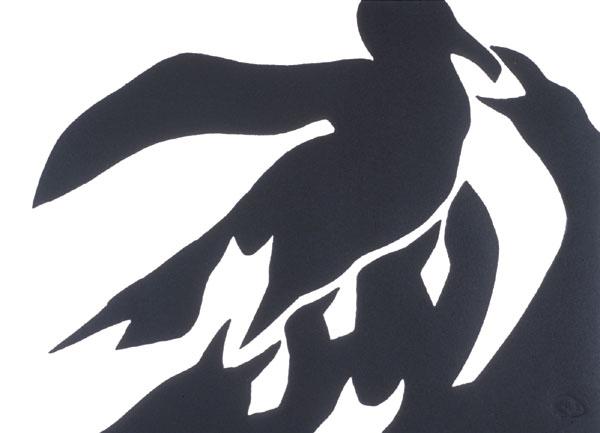 Witless Bay
1989
Collagraph
28.2 x 37.8 cm
Hughes's solo and group exhibitions of watercolours, oils, and acrylics have been shown at the Salon des Vendanges at Cognac, France; the Canadian Cultural Centre at Paris; and at many galleries across Canada. In 1997, she held a solo exhibition of her work, Biding Time, at the Resource Centre for the Arts in St. John's. More recent exhibitions include Infrared: An Urban Landscape (2008) and New Paintings (2012), both at the Red Ochre Gallery in St. John's.
In addition to being part of The Rooms Provincial Art Gallery's Permanent Collection, her work is represented in private and public collections, including the University of Moncton and the Beaverbrook Art Gallery in New Brunswick; Husky Marine Services at Halifax, Nova Scotia; Grenfell Campus in Corner Brook; and the government of Newfoundland and Labrador.
Hughes lives in St. John's, NL for most of the year and summers in southwestern France, where she offers drawing and painting holidays to travelers.