Graham Howcroft
---
I am a graphic designer rather than a painter. I like things to have a good, hard, clearly defined edge to them - to be stark - and have a black and white, unambiguous character.
- Graham Howcroft, 1987
From Graham Howcroft: Stained Glass Designer, The Newfoundland Herald, April 14, 1987, p.26.
Graham Howcroft was born in Blackpool, Lancashire, England, in 1944. From 1960 to 1966, he studied architectural drawing and design at the Blackpool College of Art and glassblowing at the Harris College of Art and Technology in Lancashire.
Glass Manipulation
From 1966 to 1969, he worked as a glassblower at the University of Lancaster, making various pieces of scientific glassware for research projects. It was during this period that Howcroft experimented with glass as a medium for art. In 1968, the British Society of Glassblowers gave him the A.D. Wood Award for outstanding craftsmanship.
Howcroft moved to Newfoundland in 1969 and worked as a glassblower at Memorial University until 1973. He then spent a year studying the history and techniques of stained glass and mosaic in Canada and the United States. He returned to England in 1974 and worked for two years as a glass blower at the University of Manchester while developing his skills as a glass artist, particularly in the areas of free-blown sculpture and stained glass appliqué.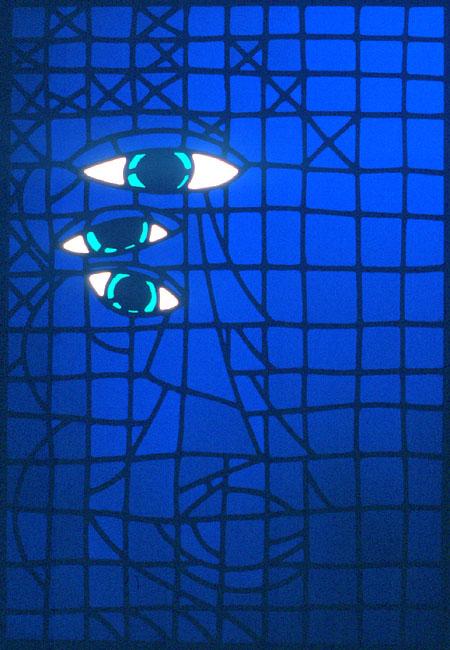 Famous Artist at the Ship Inn
1989
Stained Glass
73.5 x 53 cm
Stained Glass Artwork
Returning to Newfoundland in 1977, Howcroft studied humanities at Memorial University for a year and began to make stained-glass windows for churches, private residences, and public buildings. He opened a glass studio in St. John's in 1979.
One of his earliest major commissions was a series of 13 stained-glass windows for St. Peter's Anglican Church in Upper Island Cove, Conception Bay, which he completed in 1981. In the years following, Howcroft made more than 125 church windows and numerous pieces for various public venues and private homes. These include Three Lancet Altar Window (1999) at St. Michael's and All Angels Anglican Church at Creston South on Newfoundland's Burin Peninsula; Revelation - The Tree (2002) at St. Thomas' Church in St. John's, The Garden (2004) at Topsail United Church, and Lux Aeterna (2006) at St. James United Church in St. John's.
His art is also displayed in many public venues. In 1994, he completed The Voyage, a 100 sq. ft. glass and lead interior wall for the Centre for Newfoundland Studies at Memorial University. His 500 sq. ft. piece, Journey (2002), is at the St. John's International Airport, and he created the whimsical piece At Swim for the doors to The Rooms Provincial Archives in 2004.
Howcroft also restored existing stained glass windows and worked on more than 100 windows for 35 churches, chapels, and convents across the province.
His approach to stained glass was traditional in technique but modern in imagery, and the resulting works are invariably beautiful and thought-provoking.
Howcroft exhibited his work in many solo and group shows, including I Live Here at the RCA Gallery in downtown St. John's (2003), Glass Mask at the Memorial University Art Gallery (now The Rooms Provincial Art Gallery) in 1990, and Church Windows at the Memorial University Art Gallery (1984).
In addition to being part of The Rooms Provincial Art Gallery's Permanent Collection, his work is in a variety of public and private collections in Canada, the United States and the United Kingdom.
Graham Howcroft died in 2016.