Gilbert Hay
---
I have two different types of work: my own and what I can make a living on, the stereotypical Inuit art. I feel torn between these two worlds.
- Gilbert Hay, 1991
From artist statement in Inuit Art Quarterly, Summer 1991, p.22.
Gilbert Hay is a carver and printmaker living in Nain, Nunatsiavut. He was born in 1951 at North West River, Labrador, and was raised in Nain on the northern coast.
Education
In 1971, Hay moved to Edmonton to study art and carve professionally. He returned to Nain in the mid-1970s and continued carving with soapstone, ivory, whale bone, antler, and labradorite. In 1976, the printmaker Bill Ritchie arrived at Nain and together he and Hay opened a community craft centre, which catered to the tourist and collector markets.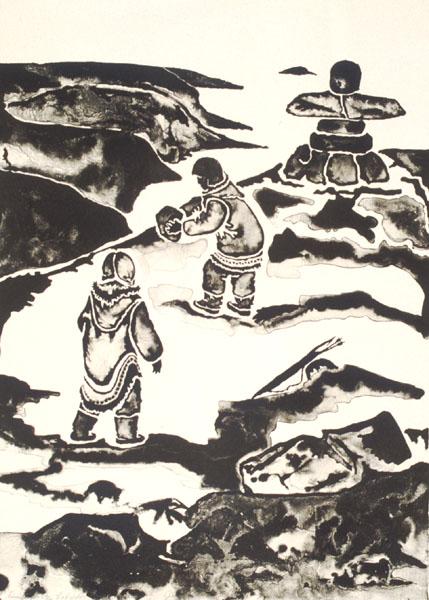 Inuksuk
1981
Lithograph
45.4 x 32.7 cm
Although based in Nain, Hay has travelled across North America to study and practice his art. In 1983, he went to St. Michael's Printshop in St. John's to work with Ritchie and other printmakers. He studied goldsmithing at Montreal with the Labrador jeweller, John Goudie, and has done lithography in Cape Dorset, Nunavut. He participated in an Artists' Seminar organized by the Inuit Art Foundation at Ottawa in 1990. And in March 1991, Hay received a scholarship from the Banff Centre for the Arts to participate in a five-week seminar on neo-mythology.
Artwork and Career
Hay's travels and his contact with international artists at Banff and elsewhere gave him important insight into his own work. "I left Labrador to go around North America", he told the Inuit Art Quarterly (IAQ) in 1991. "Then I went home and found my culture. That experience enriched my art and brought me to a conclusion of a sort. Not every young Inuk can go outside and experience the world and learn to appreciate their culture and express it in their art."
Hay also strives to educate young artists. He has taught workshops to children in Goose Bay and contributed ink illustrations to a textbook about the Inuit way of life published by the Labrador East Integrated School Board. He is also a past director of the Inuit Art Foundation, a non-profit organization that promotes and offers professional development services to Inuit artists.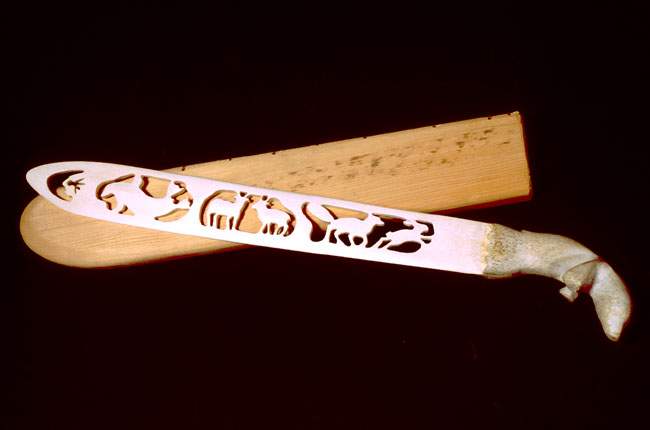 Snow Knife
1985
Whale Bone and
Wood Carving
4.3 - 5 x 45 cm
Hay has exhibited his work across the province and the country. His shows have included Labrador Inuit Mythology Series, a collaborative exhibition of Ritchie's and Hay's lithographs organized by the Memorial University Art Gallery (today The Rooms Provincial Art Gallery) in 1982, and North and South: Tradition, Invention and Intervention in Labrador, a group exhibition at The Rooms in 2002.
In 1985, the government of Newfoundland and Labrador commissioned one of Hay's largest artworks "a one-ton serpentine sculpture called Nuikkusemajak, ("Has Visited")" to be displayed in the lobby of the Confederation Building annex in St. John's.
In addition to being part of The Rooms Provincial Art Gallery's Permanent Collection, Hay's art is represented in many private and public collections including those of the McMichael Canadian Collection, the Province of Ontario, and the Government of Newfoundland and Labrador.