Geraldine Rubia (1929-2016)
Personal Life
Geraldine Rubia had "the writing bug, which gives [her] no let up" (Dooley, 6). This "bug" crawls throughout the unique voice in her poetry. Born in Brooklyn, New York of Newfoundland parents, Arnold Chafe from the Goulds and Molly McDonald of Kilbride, Geraldine Chafe Rubia moved to Newfoundland at the age of three. Rubia first began writing while hospitalized from age thirteen to eighteen with osteomyelitis in her left leg. Her left leg eventually amputated at twenty-one, Rubia went on to work as a stenographer, advertising copywriter, and rehabilitation counsellor with the Provincial Department of Rehabilitation for over thirty years.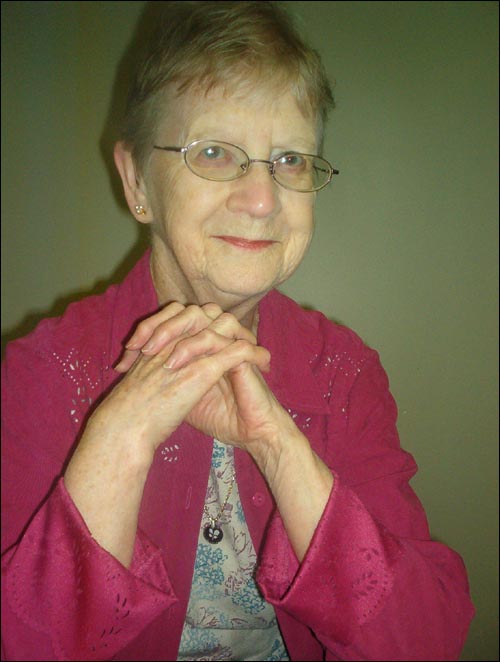 Geraldine Rubia, n.d.
Rubia first began writing while hospitalized at the age of thirteen. In 1991, she published her first collection of poetry, Skating Among the Graves.
Photo by Danette Dooley. Reproduced by permission of Danette Dooley. ©2006.
Committed to assisting in integrating mentally, physically and socially challenged individuals into the community, Rubia established the Longside Club of St. John's, an organization that fosters self confidence for the disabled through employment and literacy training, amongst other things. She also established the Longside Players, a theatre club for the disabled, which grew out of the Longside Club, that has performed in schools and public stages to noted acclaim. Her commitment lead to the Canada Volunteer Award in 1987 and a citation for the 1994 Citizenship Award. She also instructed creative writing through Memorial University's Extensions Services and at the Avalon Community College. Rubia was also very encouraging to the local writing community, believing that "each one of us has a unique voice" (Dooley, 6). Through the Newfoundland Writers' Alliance, she claimed that "we are very sensitive to newcomers who are often intimidated being surrounded by published writers. But once we assure them that we all felt that way in the beginning, our new comers tend to relax and learn to share their writing with others" (Dooley, 6). Formerly married to Leo Rubia, she had two children, Rene and Devin.
Published Works
Rubia's fun and innovative first published work, A Poem in My Soup (1980), combines traditional and less traditional recipes, from vegetarian pea soup, bublem squeak, and Chinese style soup, with selections of Rubia's poetry. Local superstitions, such as "a sty on your eye was punishment for 'going to the toilet' on the side of the road" add to the mixture in this book that makes it engaging and unique.
In 1991, she published her first collection of poetry, Skating Among the Graves. With its keen ear for rhythm, the collection is eclectic in content. Motifs of physical separation through amputation, such as in "Fitness, Fun and Fellowship," are mixed with intense needs for experiencing the tragedy of immediate loss, such as in "I Wait to Be Overwhelmed with Grief." Longing and loss is sometimes abated by a wry sense of humour, such as in "After the Bath," where a child angel turns imp. Rubia commented: "I need to be in a challenging situation-that's when I feel better emotionally and psychically-as long as things remain just challenging and not overwhelming" (Women's Almanac, 1991). This sense of challenge is subtly evident in the works in this collection and most certainly is a key motive in her sculpted craft.
Rubia published widely in literary journals and anthologies. She also co-edited, along with Bernice Morgan and Helen Porter, From This Place: A Collection of Newfoundland Writing. She produced scripts for CBC radio and television, including dramatizations of two novels by Margaret Duley, Highway to Valour and The Eyes of the Gull; two documentary dramas, one on Leondias Hubbard's expedition in Labrador and the other on John Alcock and Arthur Brown's first non-stop transatlantic flight; and a documentary, "The Boat to Do the Job," about the motor vessel Christmas Seal, which travelled extensively throughout outport Newfoundland delivering medical supplies and care. For this documentary she was nominated for a ACTRA award in 1978. She also had a weekly radio program on V.O.C.M., "Canada at Work."
Geraldine Rubia died in 2016.
________________
"I Am Tormented by Beauty"

I am tormented by beauty
it will not leave me alone
just when I think I am safe
it sneaks around
in the fog-filtered morning
assaults me with unbearable songs
stabs to the heart
from my child's eyes
dissolves me
through a beacon face
When I might have wished
for limbo,
throat and lips
crave this presence swallowing me —
heaven a breath removed
from such sweet hell