Frank Lapointe
This metamorphosis of nature into imagery will meet me everywhere I turn, just like the vision that always appears from the edge of somewhere, just when I think I am alone.
- Frank Lapointe, 1975
Excerpt from Lapointe's diary entry Feb. 20, 1975, in Island Imagery: A Beginning exhibition publication, organized by Memorial University Art Gallery, 1975.
Education and Career
Frank Lapointe was born in Port Rexton, Newfoundland, in 1942. After graduating with honours from the Ontario College of Art in 1966, he spent four years teaching art in Ontario and Newfoundland.
In 1970, he became the assistant curator of the Memorial University Extension Service Art Gallery, and in 1972 he was appointed curator of the Memorial University Art Gallery (now The Rooms Provincial Art Gallery). He resigned in 1973 to work on his art fulltime from his home and studio in Tors Cove.
Newfoundland Postcard Series
Lapointe is a multi-talented artist who has experimented with a variety of media, including lithography, watercolour, acrylic, and sculpture. In the 1970s, Lapointe created one of his best-known works, the acclaimed Newfoundland Postcard Series. It consists of more than 20 lithograph prints using old postcard messages from around the province.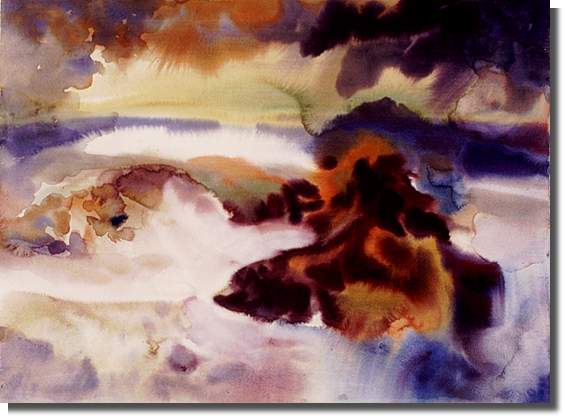 Island Seven
1974
Watercolour
57.3 x 77.3 cm
He also produced several audio-visual presentations with the late musician/composer Don Wherry, such as The Pond (1977) and The Door - A Circular Passage (1986). Other multimedia projects in which he has participated include Ice Report, which toured Canada and was presented in Paris, France; and Birds and Pond, which was purchased by the National Film Board of Canada in 1981.
In addition to his work as a visual artist, Lapointe has taught art at Memorial University and the Dundas Valley School of Art in Hamilton, Ontario. He taught visual design on a part-time basis at the Provincial Craft School in St. John's for 10 years and, during the 1990s, he conducted workshops in colour and design in locations throughout Newfoundland and Labrador.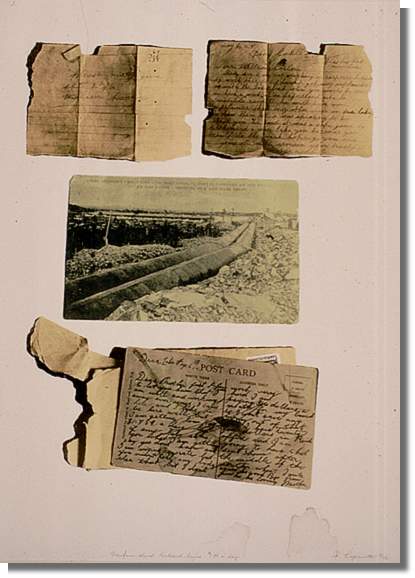 Newfoundland Postcard Series:
$1.75 a Day
1976
Lithograph, 1/27
76 x 57 cm
Tors Cove House
Lapointe is also known for the remarkable house he built on the edge of a 46-metre cliff in Tors Cove, Newfoundland. It served as his home and his workspace for a number of years and was featured in several magazines. Lapointe has since returned to his hometown of Port Rexton, Trinity Bay.
Exhibitions
Lapointe's work has been exhibited in solo and group shows across Canada, the United States, Europe, and Japan. His art is included in many private and public collections, including The Rooms Provincial Art Gallery's Permanent Collection, the National Gallery of Canada, The Canada Council Art Bank, the Vancouver Art Gallery, the Museum of Contemporary Canadian Photography, and the Art Gallery of Ontario.