Donald McGrath (1954-)
Education and Personal Life
Similar in content to the work of Corner Brook poet Carl Leggo, Donald McGrath's At First Light (1995) reflects on his childhood memories of Newfoundland, full of rolling hoops, secretive wrestling in stables and drinking the "barky bite of strong black tea /seasoned with spruce needles." Born in Branch, St. Mary's Bay, McGrath left his hometown at seventeen to attend Memorial University. From there he moved on to the Nova Scotia College of Art and Design to pursue his interest in painting and printmaking, graduating with a bachelor's degree in fine art. By the time he graduated, his interest in writing had come to the fore.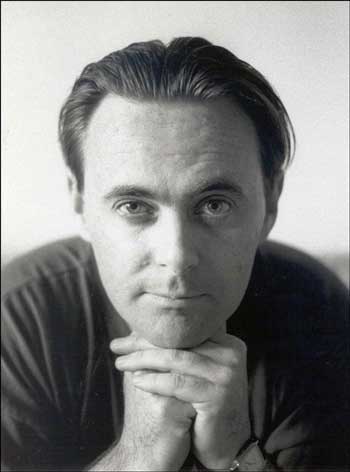 Donald McGrath, n.d.
Full of heartache and longing, McGrath's poetry reverberates with the Newfoundland childhood and landscape that he left.
Photographer unknown. Reproduced by permission of Donald McGrath. ©2006.
Around this time he also decided to learn French, spurred on by the idea that a writer should know at least two languages. While awaiting the opening of the herring season in Prince Rupert, B.C., where he briefly worked in the fisheries, he took evening classes with a French expatriate. Desiring to learn more about the language, he moved to Montreal for a year, and then on to Toronto where he continued his writing while working at odd jobs. Moving back to Montreal to complete a degree in translation, he combined his linguistic skills, writing talent and art background by translating articles on art for Canadian, European and American galleries and museums. During the twenty years he has spent putting down roots in Montreal, he has also contributed articles to Montreal's Parachute Magazine. On a more personal note, he has "a very fine son," Stephan Greto-McGrath.
Poetry Style
Full of heartache and longing, McGrath's poetry reverberates with the Newfoundland childhood and landscape that he left. It is so crucial to his sense of self that it is internalized in his very being, so that "gills" instead of lungs "popped the buttons under [his] collar." Through extended reminiscing on his childhood, McGrath frequently contrasts his Newfoundland experiences to those of his home in Montreal. The distance from home often isolates him, not in his ability to connect to Newfoundland, but in Newfoundland's ability to connect to him, where the "blank screen" of the movie theatre symbolizes the lack of understanding others have toward his life away from home, "an emblem of those others' inability/ to imagine how my day/must unfold, so far away, on the mainland."
A prevalent theme is the influence Catholicism and faith have had on McGrath's upbringing. He sometimes fuses religious imagery with the everyday traditions of Newfoundland, such as "black molasses coiled on white bread/like rosary beads in a corpse's hands," emphasizing the ritualistic ways in which religion is crucial to the formation of Newfoundland's people. As a skilled poet, he also considers language's multiple meanings, in particular the vernacular meaning of words in relation to more standard denotations, such as the "two kinds of longer (one, of time, the other the 'longers' my father cut for fences)." McGrath's work is strongly rooted in the people, from the fathers and nuns of his upbringing, to his sister, poet Carmilita McGrath, and a South American fish merchant, Diego Perez. In particular, he writes beautifully of his weary mother's repose on the couch, or "daybed," after supper where "she putted/out to her ship of dreams" away from "the umbrella-name of 'the house'" and "grunge" as an "escape" from "a world /slashed into rooms and tasks" (38). Overall, McGrath's poetry is grounded in local culture, as in the poem "The Mug-Up," a Newfoundland phrase for a small lunch break.
While McGrath's portrayals of local customs become, at times, reverent, they are also simultaneously undercut by humour and absurdity, reducing nostalgia and any sentimental atmosphere. For instance, as a girl in the outport, his mother bakes bread with Crown Brand flour that "was so all-purpose that the sacks/were sewn into pants for the men," who walked around with "faded crowns on their arses" as "property of the Empire." Like many Newfoundland writers, McGrath lightens explorations of serious themes and subjects with a touch of humour, such as in this excerpt from "Holy Water":
Our holy water came all the way from France
and could hold its own
against Comet, Lestoil and J-Pine.
After each of Frank O'Malley's visits,
We combined them all into a lethal cocktail
To mop away his blasphemy and spittle.
We kept the holy water in the refrigerator
So it wouldn't go bad.
McGrath's poetry has appeared in Canadian periodicals and reviews including The Newfoundland Quarterly, Grain, The Antigonish Review, Prism, Poetry Canada and The New Quarterly. He also has online publications at nthposition.com and danforthreview.com. He has recently published a second book of poetry, The Port Inventory (2012), and is completing a collection of stories.
The Old Hag

Down, down in the deeper reaches of sleep
where sounds of wind and tide you left behind
gradually come round again, but this time
from a nether region somewhere within you,
some airless cove where blood goes sluicing through
reefs whose marbled surface is composed
of fatty sinew stretching across bone.
There you will meet her, there
she will come up to meet you, climbing
furiously, planting gnarled and bunioned feet
on every little outcropping of fear
you've nursed since you were a child.
O it can, it does happen to others,
but now, now that she's here, squatting
heavily upon your chest, collapsing
all the air out of your poor balloons, now
with hands closing up your mouth and nose,
you know what's what, you know it' s not
others it's happening to now.
Say goodbye to Granny, hello to the Hag,
—it's you, you, you.