Documentary
Canada is internationally recognized for its excellence in documentary film, and in recent years several of Canada's finest documentary makers have come from this province. Some of them work primarily in Newfoundland and Labrador while others take their cameras around the world. Their films often tell highly personal stories that reflect universal themes, and many are characterized by an unmistakable passion for grass-roots politics, social change and human rights.
Early Filmmakers in Newfoundland
For most of this century Newfoundland and Labrador stories and events were interpreted through the eyes of visiting filmmakers. Producers from Great Britain and the United States arrived as early as 1907 to do brief pieces about hunting, fishing and wildlife. The National Film Board of Canada (N.F.B.) made several short films here in the 1940s and came regularly after Confederation, eventually building a library of over 100 films about the province. Local directors and producers did not contribute to that library until the 1980s.
A few Newfoundlanders were shooting footage in these early years, but usually out of personal interest and with no intention of creating narrative films. Finished projects by local cameramen and editors began to appear after the second World War. They included The Golden Jubilee of Archbishop Roach (1947) by W.J. Ryan and The Land We Love (1955), a travelogue of the Avalon Peninsula by Len Earle.
By the late 1960s the CBC and CJON television stations were filming news, entertainment and information programs. Memorial University's Extension Service established a "media unit" to make educational films and documentaries and record significant public events. The unit also worked with the NFB on several projects, including a series of short films on Fogo Island that incorporated input and feedback from local residents.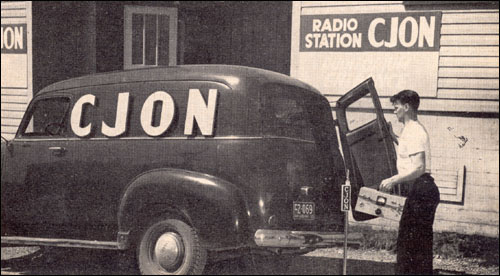 CJON at Buckmaster's Circle, 1952
Jack Squires loads CJON's mobile transmitter van in preparation for an important outside broadcast.
Photo by C.F. Ruggles. From Newfoundland Radio in Pictures, 1952 (St. John's, Nfld: Guardian Press, © 1952) 43.
NIFCO
In the early 1970s the first generation of independent filmmakers was beginning to emerge. Fourteen of them formed the Newfoundland Independent Filmmaker's Cooperative(NIFCO) in 1975. although dedicated to the making of dramatic and artistic films,NIFCO has also been vital to the development of a home-grown documentary industry.The early NIFCO documentaries focus on the province's history and heritage andare only a few minutes long. Stone's Cove (1980) profiles a resettled communitythrough contemporary footage and old photographs. Dig At Cow Head (1982) is abrief portrait of an archaeological dig. Shanaditti: Last Of The Beothucks (1982)was one of the first to address a topic at greater length. It's a 20-minute filmthat explores Beothuck sites through the eyes of poet Al Pittman.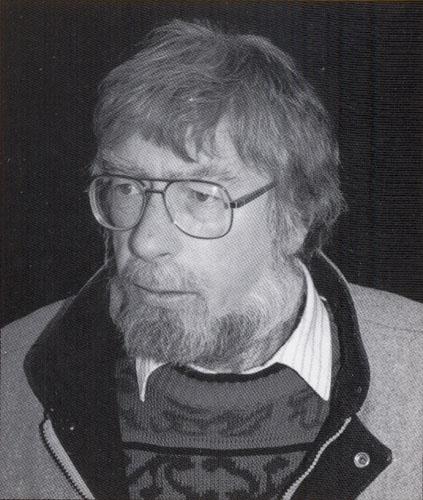 Al Pittman (1940-2001), n.d.
Pittman published six collections of poetry.
Reproduced by permission of Breakwater Books Ltd., St. John's, NL. This image may not be reproduced or used in any manner for commercial purposes.
Emergence of Documentary Makers
The mid-1980s saw the emergence of several Newfoundland documentary makers who have won national and international recognition. Collectively their work examines a remarkable variety of topics both inside and outside the province.
Nigel Markham's films address issues such as Native rights and the management of natural resources. Markham emerged as a director in 1985 when he made Last Days Of Okak with Anne Budgell. The film tells how the Spanish influenza epidemic carried by Moravian missionaries devastated an Inuit settlement in Labrador in 1919.
Markham returned to Labrador for Hunters and Bombers (1991), a profile of native protests against low-level military flights, and Eye Of The Storm (1997), which examines issues facing the people of Nain after the discovery of vast nickel deposits in nearby Voisey's Bay. His other work includes Pelts: Politics Of The Fur Trade (1989) and Taking Stock (1994), which looks at the collapse of the codfishery.
Several of the province's best documentary makers come from backgrounds in social activism and feminism. Their work investigates a range of issues related to women's rights, violence against women, poverty, sexuality and the personal consequences of politics and economics.
Barbara Doran has worked in both St. John's and Montreal. Her most provocative film is When Women Kill (1994). It tells the stories of three women who killed their partners after years of abuse and calls into question a society that fails to protect women from domestic violence. The African Market Women Series (1991) profiles female entrepreneurs in East Africa as they work towards self-sufficiency, while Voices Of Change (1995) visits women in five countries to examine their struggles against racism, sexism and poverty. Puppets Against Aids (1996) follows a puppet show with a message as it travels from South Africa to the Arctic. Doran's recent work includes the biography Joey Smallwood: Between Scoundrels and Saints (1999) and The Perfect Hero (1999) an inside look at the romance fiction industry.
Barbara Doran
Film-maker Barbara Doran discusses the making of her documentary When Women Kill.
From "The Nickel", produced by Derek Norman and Michael P. Walsh for the Producer's Association of Newfoundland and Labrador and Cable 9.
Gerry Rogers is another documentary maker with a strong focus on women's issues. After The Montreal Massacre (1990) is her chronicle of the 1989 murder of 14 women at Montreal's Ecole Polytechnique and a broader discussion of misogyny, sexism and violence. In Vienna Tribunal (1994) women from around the world tell their stories before a panel of judges at the United Nations Tribunal on Violations of Women's Human Rights. Kathleen Shannon: On Film, Feminism and Other Dreams (1997) is a profile of the woman who established the National Film Board's Studio D, dedicated to women's filmmaking in Canada.
Filming Strength.
My Left Breast is the true story of Gerry Rogers, who loses her breast to cancer.
Reproduced by permission of Gerry Rogers.
Debbie McGee has also produced films examining social and political subjects. Thinking Positive (1991) is about teenagers, sex and the high risk of HIV infectionin some rural Newfoundland towns. In Toward Intimacy (1992) Canadian women with disabilities discuss stereotypes, self- esteem, parenting and sexuality.
Many recent documentaries have focused on subjects specific to Newfoundland. Sisters Of Influence (1995), by Dana Warren and Sheila O'Leary, looks at the 100 year history of the Sisters of Mercy on the west coast. Seven Brides For Uncle Sam (1997) is Anita McGee's profile of women who married American soldiers. The Newfoundland women's suffrage movement is recounted in The Untold Story (1999) by Marian White. Rosemary House creates a fond portrait of St. John's through the eyes of six local writers and performers in Rain, Drizzle and Fog (1998), and she followed the province's most acclaimed contemporary songwriter on the road to make Ron Hynes: The Irish Tour (2000).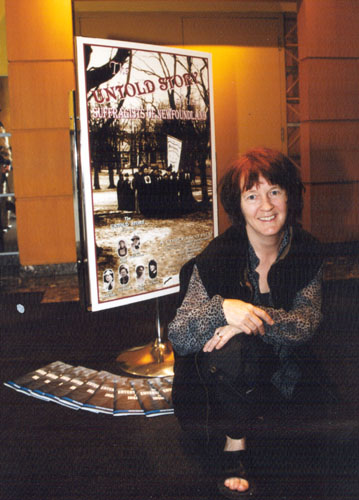 Marian White
Marian White poses for her documentary The Untold Story.
Reproduced by permission of Marian White
Newfoundland's best documentaries shed light on the history and contemporary life of the province, dispel stereotypes, celebrate our culture and explore the world beyond our borders. The creators of those films have established distinctive styles by pursuing subjects that have deep personal meaning and giving voice to people and stories that have been overlooked or ignored. "I've often been accused of doing work that's not objective, and I take it as a compliment," says Gerry Rogers."I do work that I'm passionate about, that I'm undeniably subjective about."