Des Walsh (1954-)
Des(mond) Walsh, a key participant in the St. John's cultural rebirth of the 1970s, has an extensive career in Newfoundland's cultural industry as a poet/writer, screenwriter, actor and musician, although he is predominately recognized as, and associates himself, as a poet.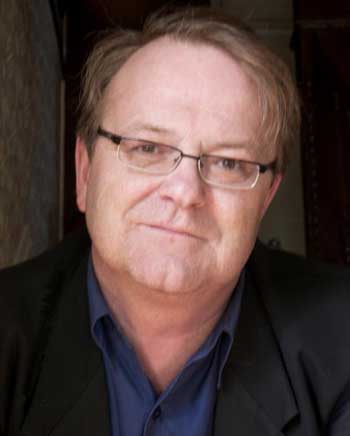 Des Walsh, 2006
In addition to publishing six collections of poetry, Walsh has written numerous plays.
Photo by Ruth Lawrence and used with permission. ©2006.
Having attended schools in Placentia and St. John's, he left/rejected the public education system in grade ten, claiming it did nothing for him. However, his abandoning of formal education proved beneficial. His involvement with Animal Farm, a free-form style of education, devoid of desks and structured classes, founded by Harold Horwood in the 1960s, became valuable to his education as it was here that he first began to write: "I was no different from anyone else. The 60s were probably the worst time for art, because everyone was a writer or a painter. I was just writing because everyone else was… I knew nothing about literature" (Mark Paddock, B1).
Poetry
His poetry first appeared in Harold Horwood's Voices Underground in 1972, and his first solo work, Milk of Unicorns, was published in 1974. He continued to pursue his craft while working as an editor and researcher, including assistant editor with Breakwater Books, poetry editor of The Livyere, editor of Arts in Formation, and copy editor with the Publications and Information section of the Provincial Department of Natural Resources. His research included Peter Newman's An Illustrated History of the Canadian Establishment. The 2001 and 2003 Playwright in Residence at the Playwright's Workshop in Montreal and at Memorial University's Grenfell College in Corner Brook, respectively, Walsh currently divides his time between New Bonaventure, Trinity Bay and St. John's.
Technique
An intensely lyrical poet, exploring the intersections of relationships and place, Walsh ruminates on the emotional and physical landscape with raw spirit. His early writing is an attempt to "exercise the neuroses of his family and Catholicism" (Mark Paddock, B1) and his poetry is "a great friendship, whether it's good or bad. It doesn't hit me; it doesn't answer back" (Mark Paddock, B1). Like many writers, his work is a melange ranging from loneliness, music, kisses, cultural Catholicism, history, altered states of consciousness, neuroses, nihilism, and mysticism. Between images of lichen-covered rock and angels, a persistent motif is the tortured emotions of one trying to "be sure of his place," especially in the seeking, losing and reclaiming of love. Walsh's commentary that "sometimes I feel like I've been writing the same poem all my life" (Stokes, 27) is accurate to the tortured emotions of many of his pieces. This investigation of love, such as in the "sustained adoration of the beloved" in Love and Savagery, hinges ever so subtly on the land: "I see it (Newfoundland) as a place of struggle—of great highs and lows. So often it's not at the hands of the people, but it's the hands of government and mega-businesses that have affected so many things and so many lives. That said, I still see in the faces of people a great joy and celebration of who we are"(Stokes, 28).
Walsh's writing has a vigorous Newfoundland nationalism, evident in his political compositions, yet it does not appear in his poetry until the end of his third book, Love and Savagery, where he considers the common experience of Quebec and Newfoundland as distinct, oppressed cultures, evident in the compounding sentiment, "oui, he knows them." In The Singer's Broken Throat his political commentary is more blatant when he exclaims: "We bend over and moon the Gulf, Oh Canada / and ask you to kiss our collective arse." At times, he adopts a more reflective sentiment, such as when he states "we are North Americans now/ the same as those Pablo Neruda wearied of." There are also witty instances of surreal humour, such as when "there's an urgent message for Premier Wells / they want his reaction…seems Joey Smallwood and / Elvis have been found living together in Buchan's Junction."
Other Works
In addition to his poetry, Walsh is a noted screenwriter, playwright and musician. He scripted the mini-series adaptation of Bernice Morgan's Random Passage and Waiting for Time, which aired on the CBC in January 2002, commenting that Morgan's works are sacred material because they are, finally, our story. Along with John Smith and Sam Grana, he co-wrote the miniseries, The Boys of St. Vincent, an intensely popular and critically acclaimed story of the Mount Cashel scandal. Prior to these noted screenwriting accomplishments, he produced and edited the album, Newfoundland Poets, Volume One in the 1980s, and, with Justin Hall, produced what was probably Newfoundland's first poetry video. Beyond numerous contributions to national radio programs, such as CBC's Morningside and Sunday Morning, he has written numerous plays produced at the RCA Theatre and at Rising Tide Theatre's Summer in the Bight Festival, including Fishwarf and Steamboat Men: The Story of the Longshoremen's Protective Union, Tomorrow Will Be Sunday, The Songs of Weather, Garland House, Play Somethin' We All Knows, and Johnny August. He has also performed in local theatre, for instance as a musician and actor in Al Pittman's This Side of Heaven and fiddled locally and nationally in the folk group, Tickle Harbour, with Don Walsh, Gerry Strong and others.
His awards include a Gemini, a New York Festival Award, Italy's Umbria Fiction Award, and Best Series (Cannes International TV Festival), all for co-writing The Boys of St. Vincent.
"March 3, 1999 - Notes on an upcoming anniversary"
We are North Americans now
the same as those Pablo Neruda wearied of,
lulled into the same crimes,
the same culture-starved wanderings.
Fifty years ago we were Europeans,
singing stubbornly into the face of wind
cutting masts for schooners that would sail forever,
cutting pine for the churches of England.
Fifty years ago we were lean and sensual,
our mouths unhurriedly pressed into each other,
our tongues touched whatever God we wanted.
Before our glistening fish salted for Portugal
and Spain became the currency of theatre,
before being slaughtered in wars far from
the coves we wandered as children,
we pressed wild berries to our lips
and wiped the pungent juices from our mouths,
the blood red placenta of the promise of a healthy future.
And now, the disease spreading, we weep together,
collectively walking to every graveyard on every headland
and bury men and rodneys, women and knowledge.
We close the lodges and the halls, remove the steeples,
abandon the headstones, haul the doors of the trap, leave rosary beads
between stone and seaweed, leave saw blades to rust behind hills,
half-empty dippers of berries spilling into the mossy barrens, leave
our sensuality circling the tops of fog-wrapped fir trees.
And now, fifty years later, having done as we're told,
we are left to celebrate.