Conrad Furey (1954-2008)
Living away [from Newfoundland] means I can focus on the memories more easily, there's less distraction. The years I spent growing up in Newfoundland, that's where all these images come from.
- Conrad Furey, 1987
From Conrad Furey: A Man Happy With His Work by Joan Sullivan, The Sunday Express, June 14, 1987, p.24.
Conrad Furey (1954-2008) was a painter and sculptor whose work was largely inspired by his youth in Newfoundland. He is best known for his colourful paintings of men and women engaged in archetypal Newfoundland activities, such as fishing, boating, boatbuilding, dancing, and mummering.
Personal Life and Education
Furey was born in 1954 in the fishing and mining town of Baie Verte, on Newfoundland's northeast coast. He was the seventh of 11 children and his father worked as a fisherman, logger, trucker, and miner. Much of Furey's future artwork was based on the characters and scenes from his childhood.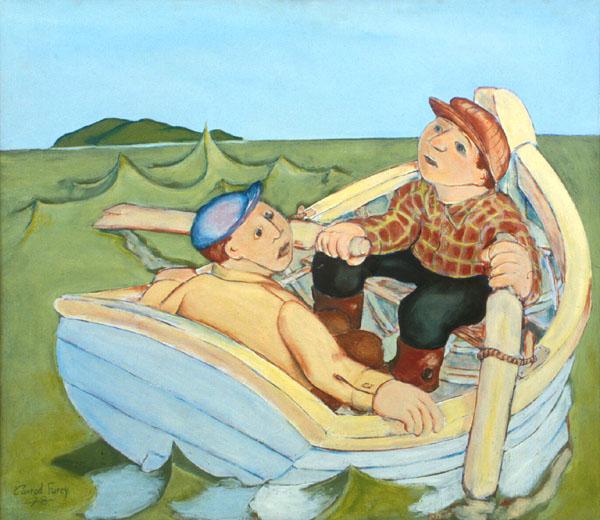 Toiler Of The Sea/
Still A Ways To Go
1978
Acrylic on Masonite
90 x 105.2 cm
He left home when he was 18 years old to study commercial art at the College of Trades and Technology in St. John's. After one year of study, he decided to move to Brampton, Ontario in 1974 to attend the creative arts program at Sheridan College. He again departed after a year of study, this time to settle at Hamilton, Ontario, where he worked as curator of the Canvas Gallery and as a set designer for television.
Furey became involved with the local arts community and participated in the Creative Artists in the Schools Program of the Ontario Arts Council. He painted professionally and from 1975-1978 concentrated on murals, several of which were displayed on Hamilton and Newfoundland buildings.
Furey considered himself a self-taught artist and has said that he rebelled against what little formal training he had. He based many of his works on memories of growing up in Newfoundland. His paintings are primarily acrylic on canvas or plywood structures, but he also experimented with bronze, resin, and stone sculpture, and also designed a set of 13 stained-glass windows.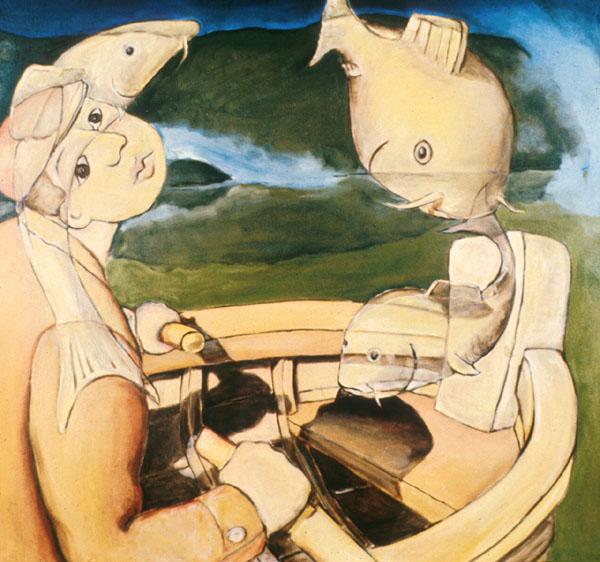 Fish Dream
1978
Oil on Masonite
61.3 x 80 cm
Artwork
He has been commissioned to create many murals and public paintings across Canada, including "Stations of the Cross" for St. Pius X Church in Baie Verte in 1976. His work can be found hanging in schools, hospitals, churches, and other public buildings.
In addition to being part of The Rooms Provincial Art Gallery's Permanent Collection, Furey's work is represented in a variety of collections including those of the Hibernia Corporation in St. John's, the Hamilton City Hall, the Government of Newfoundland and Labrador, and the Institute of Chartered Accountants of Ontario.
Conrad Furey died of colon cancer on 23 January 2008 at the age of 53.