Codco
With $300, a church annex, and the comedic talents of Tommy Sexton, Diane Olsen, Greg Malone, Mary Walsh, Cathy Jones and Paul Sametz, Cod on a Stick premiered in Toronto in 1973 and Canadian comedy would never be the same. The successful and newly- formed Codco (Cod Company) brought Cod on a Stick "back home" to Newfoundland audiences and a legacy was born which continues to resonate today.
Codco was an active theatre company from 1973 to 1976 (with brief reunions in the late 1970s and 1980s), and its members came and went - as so often happens in collective theatre companies - but the core group of Tommy Sexton, Diane Olsen, Greg Malone, Mary Walsh, Cathy Jones, Andy Jones and Bob Joy would be the faces and voices people would associate with the Codco phenomenon.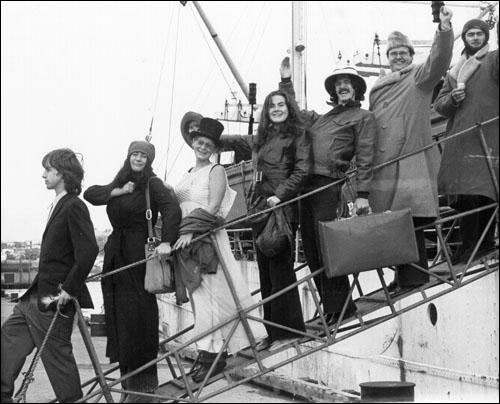 Total Strangers, 1976
Codco members pose for a publicity photo of Total Strangers.
Courtesy of Archives and Special Collections (Coll-178), Memorial University of Newfoundland. Photo taken by Pam Hall and reproduced by permission of Codco.
Theatrical Style
Even though Codco started in Toronto, the company toured all over Newfoundland and Labrador, performed in major Canadian cities, went to the United States and travelled as far as England. Their repertoire mainly consisted of five plays: Cod on a Stick; Sickness, Death and Beyond the Grave; Das Capital: Or, What Do You Want to See the Harbour For Anyway?; Would You Like to See My ... Pocket Crumbs?; and The Tale Ends. As these titles so vividly testify, Codco's humour was at once biting, disarming, black and thrilling. The various topics at the root of these collective dramas range from out-migration (Death and Beyond), urban development and environmental concerns (Das Capital), child abuse (Pocket Crumbs), the history of theatre (Tale Ends) and the selling off of Newfoundland culture as if it were the latest fashion in fast food (Cod on a Stick). All of their plays had loosely-related episodic structures and the company would incorporate all types of performance from mime and song, to improvisation and slapstick, to puppets and dance. It was the powerful attraction and talents of the individual performers, however, that fixed the members of Codco in the comedic consciousness.
Codco's humour and theatrical style was related to the broad- based counter-culture movement of the 1960s and 70s. Codco tapped into a need to satirize the absurdities and inanities of the human condition - and politics - that were also worked over and criticized by comedic entities such as Second City, the Not-Ready-For-Prime-Time Players, Saturday Night Live and Kids in the Hall. And while Codco can be seen as a parallel comic universe to these mainland and American shows, Codco was also, and perhaps more importantly, a Newfoundland creation.
Coming out of the "revue" tradition in Newfoundland - a tradition that incorporates song and dance and short sketch comedy - Codco frequently worked with musicians (such as Figgy Duff and Sandy Morris) and integrated multi-media into their performances. Within Codco's plays there is a heritage of community concerts and school performances with which every Newfoundlander would be familiar. That familiarity extends to some of the best-known characters, such as Greg Malone and Mary Walsh's Mr. and Mrs. Budgell, and some of the theatrical scenarios. These were all based on people they knew and things they did and saw in St. John's. Codco started out wanting to satirize the way mainlanders saw Newfoundlanders, and to raise Newfoundlanders' self-esteem and pride. Codco ended up changing not only the perception of Newfoundland and Newfoundlanders but it also changed the face of Canadian comedy and the performing arts to such an extent that it is impossible to imagine a world without the Budgells, Lucky Margarine, or the Friday-Night Girls.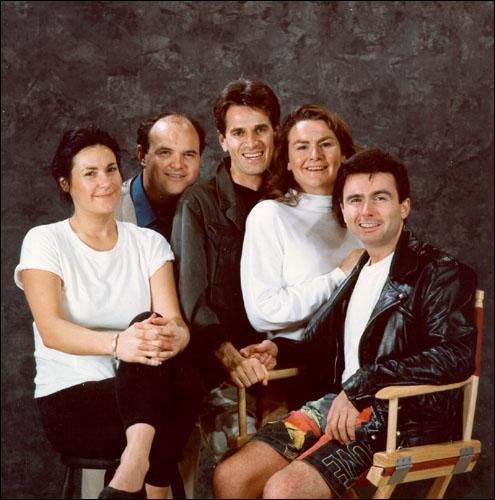 Like Family, n.d.
The members of Codco pose for a publicity photo taken by Chris Reardon for their television series on C.B.C. Members are, L-R: Cathy Jones, Andy Jones, Greg Malone, Mary Walsh, and Tommy Sexton.
Courtesy of Archives and Special Collections (Coll-121, 11.50), Memorial University of Newfoundland. Reproduced by permission of Codco.
Development
After the 1976 The Tale Ends, Codco performers went in different directions and developed, for the most part, separate careers. Greg Malone and Tommy Sexton continued to work together on the TV series The Wonderful Grand Band and in the S&M comedy shows. In 1985 the Codco troupe (with the exception of Diane Olsen and Bob Joy) reunited for a benefit performance and this led to the production of the CBC-TV series Codco (produced by Salter Street Films). The cast for the half hour show was Tommy Sexton, Mary Walsh, Andy and Cathy Jones and Greg Malone. Andy Jones left Salter Street Films in 1991 and Codco ceased production of original shows in 1992. With the exception of Tommy Sexton who died of AIDS in 1994, the cast of Codco continued their theatrical and television/film success in different forms. The Codco papers were given to Archives and Special Collections at Memorial University.