Christmas Cards Had a Personal Touch
From the files of The Gazette December 15, 1994.
Question: What do the murals in the lobby of Confederation Building and Memorial's Department of Geography have in common?
Answer: They were both the result of the work of H. B. Goodridge.
Harold Berwick Goodridge was born in St. John's on Feb. 23, 1901, the son of Anne and Richard Goodridge. He was educated at Bishop Feild College in St. John's and at Bedford School and Cambridge University in England. In 1924 he began teaching in England and spent four years as head of the Department of Geography at Birkenhead School before leaving for India in 1934. There he served as master and acting principal at Daly College for Indian Princes at Indore. During 1942 he served with the Royal Indian Navy as artist and reporter.
Goodridge returned to Newfoundland in 1944 and after two years as private secretary to Gov. Sir Humphrey Walwyn, he joined the faculty of Memorial University College, where he established the Department of Geography and served as its head for 14 years.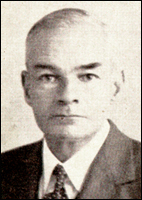 Harold Goodridge
Courtesy of Archives and Special Collections, Memorial University of Newfoundland, St. John's, NL. From Who's Who In and From Newfoundland 1952 (St. John's, NL: Newfoundland Who's Who, 1952) 40.
In 1960 Goodridge retired from teaching to devote himself full-time to painting. He had no formal artistic training; he had first become interested in painting while in India and had received his first commissions there. After his return to Newfoundland he painted a large mural of John Cabot about to depart from Bristol at the beginning of his voyage of discovery, as part of the 450th anniversary of Cabot's voyage. It was subsequently used as the frontispiece for the 1949 Canadian Year Book, the first issue in which Newfoundland was included as a province. In the late 1950s the Newfoundland government commissioned the mural of Newfoundland history which now hangs in the lobby at Confederation Building. His work can be found in many public and private collections the world over. In 1977 he was awarded an honorary degree by Memorial for his contribution to the university and to art. Goodridge continued to paint until his death in April 1989.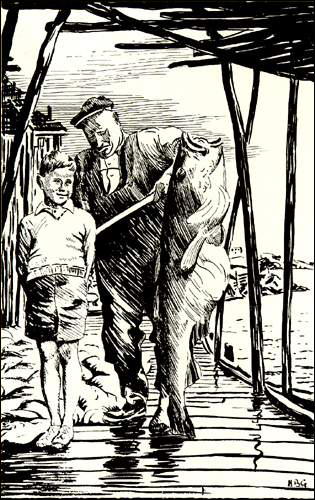 Christmas card
The archives contain several examples of Harold Goodridge's Christmas cards. His themes varied from Newfoundland scenes (left) to the religious (the Anglican Cathedral in St. John's, below).
Courtesy of Archives and Special Collections, Memorial University of Newfoundland, St. John's, NL.
Harold Goodridge believed in sharing his art with as many people as possible. Each year he would design a Christmas card which contained one his drawings as the cover image; he would have these printed and sent to his friends. The subjects varied from the historic (Sir Humphrey Gilbert taking possession of Newfoundland for Queen Elizabeth I), to the contemporary (Bowring Park, the Anglican Cathedral), the religious (the adoration of the Magi) to the scenic (seagulls over cliffs).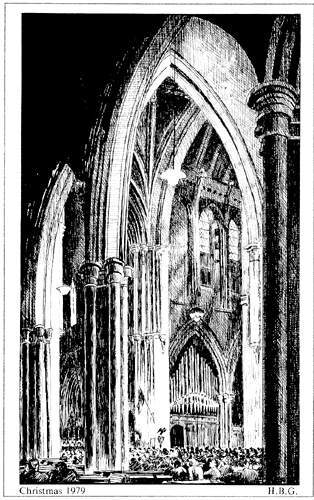 Christmas card: The Anglican Cathedral
Courtesy of Archives and Special Collections, Memorial University of Newfoundland, St. John's, NL.
In 1991 Helen Carew, former assistant to Memorial University's last five presidents, donated 14 of these cards which Goodridge had sent to her father, William J. Carew (1890-1990), former Clerk of the Executive Council, to the Centre for Newfoundland Studies. They are beautiful examples of the eye for detail, the craftsmanship and the quality evident in Goodridge's work, and give credence to the praise which has been bestowed upon him as one of Newfoundland's premier painters.