Christine Koch
Working with one particular image in serial fashion has always seemed to me to be analogous to memorizing and reciting a piece of poetry over and over, or playing a piece of music on the piano repeatedly, so that the piece becomes part of the performer, and each recitation/performance offers a new and different interpretation. So it is with my paintings.
- Christine Koch, 1998
From artist statement regarding her artist residency at Gros Morne National Park, August 1998.
Education and Personal Life
Christine Koch was born in Edmonton, Alberta, in 1959. She received two degrees in English Literature - a Bachelor of Arts with Honours from the University of Alberta in 1981, and a Master of Arts from the University of Toronto in 1982. In 1986, she received a Bachelor of Fine Arts from the University of Alberta.
She moved to Newfoundland in 1987 and worked on her art fulltime. Although her early studio training was in painting, Koch has worked equally with printing and painting media. Involvement with St. Michael's Printshop, a professional printmaking facility in St. John's, led to extensive and ongoing work in the medium of linocut. Making monotypes (which she began to do in 1993 at the Vermont Studio Centre) led her back to painting, in acrylic and in gouache. She has also worked with mixed media and collage.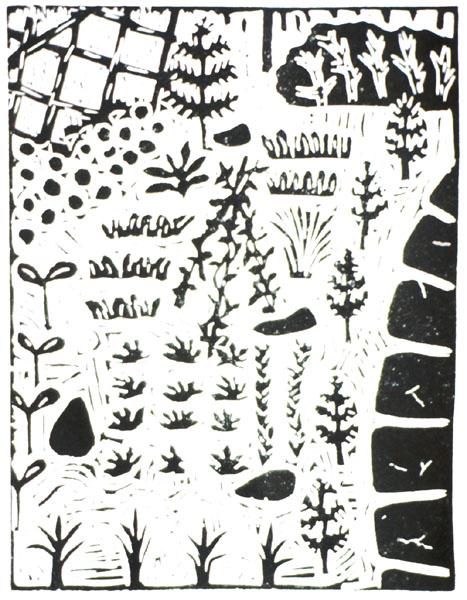 Garden
1994
Linocut
16.3 x 12.4 cm
According to Koch's website, she "draws her inspiration and imagery from Canada's mountain and northern environments." This is evident in her distinctive landscapes, which capture the dramatic geology of the wild north of Gros Morne National Park, the Torngat Mountains in northern Labrador, Baffin Island, the Rockies, and the Yukon.
Working Life
Koch's work has been shown in many solo and group exhibitions across the province, Canada, and the United States. Recent shows include Nocturne at the Parks Canada Discovery Centre at Woody Point, Newfoundland and Labrador (2010); Entropy at the Harcourt House Art Gallery in Edmonton, Alberta (2009); Obsession: Trilobite Collection at the New Brunswick Museum in Saint John (2007); and Rock Water Ice: Studies of Baffin Island at the Nunatta Sunakkutaangit Museum at Iqaluit, Nunavut (2007).
She has also completed numerous artist residencies, at such places as the Arctic Institute of North America in the Yukon; the Canada-Nunavut Geoscience Office at Baffin Island; the Banff Centre School of Fine Arts in Alberta; the Emma Lake Artist's Colony in Saskatchewan; the Experimental Etching Studio in Boston; Gros Morne National Park; and the Department of Geography at Memorial University.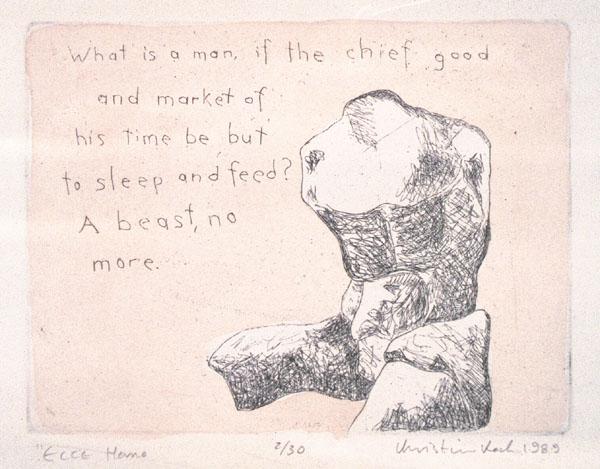 Ecce Homo
1989
Etching
15 x 19.8 cm
In addition to her practice as a visual artist, Koch has worked as a curator, writer, and art teacher, and has been an active volunteer in the St. John's arts community.
Her work can be found in a variety of collections, including The Rooms Provincial Art Gallery's Permanent Collection, The Canada Council Art Bank; Fogg Art Museum (Harvard University), Boston, MA; Burnaby Art Gallery, B. C.; the Government of Newfoundland and Labrador; the University of New Brunswick Permanent Collection; the Canada-Nunavut Geoscience Office; and Parks Canada, Gros Morne National Park.
Koch divides her time between her studios in downtown St. John's and the community of Woody Point in Gros Morne National Park.
For more information on the artist, or to see more of her work, please visit her website: https://www.christinekoch.com/site/.