Carmelita McGrath (1960-)
Carmelita McGrath was born in Branch, St. Mary's Bay, in 1960. Her poetry has earned her recognition as one of the most gifted of Newfoundland's contemporary poets. Her first book of poems, Poems on Land and on Water (Killick Press, 1992) appeared in 1992. In 1998 she was the winner of the Atlantic Poetry Prize for her second book of poems, To the New World (Killick Press, 1997). In lyrical free verse, she explores what it is to be a woman, a lover, a mother, a daughter, a child of the bay now living in the city.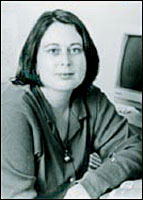 Carmelita McGrath, n.d.
In 1998, McGrath won the Atlantic Poetry Prize for her second book of poems, To the New World.
Photo by Manfred Buchheit. Reproduced by permission of Carmelita McGrath. ©2006.
Ghost Poems
Among McGrath's strengths are an ease with the talking voice, a talent for the striking image or conjunction of images which create complex emotional resonance, and a humour that lightens the dark. Her work continues to deepen, as the publication of the chapbook Ghost Poems (Running the Goat Books and Broadsides, 2001) makes clear. The poem that follows, "Booman," published in that chapbook, gives some sense of her distinctive qualities:
Beware the shadowy booman in the evening garden,
a spectre from the years the grass grew high
as houses. Beware the moment when the light is unsure.
There he'll be waiting,
all smoke and shadow and shimmer-shape.
With the crook of his finger, he'll beckon you over
'cross the crimped summer hay he'll call you, say
"My, you're after getting some nice fat legs.
My, what a grand big girl."
Once he appeared in a cellar door;
he was not there a second before.
His face wavered in the heat haze
and it was not night, but the burnished
centre of an August day.
I caught his gaze upon my scrawny shape
like a small, chill wind from nowhere,
rising and teasing and falling,
all in a moment and gone.
The booman waited, found me late
at night on a city street
where trees were thick and crowds thin,
tried to frig me, frighten me
but I got away with loud curses,
the pump of my grand girl's legs. I still expect him
some nights on some streets
where the dark lies heavy and sweet and deep
as the grass where I first found him.
The best protection is to never discount him.
For some sense of McGrath's views about her poetry, see Jeanette Lynes' interview in Words Out There: Women Poets in Atlantic Canada (Roseway Publishing, 1999).
McGrath now lives in downtown St. John's where she works as a writer and free-lance editor. She received degrees in arts (English) and education from Memorial University of Newfoundland in the early 1980s and had a brief stint teaching in Labrador, an experience which may have influenced her first work of fiction, Walking to Shenak (Killick Press, 1994).
Other Writing Ventures
In addition to publishing poetry, McGrath has written a collection of short stories, Stranger Things Have Happened (Killick Press, 1999) and a children's book, The-Dog-Next-Year (Tuckamore Books, 2001). Her short-story collection won the Writers' Alliance/Bennington Gate Newfoundland Book Award and was short-listed for the Thomas Raddall Atlantic Fiction Award. Her book for children has been short-listed for the 2002 Writers' Alliance Provincial Book Award. McGrath has written reviews for various magazines and for the CBC radio review series, The Book Girls.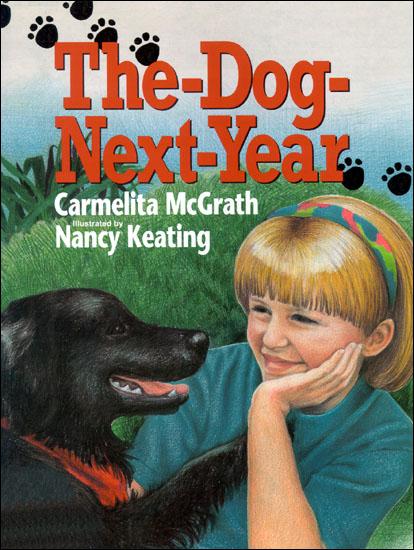 Carmelita McGrath's The-Dog-Next-Year
McGrath's The-Dog-Next-Year is her first book for children.
Reproduced by permission of Creative Book Publishing. ©2001. All rights reserved
McGrath's poetry has been anthologized in a variety of collections, among them Land, Sea and Time (Breakwater), Wild on the Crest (Jeroboam), Signatures (Eastern Edge Gallery, in co-operation with Killick), Poetry Nation, the anthology of North American fusion poetry (Véhicule). Her work has also been featured on CBC radio and on television (on Writing on the Wall, a WTN series, and on Channel 9's Personal Portraits series in 1994). She has been invited to read her poems in St. John's, Halifax, Montreal, Ottawa, Toronto and Vancouver.
Newfoundland Writers' Community Involvement
McGrath has been an active member of the Newfoundland writers' community, contributing much to the development of The Writers' Alliance of Newfoundland and Labrador, and serving in most executive positions with the organization (including that of president). She has also participated in national writers' organizations, The Writers' Union and The League of Canadian Poets, as a representative for the region of Nova Scotia and Newfoundland. She served for a time as an editor of TickleAce magazine and as a member of the editorial collective for Waterlily magazine. Through her editing of fiction and non-fiction, in particular for Killick Press with whom she has worked for several years, she has made a considerable contribution to literary production in the province.